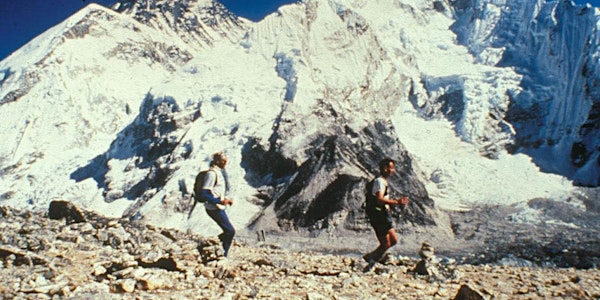 22nd Annual Scientific Conference in Sports & Exercise Medicine, QMUL
Location
Arts 2 Building, Queen Mary University of London
Mile End Road
London
E1 4NS
United Kingdom
Refund policy
Contact the organiser to request a refund.
Eventbrite's fee is nonrefundable.
22nd Annual Scientific Conference in Sports and Exercise Medicine, QMUL Celebrating 40 Years of Sports and Exercise Medicine at QMUL
About this event
INSPIRING CLINICAL EXCELLENCE THROUGH SCIENCE
Join us in celebrating the 41st anniversary of Sports & Exercise Medicine and John King's legacy at Queen Mary. This two-day conference offers scientific and clinical presentations, keynote lectures and workshops and an opportunity to network, share knowledge, meet up with your colleagues and former course mates, make new contacts and build upon the SEM family.
Please note to join us for the evening activities, please book under the 'Add Ons' section.
PROGRAMME: THURSDAY 8 SEPTEMBER
08:00 - Registration and Refreshments
08:50 - Welcome and Introduction (Prof Dylan Morrissey)
TENDINOPATHY
Chair: Dr David Perry
09:00 - 'The TEAM trials – considering all meanings of the word' (Prof Dylan Morrissey)
09:20 - 'Tendinopathy and the structure: Function mismatch - proof and progress' (Prof Hazel Screen)
09:40 - 'What exercises work for tendinopathy? (Prof Kay Cooper)
10:00 - 'Working together to improve patient benefit from tendinopathy research: successes and future directions of the International Tendinopathy Consensus group' (Dr Peter Malliaras)
10:20 - Discussion and Questions
10:30 - Refreshments and Exhibition
11:00 - PARALLEL SESSION 1: PAEDIATRC SEM (Room 217)
Chair: Prof Nicola Maffulli
11:00 - Paediatric knee injuries (Mr Dominic O'Dowd)
11:25 – Patellar dislocation in children and adolescents (Prof Nicola Maffulli)
11:50 – Discussion and Questions
11:00 - PARALLEL SESSION 2: FOOTBALL MEDICINE (Room 316)
Chair: Dr Ian Beasley
11:00 - Football brain (TBC) (Dr Charlotte Cowie)
11:18 - Health issues in ex-football players (Dr Ian Beasley)
11:36 – Highs and lows of leading a medical team in football (Dr Zaf Iqbal)
11:54 – Discussion & Questions
11:00 - PARALLEL SESSION 3 (ROOM 320) - FITNESS TESTING & HiiT IN CLINICAL PRACTICE
Chair: Dr Aivaras Ratkevicius) (Jamie & Stuart)
11:00 - PARALLEL SESSION 4 – MSc & iBSc PRESENTATIONS (1-6)
Chair: Dr Simon Lack
11:00 - Usability testing of augmented visual feedback for remote exercise rehabilitation of injured dancers and athletes: an iterative convergent mixed-methods feasibility study (Theano Vikatou)
11:10 - Are there hip and pelvic movement patterns globally associated with injury? - A case control study (Carys Webster)
11:20 - The Use of Oral Non-Steroidal Anti-Inflammatory Drug in Great Britain and Northern Ireland Endurance Runners; Knowledge, Attitude and Behaviours. An Observational Non-Intervention Cohort Study (Maryam Haji)
11:30 - Title TBC (Nura Farah)
11:40 - Impact of foot orthoses on individual's centre of pressure (Gabrielle Conroy)
11:50 - Association between calf muscle endurance and ankle injury in pre-professional male and female ballet dancers: one-year prospective cohort study (Jonathan Barber TBC)
12:00 - John King Memorial Lecture: 'Sports Medicine - Have you got what it takes?' (Dr Roslyn Carbon; Chair: Dr Tom Crisp)
12:20 - Questions and Discussion
12:30 - Lunch and Exhibition
13:30 - PARALLEL SESSION 5: MLS LASER THERAPY IN SPORT (Room 217)
Chair: Dr Nikos Malliaropoulos
13:30 - Photo-biomodulation: What do we know? (Ms Kirsten Sinclair)
13:55 - MLSⓇ Laser Therapy In Sports Medicine - Changing Horizons or Too Late to the Party? (Ms Olga Jones)
14:20 – Discussion and Questions
13:30 - PARALLEL SESSION 6: FOOT ORTHOSES - WHAT IS THE EVIDENCE? (Room 316)
Chair: Mr Ian Griffiths
13:30 - How do foot orthoses work? (Mr Ian Griffiths)
13:55 - Exploring individualised responses to orthoses (Dr Stuart Miller)
14:20 - Discussion & Questions
13:30 - PARALLEL SESSION 7: EXERCISE FOR TENDINOPATHY – SYSTEMATIC REVIEW WORKSHOP(Room 320)
Chair: Prof Kay Cooper
13:30 - PARALLEL SESSION 8 – MSc & iBSc PRESENTATIONS (7-12)
Chair: Dr Manuela Angioi
13:30 - 'The Effect Of Foot Orthoses On Centre Of Pressure Velocity In Healthy Adults: A repeated measure study' (David Gruhl)
13:40 - 'The immediate effects of 3 different orthoses on gait ground reaction forces (GRF) in a healthy population, a within-subject, cross-sectional study' (Andreas Deman)
13:50 - 'Risk factors for adductor-related injuries in elite women's football: A semi-structured interview-based study & Delphi survey' (Marc Mulligan)
14:00 - 'A crossover study assessing how lower limb kinematic changes when healthy individuals walk in heat moulded, non-heat moulded off-the-shelf foot orthoses, and shod only – the consistency across and within participants' (Bao Peng Kuah)
14:10 - 'Association Between Osteoarthritic Changes In The Knee To Gait And Balance In An Adult Population: A Laboratory Based Study' (Gayatri Sapale)
14:20 - 'The Female Athlete Triad: Does awareness match level of risk amongst female dancers? A cross sectional questionnaire-based study' (Jerome Towolawi)
14:30 - Keynote Speaker: 'Dangerous Games: Shifting the dial' (Mr Peter Hamlyn; Chair: Professor Dylan Morrissey)
14:50 - Questions and Discussion
15:00 - Refreshments and Exhibition
COMBINED CLINIC
Chair: Dr Siva Mani-Babu and Dr Dev Pyne)
15:30 - Case presentation and an MDT discussion (Members of CSEM and Barts and The London Sports Medicine and Injury team)
17:00 - Closing remarks (Dr Manuela Angioi)
19:00 - Drinks reception & Curry Club: 'Desi Delight Dinner'
Arts Pavillion, Mile End Park, Clinton Road, E3 4QY (see a map)
PROGRAMME: FRIDAY 9 SEPTEMBER
08:00 - Registration and Refreshments
08:50 - Welcome and Introduction (Dr Ian Beasley)
PROFESSIONAL & ELITE SPORTS TEAM DOCTOR
Chair: Dr Roslyn Carbon
09:00 - Highs and lows at the Olympic Games (Dr Richard Budgett)
09:20 - Highs & lows in Anti-doping (Dr Tom Crisp)
09:40 - Highs and lows in cricket and rugby (Dr Jonathan Williams)
10:00 - Highs and lows in Motor bike racing (Mr Dominic O'Dowd)
10:20 - Questions and Discussion
10:30 - Refreshments and Exhibition
11:00 - PARALLEL SESSION 9 : ULTRASOUND SCAN WORKSHOP (Room 217)
Chair: Dr Otto Chan
11:00 - Introduction to Ultrasound Scan (Dr Caroline Taylor)
11:10 - Hands on USS workshop (Mr Chris Myers and Dr James Sarkodieh)
11:55 - Questions and Discussion
11:00 - PARALLEL SESSION 10: MSc & iBSc PRESENTATIONS (Room 316)
Chair: Dr Aivaras Ratkevicius
11:00 - A case-control study on running kinematics in those with patellofemoral pain syndrome, other knee injuries and healthy individuals (Amy-Claire Beaumont)
11:10 - The Patient and Clinician Perspective of a Successful Musculoskeletal Pain Assessment: A Qualitative Study (Jordan Smitham)
11:20 - Mechanical Properties of the Achilles Tendon in Dancers and Active Controls: A Cross-Sectional Study (Kelly Johnson)
11.30 - The clinical reasoning used by clinicians when diagnosing with 4 sub-conditions of exercise induced leg pain. A qualitative study. (Chrysovalanto Massoura)
11:40 - Helpful or harmful? The beliefs of novice CrossFit participants about injury risk: A qualitative study. (Marian Bakewell)
11:50 - The Patient and Clinician Perspectives of a Successful Musculoskeletal Pain Assessment: A Qualitative Study. (Benjamin Bowling)
11:00 - PARALLEL SESSION 11: Artificial Intelligence in SEM (Room: ArtsOne Lab TBC)
Chair: Dr William Marsh
11:00 - SmartPROMS (Dr Barbaros Yet)
11:15 - Bendi for low back pain (Ms Adele Hill)
11:30 - DART for triage (Ms Cabella Lowe)
11:45 - Shared decision making (Ms Ceren Tuncay Suker)
11:00 - PARALLEL SESSION 12 – PhD PRESENTATIONS (12-19) (Room 320)
Chair: Dr Victoria Tzortziou
11:00 - Prediction of outcome for tendinopathy: a cohort study (Abdulhamit Tayfur)
11:10 - Scoping Review/ Expert Interview (Fatma Bosnina)
11:20 - Development of speckle tracking method for visualising slip planes in the human free Achilles tendon during dynamic loading: Challenges and opportunities (Gamalendira Shivapatham)
11:30 - Developing a Meta-analyses-based Laboratory Protocol for Local Deficits Associated with Patellofemoral pain (Saleh A Alsaleh)
11:40 - TBC
11:50 - TBC
12:00 - Keynote Speaker: 'Education and Leadership in SEM - from QMUL and beyond' (Dr Eleanor Tillet; Chair: Prof Dylan Morrissey)
12:20 - Questions and Discussion
12:30 - Lunch and Exhibition
13:30 - Keynote Speaker: Solo across Antarctica to South Pole in 40 days (Ms Preet Chandi MBE; Chair: Prof Nat Padhiar)
13:50 - Questions and Discussion
14:00 - EXERCISE AS MEDICINE & DANCE MEDICINE
Chair: Dr Manuela Angioi
14:00 - The Health Benefits of Muscle Strengthening Exercise (Dr Stuart Gray)
14:25 - Can creative dance classes increase physical activity engagement in Children and Young people with Cerebral Palsy: A feasibility exploration (Dr Ricarda Tillman)
14:50 - Bone health and REDs in dancers (Prof Roger Wolman)
15:15 - Exercise as Medicine for clinicians – a new MSc (Dr Aivaras Ratkevicius)
15:25 - Questions and Discussion
15:30 - Refreshments and Exhibition
16:00 - PARALLEL SESSION 13: RUNNING SHOES - WHAT IS THE EVIDENCE? (Room 217)
Chair: Mr Trevor Prior
16:00 - Prescription writing for running footwear and why it really is not possible (Dr Simon Bartold)
16:25 - Running shoes & Injuries – Cochrane Review (Dr Ben Langley)
16:50 - Questions and Discussion
16:00 - PARALLEL SESSION 14: IMPORTANCE OF MDT IN SPORT – CASE STUDIES (Room 316)
Chair Dr Tom Crisp
16:00 - Treat the man not the scan - MDT approach to a shoulder dislocation in a professional footballer (Dr Toby Longwill)
16:15 – Intrasubstance tear – diagnostic challenge (Dr Otto Chan)
16:30 – A Cinderella Story - A foot, a fracture and teamwork (Dr Caroline Jubb)
16:45 – Football related MDT Case (Dr Ges Steinbergs)
16:00 - PARALLEL SESSION 15: DitToc SESSION – AI FOR DANCE & REHABILITATION FIDELITY
Chair: Dr Manuela Angioi
Dr Manuela Angioi, Ms Theano Vikatou and Dr Eli Versace
16:00 – PARALLEL SESSION 16: MSc & iBSc PRESENTATIONS (19-24) (Room 320)
Chair Dr Nikos Malliaropoulos
16:00 - Do regular antenatal physical activities affect postpartum lower back pain, functional disability, and psychological distress? A cross-sectional study (Kubra Senol Hamid)
16:10 – The relationship between the menstrual cycle and the counter movement jumps in elite female footballers. A prospective cohort study (Elena Jobson)
16:20 – A 4-week Online Educational Program for Managing Patellofemoral Pain: A Feasibility Study (Nikesh Raja)
16.30 – Risk factors for adductor-related injuries in elite male academy football: A semi-structured interview-based study & Delphi survey (Shane Gore)
16:40 - Evaluating the assessment and management of climbing-specific finger injuries by healthcare professionals in the United Kingdom: a cross-sectional study (Diggory Keir North)
16:50 – The reliability of assessing peak power, rate of force development and reactive strength using Foredecks in healthy adults. A test-retest reliability study (Ilias Paschopoulos)
17:00 - Prize Presentations
17:10 - Inaugural Lecture: It's all about the team (Prof Dylan Morrissey)
18:10 - Closing remarks (Dr Simon Lack)
18:20 - Drinks reception
Octagon, Queens' Building, Queen Mary University of London, 327 Mile End Road, E1 4NS