Refund policy
Contact the organiser to request a refund.
Eventbrite's fee is nonrefundable.
The Wisdom Witches' Friday Forum provides a weekly opportunity to ask questions and discuss topics around wellbeing and personal growth.
About this event
Friday Forum June 17th- 11:30 am - "Reflections"
Join us for our Last Friday Forum while we pause for the summer months to enjoy being outside and away from our screens.
It's essential to understand yourself at a deeper level. Self awareness and a little soul searching is critical for success in all areas of life.
Pressing the pause button and taking time for self-reflection about our life and learnings leads to greater self-awareness which in turn leads to self-improvement. In addition, having a strong sense of self improves your confidence and level of self-esteem.
In our last Friday Forum before we break for the summer we will press the pause button to think of our learning and through some key questions we will look at where we are right now and where we are heading as we move forward in our life's journey.
Let's take a step back and reflecting on our behaviour and beliefs.
Let's take this hour to stop running on the treadmill of life and check in on where we are.
Let's look to identify what to keep and what might be good to change.
We look forward to seeing you all this Friday.
Did you know you can save almost 50% on the cost of our weekly forums, as well as get additional wellbeing resources for FREE, by signing up for our no-contract monthly membership? For details please see your website or click the following link -
Who are The Wisdom Witches?
The Wisdom Witches are three individuals, who collectively have over 100 years' experience in guiding and motivating others to become their best selves through improved connection to their own and others' wisdom, self-understanding and well-being.
Our Approach
We offer an environment of mutual support and trust in which we can explore life's milestones and potholes together, and discover how to seed and nurture happiness. Each week we present a different topic for discussion. All are welcome and questions can be posed either in advance or during each forum.
How to share your questions with us:
1. Send it on an email before the event to info@thewisdomwitches.com and we can discuss it openly or anonymously in the forum.
2. Post the question in the 'Chat' box during the Forum
Previous Questions Explored...
I've gotten stuck in some bad habits during lockdown. Can you offer some tips?
I'm dealing with a serious health issue. How can I feel in more control?
I'm facing a big personal decision? Can you help me think it through?
Below are some words and thoughts from previous attendees...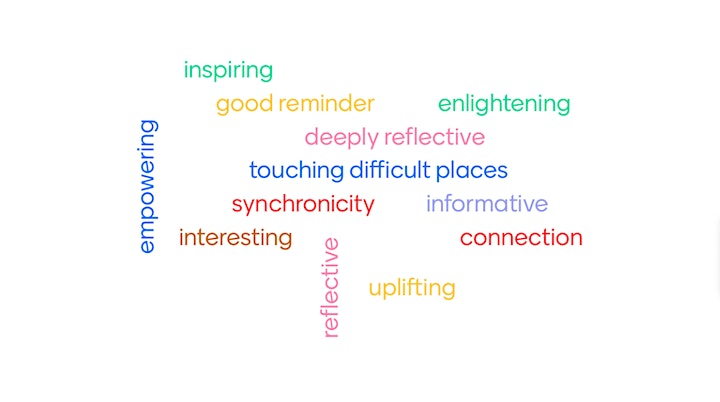 By signing up to this event you are giving the Wisdom Witches permission to keep you up to date on future events via email and you can unsubscribe at any time. We do not share any of your information with 3rd parties.