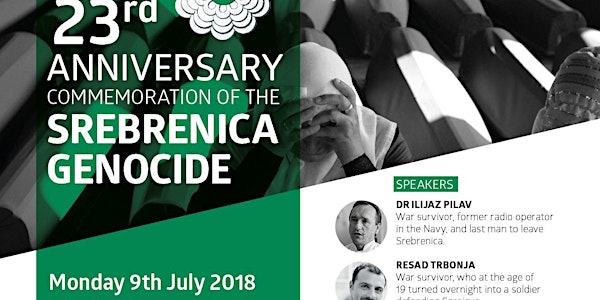 23rd Anniversary Commemoration of the Srebrenica Genocide
Location
London Muslim Centre
46 Whitechapel Road, London
London
E1 1JX
United Kingdom
Description
The East London Mosque and London Muslim Centre in conjunction with the Bosnia Heritage Foundation present:
23rd Anniversary Commemoration of the Srebrenica Genocide
The single greatest atrocity in Europe since the Second World War
Monday 9th July 2018
7:30pm-9pm
London Muslim Centre
46 Whitechapel Road, London E1 1JX
Speakers:
Dr Ilijaz Pilav
War survivor who is believed to the last man to leave Srebrenica. Currently the Chief of the Thoracic Surgery Department in Sarajevo's main hospital, he grew up in the former Yugoslavia. He was stationed in the Navy as a radio operator, later studied medicine.
Resad Trbonja
War survivor, who at the age of 19 went overnight from being an ordinary European teenager to a soldier defending Sarajevo against the longest siege in modern history.
Revd. Alan Green
Rector of St John on Bethnal Green, London; chair of Tower Hamlets Interfaith Forum. He headed an interfaith group to Bosnia in 2009 led by the East London Mosque.
Arzoo Ahmed
Director of the Centre of Islam and Medicine, she read Physics (BA) at Oxford University, and an MPhil in Medieval Arabic Thought, at the Oriental Institute, Oxford. Ahmed visited Bosnia several times with the Bosnia Heritage Foundation.
Muhammad Habibur-Rahman
Chairman, East London Mosque and London Muslim Centre, he first visited Bosnia during a brief truce in 1995 as part of a British Muslim delegation. He is currently the Deputy Head of Quality Enhancement at the London Metropolitan University.
Oliver McTernan
Co-Founder and Director of Forward Thinking, and a former Visiting Fellow of the Weatherhead Centre for Int. Affairs, Harvard University. He initiated the first post-Kosovo conflict talks between NATO and the Belgrade government. He is the author of Violence in God's Name.
Dr Abdullah Faliq
Advisor and long-standing campaigner for Srebrenica genocide victims and survivors; founder member of Bosnia Heritage Foundation and the European Network on Religion and Belief (ENORB), respectively.
Free entry!
Register: https://srebrenicamemorial.eventbrite.co.uk
Supported:
British Institute of technology England (BITE)
Bamford Trust
Remembering Srebrenica
Muslim Council of Britain