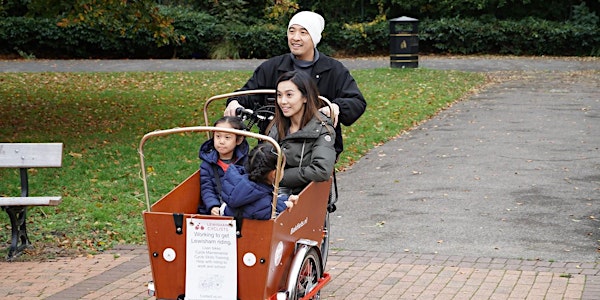 24 April 22: Lewisham Family Cycling Library Session, Forster Memorial Park
Location
Forster Memorial Park
Main building, next to children's playground
Whitefoot Lane
London
SE6 1UA
United Kingdom
Try out a range of family cycling equipment in a safe environment with experienced riders! Forster Memorial Park from 10am
About this event
This is a free workshop aimed at families with young children who would like to try out family cycling equipment.
Pride of place will be our electric cargo bike - put your kids in the front box and tackle those Lewisham hills! We'll also have rear seats, front seats, trailers etc.
This workshop is organised by Climate Action Lewisham and Lewisham Cyclists. We will have experienced instructors to attach equipment and guide you. You will have the opportunity to practise in a safe environment and chat to us about what could suit your family best.
There are two ticket types (30 minute slot for each household):
Cargo bike
Trailer / bike seat slot
Please click 'Select A Time' to choose a slot. Tickets are free, but we do appreciate any donations you are able to make, to helps us cover running and repair costs. We suggest £5 a ticket which can be paid via Paypal through this link
Please don't worry if you are not able to make a donation!
This event takes place at Forster Memorial Park. Meet near the main building, next to the children's playground.
You should be a competent bike rider. If you wish to try out the trailer or seats, you should bring your own bicycle - let us know if you aren't able to do so as we may have some you can borrow. Please bring your own cycle helmets, and we hope to see you and your family there!