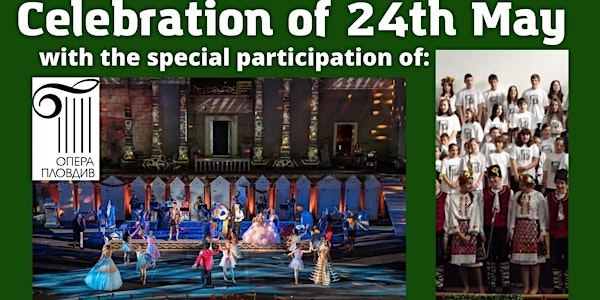 Тържествено честване на 24 май / Solemn celebration of 24th May
Location
Bulgarian Embassy
186-188 Queen's Gate
South Kensington
London
SW7 5HL
United Kingdom
24.05.2022 г.; 18:00 часа; Салони на Българското Посолство / 24.05.2022; 18:00; Halls of the Bulgarian Embassy
About this event
Скъпи приятели, заповядайте да честваме заедно един от най – любимите български празници 24 май – Ден на светите братя Кирил и Методий, на българската азбука, просвета и култура и на славянската книжовност!
Тържествената програма е разделена в две части:
18:00 часа – Тържествено честване със специалното участие на Държавна Опера Пловдив, Българското училище "Иван Станчов" и Българското училище "Васил Левски"
19:30 часа - Коктейл
*Забележка: Публиката ще бъде допускана до 18:05 часа. Закъснелите ще трябва да изчакат навън до края на художествената програма, тъй като има певци, които не трябва да бъдат безпокоени.
-----------------------
Dear friends, we cordially invite you to celebrate together one of the most beloved Bulgarian holidays – 24th May, Day of the holy brothers Cyril and Methodius, of the Bulgarian alphabet, education and culture and of Slavic literature!
The solemn program is divided into two parts:
18:00 - Solemn celebration with the special participation of the State Opera of Plovdiv, "Ivan Stancioff" Bulgarian School and "Vasil Levski" Bulgarian School
19:30 - Cocktail
*Note: The audience will be allowed to enter before 18:05. Тhe latecomers will have to wait outside until the end of the whole program, as there are singers who do not have to be disturbed.