The Midwifery Forum's weekly live stream, brought to you by MATFLIX – every Wednesday, 7-8pm London, UK (GMT).
About this event
Delivering early breastfeeding support - changing practice and achieving sustainability
The short and long term benefits of breastfeeding for mothers and their babies are well known. How can we, as midwives and health care workers, support mothers and their families to choose to breastfeed, get successful feeding established and ensure that changes are sustainable?
NHS Lothian's DEBS Project, in partnership with the Scottish Government, provides early support for breastfeeding. This session will share the development of the project and the outcomes for the women and babies in the project.
Hosted by:
Sue Macdonald, Midwifery Expert, Mayes Midwifery
Contributions from:
Sharon Gilchrist, Project Midwife, NHS Lothian
Caroline Buchan, Debs Project Midwife, NHS Lothian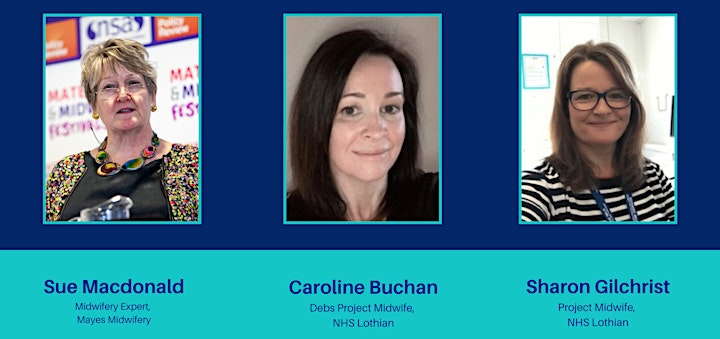 Biographies
Sharon Gilchrist
Sharon Gilchrist became a midwife in 2008 following a career change. She is passionate about supporting women on their feeding journey and joined the NHS Infant Feeding Team in 2016. Since then Sharon has been involved in UNICEF BFI work, partnership work and developing peer support for breastfeeding. Sharon has been working in the DEBS (Delivering Early Breastfeeding Support) project since it began in September 20219. Recently Sharon has completed the UNCIEF Baby Friendly Initiative Qualification Framework at Practitioner level.
Caroline Buchan
Caroline Buchan has been a midwife since 1999 and worked in various NHS Trusts over this time. She has always had an interest in supporting breastfeeding but became more aware of the challenges women face following her personal experience of breastfeeding her second child. Caroline is one of two midwives who have implemented the DEBS (Delivering Early Breastfeeding Support) model of care since the project began in September 2019. Caroline has recently completed a Quality Improvement Training programme and uses these new skills to shape and improve the care for women in the project.
Register your free place today to get a personalised reminder from us.
Join us at 7 pm on Wednesday at this hour-long online programme with live audience Q&A to update your knowledge.
LIVE ON FACEBOOK | 7PM London, UK (GMT) | WEDNESDAY'S THROUGHOUT 2022.
Filmed by: Narrowcast Media Group
Produced by: Neil Stewart Associates
Supported by: MATFLIX
Organiser of Delivering early breastfeeding support - achieving sustainability