Description
24th Annual TRICS User Meeting
TRICS Consortium Limited are pleased to announce that the 24th annual TRICS User Meeting will be taking place in London on Tuesday 25th June 2019.
The annual User Meeting remains a free event (one person per member organisation office), and following a well-attended event in 2018 we are expecting bookings to once again come thick and fast this year, so please book your places as soon as possible to avoid any potential disappointment (places are limited). The User Meeting is an ideal forum for both new and experienced users of TRICS, consisting of a series of presentations relating to the TRICS system and its associated projects. It is an excellent opportunity to network with members of the TRICS Community from across the UK and Ireland, and is always an event that allows all attendees to provide their own feedback and ideas as to how TRICS should continue to be developed and improved in the future. This year is a big milestone in TRICS as we celebrate 30 years of the project, and the final session of the day will be an open forum where everyone will have their chance to have their say on the future of the system, as we look forward to and prepare for the TRICS 8 redesign in 2020. Note that due to restrictions of the venue there will be no breakout TRICS system demonstration this year. This is just a one-off temporary measure, and we will instead look to see if we can provide this breakout option at the November TRICS Training & Development Forum (details to follow once a venue has been decided on).


This year's presentations
As with previous years, we have put together a line-up of presentations for the 2019 event that cover a variety of topics associated with TRICS. The first presentation is a talk on TRICS at 30 years of age, looking at how the system has evolved over time, its key milestones, and what might lie ahead in the future. This will be followed by the results of the 2019 TRICS User Survey, and the system enhancements that we are thinking of introducing this year as a result. After tea and coffee we intend to provide some headline results from the major Cambourne Village project, following on from the presentations last year on the project's background and how we tackled the demands of the more complex surveys that were required (note that a technical report on the survey findings is also being produced this year). Then we will have a presentation on trip rate variation by location type. Those who attended the TRICS Training & Development Forum in York last year would have seen a presentation given on trip rate variation by region, and this is the second part of a comparative analysis that will also form a technical note to be published this year. There will then be a buffet lunch and a good opportunity to mix with other members of the TRICS Community before the second part of the day commences. The first presentation of this session will be a case study which looks at how a data collection company (one of our TRICS-approved contractors) planned and delivered a specifically commissioned bespoke TRICS survey, which required more complex layers of counts than what usually takes place, giving an example of the flexibility of our survey methodology. This will then be followed by a talk giving a summary of changes to the 2019 TRICS Good Practice Guide, which remains a very important document for all TRICS users. Finally, there will be an open forum and panel discussion covering all elements of the TRICS project, something that all attendees can participate in.


The venue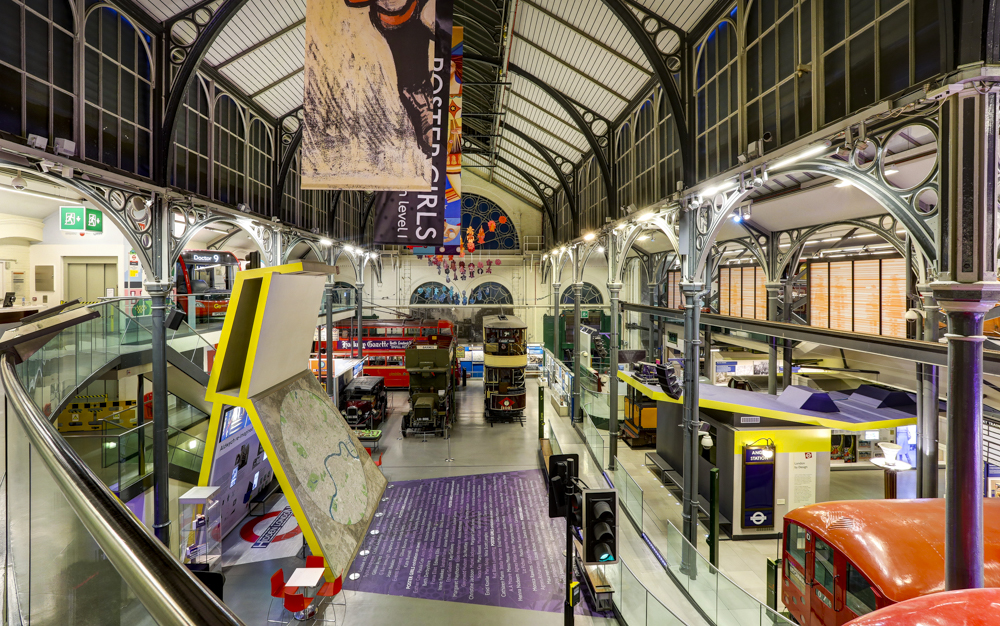 This year we are pleased to be holding our event at the very well known and popular London Transport Museum in Covent Garden, London. The museum explores the story of London and its transport system over the last 200 years, highlighting the powerful link between transport and the growth of modern London, culture and society since 1800. The museum cares for over 450,000 items – preserving, researching and acquiring objects to use in its galleries, exhibitions and other activities. As well as exploring the past, the museum looks at present day transport developments and concepts for urban transportation in the future, which includes a contemporary collecting policy for the benefit of future generations. The museum was granted charitable status in 2007 which has enabled it to secure funding from new sources such as the Heritage Lottery Fund, Arts Council England, and trusts and foundations including the Luke Rees-Pulley Charitable Trust. The museum is housed in the old Grade II-listed Flower Market building in Covent Garden Piazza, so it is an ideal and accessible location for all of our attendees. We are very pleased to be holding this year's event at this fantastic venue, and the presentations will be given in a comfortable, modern auditorium, ideal for our requirements.


Programme
0930-1000
REGISTRATION & TEA/COFFEE
1000-1005
Welcome
TRICS®Chair – tbc
1005-1030
30 Years of TRICS: Then, Now and Tomorrow
Ian Coles, Project Manager, TRICS Consortium Limited
As the TRICS project reaches 30 years of age, we look at how it has grown and evolved over time, review its key milestones, and reveal some plans for the future including the development of TRICS 8 in 2020.
1030-1055
The 2019 TRICS User Survey and Forthcoming System Developments
Nick Rabbets, Managing Director, TRICS Consortium LimitedA review of the findings of the 2019 TRICS User Survey, and plans for forthcoming system developments.
1055-1105
Questions
1105-1130
TEA & COFFEE
1130-1155
Cambourne Village: A Summary of Main Findings
Speaker tbc
A summary of the headline findings from the major 2019 survey at Cambourne Village in Cambridgeshire, including a study of internalisation and various multi-modal analyses.
1155-1215
Trip Rate Variation by Location Type: A Technical Study
Owen Edwards, Assistant Manager, TRICS Consortium Limited
Following the results of a study of regional trip rate variation presented in November 2019, this follow-up analysis looks at variation by main TRICS location type. A prelude to the publication of a technical report which addresses both issues.
1215-1230
Questions
1230-1330
LUNCH
1330-1350
A Case Study in Delivering a Bespoke TRICS Survey
Marie Hancock, MHTC Limited
How a complex commissioned TRICS survey, including a number of additional counts and survey requirements, was planned and delivered, from the perspective of a data collection company.
1350-1405
The 2019 TRICS Good Practice Guide: Summary of Updates
Speaker tbc
A brief look at the 2019 TRICS Good Practice Guide, highlighting changes made as a result of a consultation with users as part of the 2019 TRICS User Survey.
1405-1415
Questions
1415-1515
TRICS Open Forum: A Panel Discussion & Interactive Session
A number of general TRICS-related topics will be discussed in an interactive style, with attendees having the chance to present their comments and ideas.


Booking your FREE place
Places at this event are FREE to one delegate from each user organisation office. Additional delegates are charged £160 + VAT.
To book your place, please complete the on-line booking form. A member of the TRICS team will then confirm your place at the event by email.