Description
Our annual conference will celebrate the 25th anniversary of The Traditional Paint Forum (TPF), which was set up in 1994 as a membership forum for discussing and promoting a better understanding and appreciation of traditional paint.
The conference will explore how legislation and technology have influenced changes in opinion and practical application, fuelling debate over traditional vs modern alternatives. We will again be asking the question posed in 2005 'What lessons have we learnt and what have we achieved?' as well as questioning 'What next for traditional paint finishes?'.
We'll be calling on speakers who have played important roles in the TPF's past, as well as looking to the future. The speakers will examine a variety of topics, from best practice and conservation ethics to the technical research and application of paint finishes. Conference attendees will also have the opportunity to enjoy the 1930s interiors of Freemasons Hall.
Programme
9.30 - 10.00 am Registration
10.00 -10.10 am Laura Vale Stevens - Chairs welcome
10.10 -10.45 am Helen Hughes, HIRC Historic Interiors Research and Conservation
Authenticity - the pursuit of shifting sands: the development of thinking in colour matching over the last 25 years
10.45 - 11.20 am Mary Jablonski, President and Senior Conservator, Jablonski Building Conservation
Is that all there is? Colour investigations and the loss of knowledge.
11.20 - 11.55 am Richard Ireland FRSA, Plaster and Paint: Consultancy & Conservation of Historic Buildings
Preservation and Presentation: some past and future paint performance issues
11.55 - 12.30 pm Mark J. R. Dennis, Curator Museum of Freemasonry
Historic Paint Schemes at the Freemasons' Hall
12.30 - 2.00 pm Lunch and tours
Group A tour (30 mins)
Group B tour
2.00 - 2.35 pm Dr Ruth Siddall, University College London
Pigment Materials Research at the Slade School of Fine Art: Collecting, Curating and Characterising Artists' Pigments
2.35 - 3.10 pm Kimberley Reczek, DBR Ltd
The National Gallery's Room 32
3.10 - 3.45 pm Paul Croft, Conservator & Research Fellow, Lincoln Conservation (University of Lincoln)
The role of digital replication in the reinstatement of an early 20th century ceiling
3.45 - 4.20 pm Malcolm Starr, Historic England
Paint and Significance, Decisions and Risks
4.20 - 4.55 pm Dr Ian Bristow, President Traditional Paint Forum
4.55 - 5.15pm Question and Answer session
5.30 - 6.00 pm Traditional Paint Forum AGM (non members welcome to attend)
6.30 - 9.00 pm Evening event
We will be hosting an informal drinks and nibbles evening and are delighted to announce that Dan Cruickshank will join us to talk about his personal experience of traditional paint over the
last 25 years.
Over the past 25 years, our conferences have gained a reputation for vibrancy and debate, particularly the after conference get-together, which is an event in itself. To mark our anniversary, we would like to continue our conference theme into the evening, remaining at Freemasons Hall; this will be entirely dependant on numbers and will be a ticketed event with an evening speaker, wine and nibbles provided. Tickets will be released shortly.
Who should attend?
Anyone working in the field of heritage asset conservation: Architects, engineers, surveyors, conservation officers, painters and decorators, conservators, builders, specifiers, owners and managers of historic properties, church wardens… If you have responsibility for the maintenance of historic buildings or structures, then this could be the most important conference of the year for you.
Students are being offered a discount price, we would love students to get involved and please send copies of your student card when booking ticket to TPFeventssecretary@gmail.com
Please send notes of any dietary requirement to TPFeventssecretary@gmail.com
The Venue
The Traditional Paint Forum is proud to be working together with the Freemasons Hall again after our conference in 2012. Completed in 1933 as a memorial to the Freemasons who died in the First World War, Freemasons' Hall is one of the finest buildings in England, and is now Grade II* listed.
Help us celebrate and have your say in our commemorative programme!
This year, we would love to put together a commemorative conference programme that reflects on our last 25 years but we can only do this with your help. If you have any images or memories of past TPF events you would like to share, or particular TPF news/ smudge articles you feel worthy of revisiting, please send them to the email below. Whilst we can't guarantee to publish all entries, we will do our best!
Booking Enquiries
If you have a question, please contact the TPF Event Secretary at TPFeventssecretary@gmail.com
We are including a ticket priced at £160 for non members who wish to join the Traditional Paint Forum to keep in touch with the events throughout the year.
Organiser of 25 Years and Beyond - The Future of Traditional Paint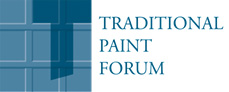 About
---
The Traditional Paint Forum (TPF) was set up in 1994 as a membership forum for discussing and promoting a better understanding and appreciation of traditional paint.
If you are interested in the myriad of issues involved in the use of traditional paint, in an architectural context, your membership of the Forum could support the ongoing debate and we would welcome your involvement.