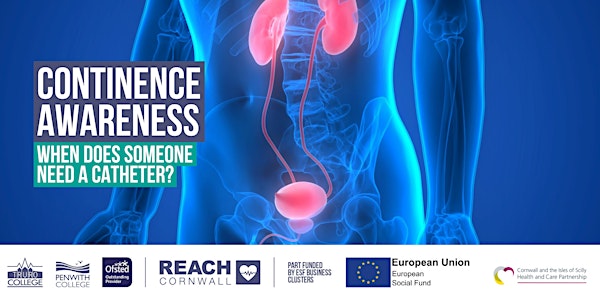 Continence Awareness - when does someone need a catheter?
20 - 26 June 22 is World Continence Week. Join us for a funded webinar exploring continence and when someone needs a catheter
About this event
This is the second webinar in a series of three covering the topic of continence and catheter care.
As with the initial webinar, this is intended primarily for those working in social and healthcare settings and is being developed and delivered in conjunction with Sharon Eustice, Consultant Nurse at the Bowel and Bladder Specialist Service, Cornwall Partnership NHS Foundation Trust. Sharon is both very knowledgeable and extremely passionate about the subject. This webinar will explore the subject of continence, when someone needs a catheter and what alternatives there may be to catheterisation.
As a employer-led forum, REACH Cornwall seeks to identify and address skills shortages in the social care, healthcare and early years sectors.
As with all our webinars, this is being developed in response to needs indicated via training needs surveys and feedback we have received from social care and healthcare providers in Cornwall and the Isles of Scilly. We would like to ensure it is tailored as closely as possible to your needs, so please get in touch via our email address (healthandcare@truro-penwith.ac.uk) or answering the prompted question when registering for this event to let us know exactly what you would like covered.
REACH Cornwall (part of the ESF Business Clusters project) is part-funded by the European Social Fund and delivered by Truro and Penwith College Business, your trusted training partner.
PRIVACY NOTICE:
The information you provide to Truro and Penwith College will be shared with the Department for Work & Pensions (DWP) and used to evaluate this project and to report to the Truro and Penwith College and European Social Fund for monitoring purposes, in line with European Commission regulatory requirements.
Your information will also be shared with research organisations working on behalf of the Department for Work & Pensions who may contact you to discuss your involvement in the project for research purposes. Participation in research is voluntary and you will be asked to consent before taking part in any research activity you may be contacted about.
Data will not be used or shared for any commercial or marketing purposes. At all times your information will be kept securely, and nobody will have access to it that shouldn't.
For the purposes of the General Data Protection Regulation (GDPR), the DWP is the data controller in respect to information processed which relates to all participation in the European Social Fund. ESF grant beneficiary organisations are data processors in respect to information processed which relates to participants in the operations and projects funded by the European Social Fund.