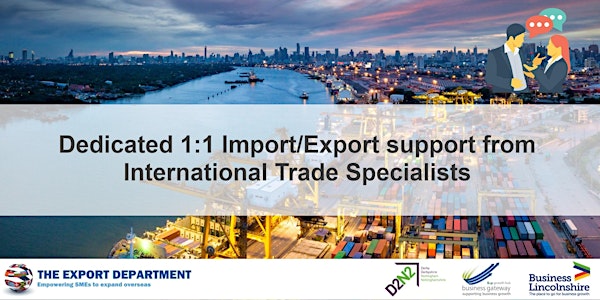 27th May - International Trade Specialist 1:1 session
Dedicated 1:1 with a seasoned International Trade specialist to identify and plan how the programme can optimally support your business
About this event
Are you a novice or experienced exporter looking to expand your brand further overseas? Are you a company looking to add resilience to your supply chain by exploring overseas providers? Perhaps both apply, and you currently import and export your goods and/or services.
International trade can be complex but incredibly rewarding; it can carry a level of risk above and beyond your dealings in your domestic market, so it pays to sanity check your plans with an expert before investing your time, resource, and funds. This is where the Empowering SMEs in International Trade programme can help.
What 1:1 support is available as part of the Empowering SMEs in International Trade programme?
The programme provides 3 levels of dedicated 1:1 support:
International Trade Clinics (up to 2 hours of support)
International Trade Deep Dive Sessions (up to 6 hours of support)
Export Manager Programme (up to 30 hours of support from a dedicated Export Manager)
International Trade Clinics and Deep Dive Sessions are client-led and fully funded, providing support on a range of importing and exporting challenges and opportunities. Trade Clinics are more high level and geared towards novice importers/exporters; whilst Deep Dive Sessions are more suited to existing and more experienced importers/exporters. Support covers a wide range of topics including but not limited to the subjects below.
Trading post Brexit (covering documentation, regulation, compliance, tariffs, licensing, etc.)
Trade compliance
Trade facilitation (looking at trading opportunities for businesses)
Commodity code analysis
Customs warehousing
Transit procedures
Customs special procedures
Rules of Origin
Valuation for Customs purposes
Evidencing Proof of Export
Authorised Economic Operator
Letter of Credit Management and other financial safeguards
Effective trade finance; Incoterms
And much more
And finally, the Export Manager Programme allows for up to 30 hours of targeted, hands on support to facilitate overseas expansion. Areas of focus can range anything from market research, regulatory compliance, partner sourcing and vetting all the way through to product adaptation, marketing, and local market launch. Support is delivered via a combination of targeted coaching and hands on activity, the focus here is on transparency, collaboration and knowledge sharing to ensure that your team is constantly learning and acquiring best practice that can be taken forward as you become more self-sufficient.
What are the eligibility criteria?
There are no specific eligibility criteria for the International Trade Clinics and Deep Dive sessions other than you must be an SME and registered in either Lincolnshire, Leicestershire, Nottinghamshire, or Derbyshire.
In terms of the Export Manager Programme, experience of exporting is not necessarily mandatory, you can also be either a goods or services-based company. However, you must be a business registered in either Lincolnshire, Leicestershire, Nottinghamshire, or Derbyshire. As well as this, you must have:
An annual turnover >£250K
Demonstrable success in your domestic market
Funds / reserves to invest in export activity
What are the next steps?
Register for one of these International Trade Specialist 1:1 sessions. These 30 minute sessions enable you to learn more about the programme, discuss your international trade ambitions and challenges, and together with the Specialist, devise and plan a support approach that will deliver optimum value to your business.
About our specialist Andrea Collins of The Export Department
Andrea is an international trade specialist with almost 25 years' experience in the industry. A linguist fluent in French and Spanish, Andrea specializes in Importing, exporting, EU Exit preparedness, business resilience, and business growth. A passionate ambassador of UK micro businesses and SMEs, she launched Global Trade Department (formerly The Export Department) to assist these companies expand their horizons internationally and raise the profile of UK goods and services abroad. As well as supporting private clients with their international trade endeavours, Andrea delivers 1:1 support and 1:Many support for a number of Growth Hubs nationwide and is responsible for the design and delivery of a range of EU transition, international expansion, and business resilience support programmes operational across Lincolnshire, Leicestershire, Derbyshire, Nottinghamshire, Gloucestershire, Wiltshire, Oxfordshire, Norfolk, Suffolk and the South East Midlands.