2nd Annual Undergraduate Clinical Educator Conference
About this Event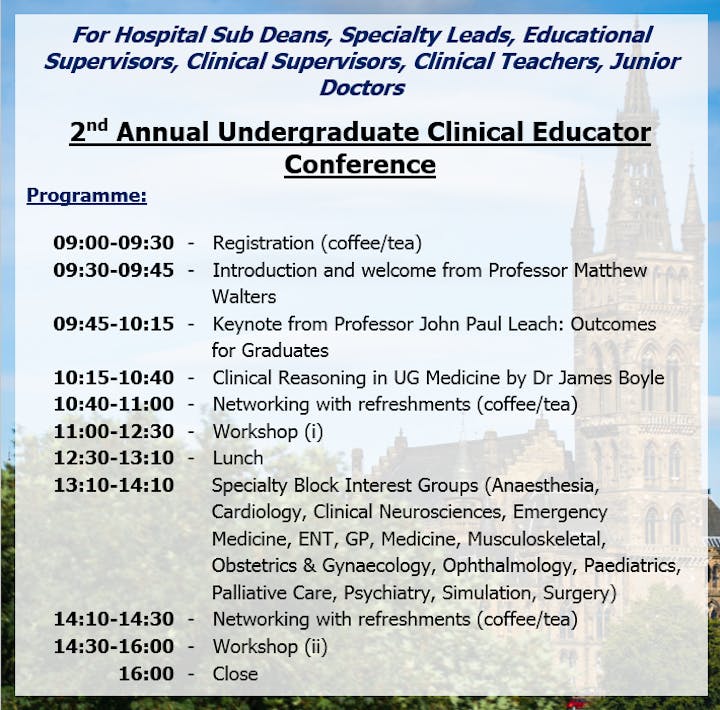 *PLEASE REGISTER BY FRIDAY 2ND AUGUST*
Workshops :
• Educational Supervision: Failing to fail and how to give feedback (Malcolm Shepherd) - This workshop will explore the academic progress of students on clinical placement and discuss practical approaches to feedback and students with academic difficulties.
• Teaching Clinical Reasoning (Martin Hughes & James Boyle) - This workshop will explore the latest approaches to teaching clinical reasoning and discuss practical approaches to improve how medical students integrate clinical information, medical knowledge and situational factors to make decisions about patient care.
• Flipped Classroom and Resources (Camille Huser & Genevieve Stapleton) - This workshop will examine what the flipped classroom is, and how to use it to teach medical students in large lectures and small tutorials, as well as exploring how to create resources for your students to use. In the spirit of the flipped classroom, there will be compulsory material to view before attending the workshop!
• How to Teach Clinical Skills (Jason Long) - This workshop will explore the latest approaches to teaching clinical skills and discuss opportunities to become involved in the programme.
• MCQ Question Writing and Standard Setting (Rajan Patel, Carol Ditchfield, Jonathan Fox) - This workshop will provide a comprehensive overview of creating single best answer questions and setting exams for Years 3 to 5.
• Remediating Lapses in Professionalism (Lindsey Pope) - An interactive workshop based on current thinking on why medical students lapse in their professionalism. The session aims: 1)To give participants an approach to situations where students' professional behaviour falls below the expected standard; 2) To provide a framework to help target remediation of behaviour; 3) To inform participants of the University processes available to help support students struggling to meet the expected standards of professional behaviour.
• Support for Medical Students in Difficultly (Angela Cogan) - This workshop will explore areas medical students might struggle, how to support them and the resources available.
• Scholarship for Clinical Teachers (Susan Jamieson) -This workshop will provide an introduction to and explore practical strategies for starting scholarship as a clinical teacher.
• Excellence in Clinical Placements: The Certificate of Merit *AM only* (John Paul Leach & Evelyn Laing) - This workshop will discuss the certificate of merit and discuss how and when you can encourage and reward excellence in clinical attachments.
• Sharing Good Practice from Clinical Attachments *PM only* (Nazim Ghouri & Evelyn Laing) - This workshop will share good practice from the UG quality management process and explore opportunities to apply in your context.
Please select your AM/PM workshop and specialty choices on the next page. If a workshop is fully booked, it will appear in grey. Select N/A if you do not plan on attending an AM/PM workshop.
Please note, workshops and specialty subjects may be subject to change.
Workshop spaces are limited - please book early to avoid disappointment.
*For queries regarding the conference please contact Lisa.Heggie@glasgow.ac.uk