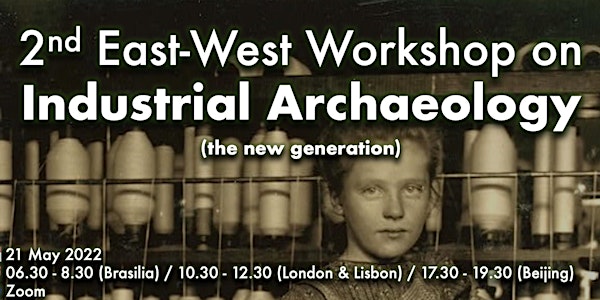 2nd East-West Workshop on Industrial Archaeology - The New Generation
Exchange ideas and knowledge among Western and Eastern colleagues to build a more international and diverse industrial archaeology
About this event
After the motivating results achieved by the "1st East-West Workshop on Industrial Archaeology: introducing the archaeology of the industrial society" in 2021, we are now launching a second edition focused on the work of young people in academic and professional industrial archaeology.
The East-West series of workshops aims to exchange ideas and knowledge among Western and Eastern colleagues to build a more international and diverse industrial archaeology. In order to broaden perspectives, this edition also includes Brazil and the Global South in the conversations.
The activity is organised jointly by the Institute for Cultural Heritage and History of Science & Technology (USTB, China), and the UK Association for Industrial Archaeology together with its Young Members Board.
SPEAKERS
Yuchen Wang (University of Science and Technology Beijing)
"Electronic industry heritage: the example of the Chinese display industry"
Otis Gilbert (Wessex Archaeology)
"Digging industrial Britain: two case studies from Sheffield and Normanton"
Mário Bruno Pastor (Portuguese Catholic University)
"The Millano's woollen mills in Portugal: an archaeology of absence"
Tiago Silva Alves Muniz (Federal University of Pará)
"Rubber industrial complex and entanglements at Brazilian Amazon"