Location
EY - Auditorium 20th Floor
25 Churchill Place
Canary Wharf
London
E14 5EY
United Kingdom
Description
Agenda
9:30am Registration
10am Welcome adress by TechFluence & EY
10:10am FinTech Market Overview: Global & Continental Europe with focus on InvestTech
10:30am Keynote - The use of Big Data and Artificial Intelligence in the Investment Management industry, Bastian Lechner (CEO, Catana Capital)
11am Startup Pitches I
12:30pm "Is your hiring killing your business?" - Fireside Chat with James Johnson (CEO Nicoll Curtin) - Moderation: Farley Thomas (Principal, True Dawn)
1pm Networking Buffet sponsored by EY
2pm Roundtable discussion: "Digital Wealth Management: A threat to financial markets stability or a pioneer of a more efficient investment culture?" - Adam French (Founder Scalable Capital), Ralf Frank (CEO, DVFA Germany), Iqbal V. Gandham (MD, eToro), Jennifer Hansen (Head of Institutional, Saxo Bank) - Moderation: Dr. Joo Hee Lee (Sr. Advisor TechFluence),
2:30pm Startup Pitches II
4pm Coffee Break
4:30pm "InvestTech from a VC investor's perspective" - Fireside Chat with Aman Ghei (Principal, Orange Growth Capital) - Moderation: Samarth Shekhar (Founder TechFluence, Co-Founder FinTech Forum)
5pm Closing remarks & Networking Drinks
6pm Carriages

The agenda may change.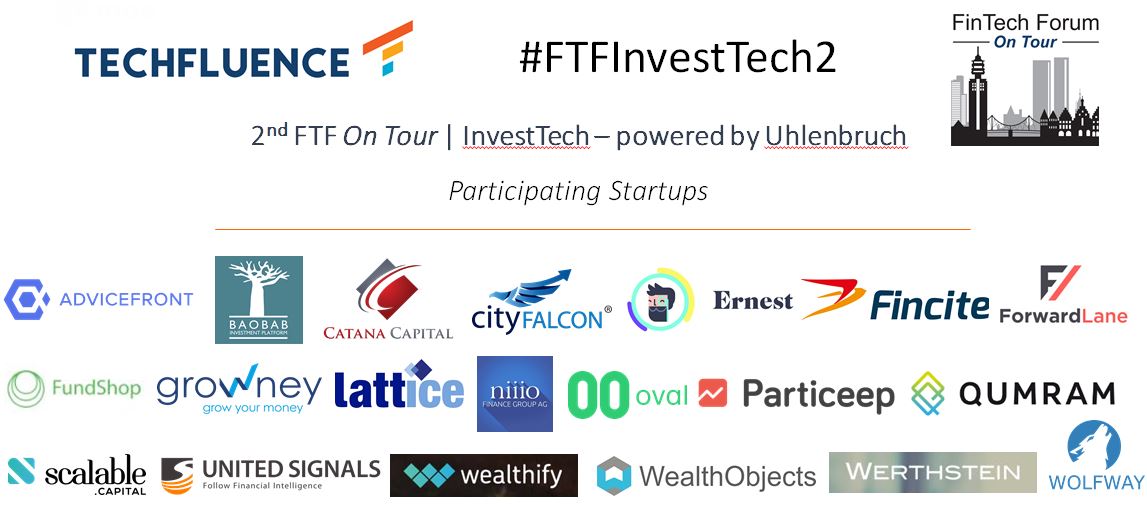 Participants of previous events include:
Aberdeen Asset Management, Accel Partners, Aegon, Allianz Global Investors, Airplus International, Balderton Capital, Berenberg, BNP Paribas, Che Banca!, Commerzbank, Deutsche Bank, DvH, Earlybird, ebase, Fidelity Investments, Flossbach von Storch, GE Capital, IBM, Mastercard, MunichRe, Nordea, Orange Growth Capital, SAP, Schroders, Seven Ventures, Societe Generale, Thomson Reuters, UBS etc.
Presenting startups "in a tweet"
Advicefront: An advice platform for financial advisors that combines algorithmic investing with the human side of financial advice.
Baobab: One of the first robo advice solution for African securities
Catana Capital: quant manager running an investment fund that invests based on independent trading signals generated from big data analysis, combined with artificial intelligence (AI) algorithms.
CityFalcon: Personalised Financial News using proprietary CityFALCON Score
Ernest: Helps with financial habits by answering your questions and proactively giving you insights
Fincite: Engineering Asset Management for a connected financial world with a team of almost 60 people
ForwardLane: Applied AI company that brings strategic AI enablement to digital distribution and advisory in financial service
FundShop: Web-based financial application that helps investors construct and manage their investments online.
Growney: Fully automated investment solution provider for B2C, B2B and B2B2C
Lattice: 1st View-Driven Robo Advisor empowering B2C and B2B users to transform their opinions into efficient portfolios
niiio finance group: Building a robo advisor for your institution in 2 months. The new feeling of money for investors.
Oval Money: First app for financial coaching and planning that helps you save according your rules!
Particeep: API-based financial services platforms provider
Qumram: Captures 100% of all digital interactions (web/social/mobile) to ensure compliance, prevent fraud and enrich customer service.
Scalable Capital: Europe's fastest growing online wealth manager, powered by technology.
United Signals: Provides actively managed investment strategies and widely diversified ETF portfolios for your successful financial investment.
Wealthify: Simple & affordable investing for everyone. Get an investment plan managed by experts for a low fee.
WealthObjects: Helping institutions launch a pure digital (robo) or hybrid digital wealth manager in a B2B model.
Werthstein: First robo advisor combining media & wealth management
WolfWay: Markets are unpredictable. But market is made by humans, and human behavior is predictable - with crowd sourced financial intelligence by WolfWay