2nd London Northern Soul All-Dayer Sunday 15th APRIL 2012

Sunday, 15 April 2012 at 12:00

-

Monday, 16 April 2012 at 00:00 (BST)
Event Details
2nd All-Dayer Sunday 15th April 2012
50 SPECIAL EARLY BIRD TICKETS at £9
The Dome
Tufnell Park Tube

LONDON
On the NORTHERN LINE - where else ;-)

Listen to how it was (is !)
Twisted Wheel the Inteview
(Pete Waterman)
Come and relive those memories or
experience them for the first time ;-)
It'll Never be Over for Us - how about You ?
(Check out our YOUTUBE Channel here) 
http://www.youtube.com/user/SoulnitesChannel
12 NOON -12 MIDNIGHT
2 ROOMS - MAIN ROOM - OLDIES, 2ND ROOM - RARE & UNDERPLAYED.

Large Rooms - 2 Great Dance Floors, Food, Vendors, Record Bar, Raffle
SPECIAL GUEST DJ BRIAN RAE

(Wigan Casino + too many clubs to list)
Host/Resident DJ's include
Soulnites - Ann Taylor, David Haizelden
Bisley Nightshift - Derek Mead
Cambridge Soul - David Hayden

Mike Presswell - Gosport Soul
Mark Sargeant - Oxford
Green Onions Hertford - David Crabtree, Andy Hill
Klub Polonia - Anton Ludwig

Oxford Soul Club - Maz, Jon, Ritchie

Soul on the Square London
Jim Watson, Siy Aylott
Ian Jackson

X-Ray Soul Club London
Ged, Drew, Jimmy
Kev Moore
Ian Jackson
Dennis Hyde

TICKETS: Just  £10 Buy online here *
(List your name and favourite tune as you purchase)
* Or ask your local London Northern Soul DJ !
*500 Capacity Book early to avoid disappointment 
(£14 on the door if available)
Northern Soul All-Dayer (Soulnites) Sunday February 19th 2012
          And how it will be again on Sunday 15th April 2012 !
                               Get your tickets here now just £10
                                       (paypal/credit/debit card)

(Or see any of the DJ's listed above at their next event to get a ticket)
                   12 Hours of non stop Northern Soul 20+ DJ's

                                         £14 OTD On The Door
                        Subject to availability and Capacity Limits
FREE NORTHERN SOUL DANCE CLASS with Fiona Smith
http://www.facebook.com/profile.php?id=100000015143565&sk=wall
(Private, Pre-Event 12 Noon -1pm  2nd Room, simply register above at Ticket section)
2012 ALL-DAYER Dates now confirmed (same venue) see flyer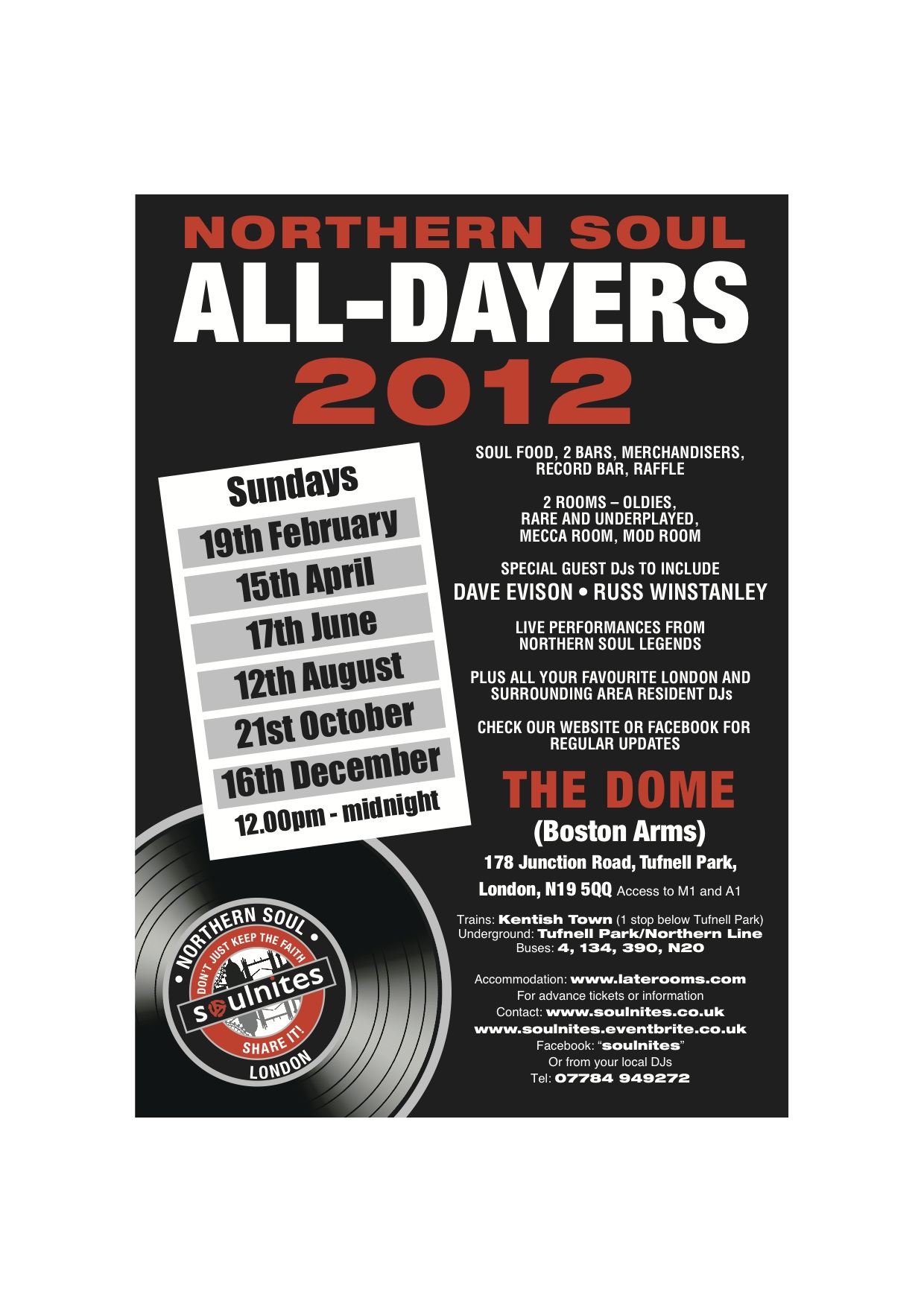 When & Where

The Dome (Boston Arms)
178 Junction Rd
Opposite Tufnell Park Tube
N19 5QQ London
United Kingdom


Sunday, 15 April 2012 at 12:00

-

Monday, 16 April 2012 at 00:00 (BST)
Add to my calendar
Organiser
PLEASE LIKE OUR PAGE at - 
http://www.facebook.com/pages/Soulnites

Northern Soul events in around the London area.

A group for Northern Soul fans living, working or travelling to or through
London, United Kingdom.

Soulnites philosophy is "Don't just Keep The Faith - Share It !" so feel free
to share your events, favourite tracks, DJ's, Venues, Stories, photos and 
videos but PLEASE the key word here is NORTHERN SOUL.
(Oldies/Motown/Crossover/Modern/Rare/Underplayed)

Finally, please support soulnites and help us to "Share the Faith" by -

Sharing this Group and link by messaging your friends, posting on your wall 
and of course attending soulnite events.

We look forward to playing your favourite tunes on vinyl at one of our soulnites
member or National Events soon.

See you on the Dancefloor ;-)

Ann DJ Tayor

P.S Don't forget to "like us" at -

http://www.facebook.com/pages/Souln...