Description
Karma Collective is a group of professional bodywork therapist, mentors and life coach practitioners that have come together to deliver a great boost to peoples lives. Our aim is to find joy in the smallest of spaces, to share love and to extend our experiences and knowledge with as many people as we are able to reach.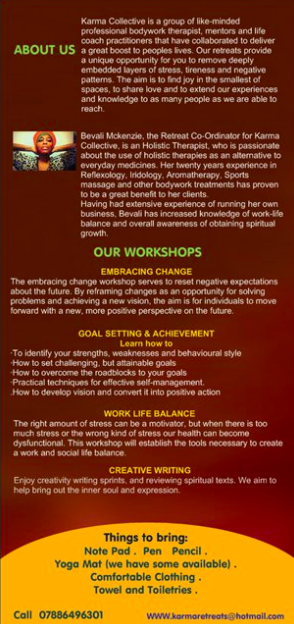 Reserve your place on a Karma Collective Retreat
This retreat is aimed at spiritual women who want to take time out from the "every day". If you want to benefit from life-enhancing coaching, group discussions and personal develop, a KARMA Retreat is an opportunity to bring in a new way of thinking .

Using a combination of coaching techniques alongside yoga and meditation, our workshops are a great way to delve into your psyche and discover how you can make the best of yourself and positively affect others around you.

For more information please feel free to contact Bevali on 07886496301 or email
karmaretreats@icloud.com