About this Event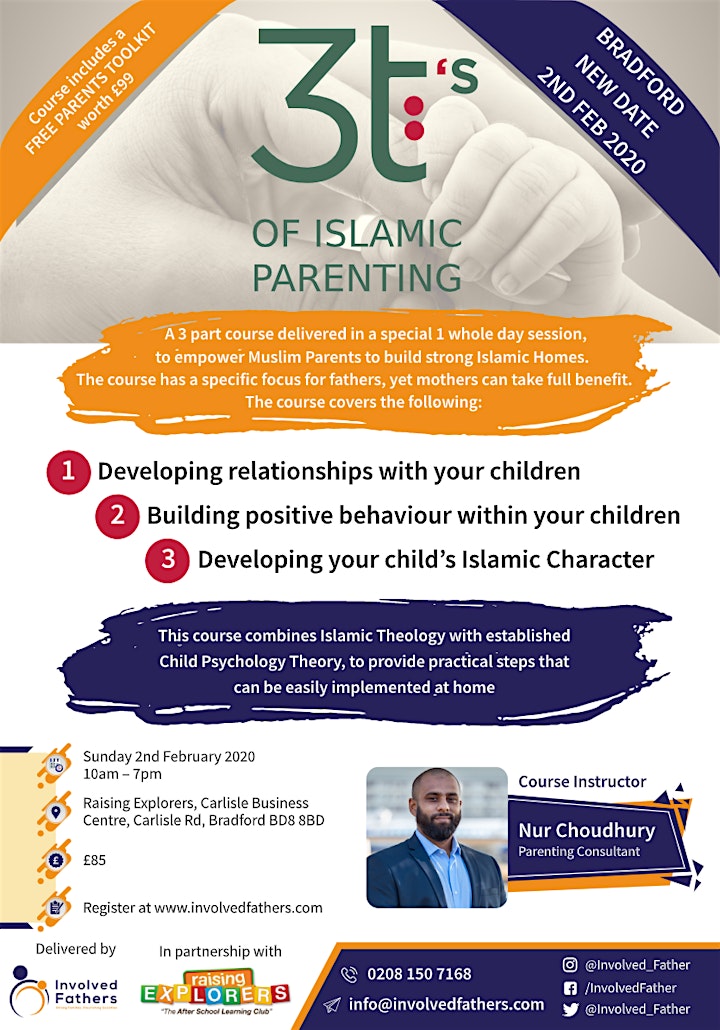 The upbringing of children is of the most challenging and difficult of responsibilities. Parents continue to face innumerable problems and obstacles when raising wholesome Muslim children. The maintenance of relationships and modern day challenges leave parents in a state of confusion and worry.
The 3 T's of Islamic Parenting is a course designed to empower Muslim parents to build strong Islamic homes and character. The course covers the following:
1. Developing relationships with your children
2. Building positive behaviour within your children
3. Developing your child's Islamic Character
The course brings together Islamic theology and established child psychology theories to provide real life practical steps that can be easily implemented within your family.
The course is being delivered as a special 1 day course (usually 3 part/week course) on Sunday 2nd February 2020 and covering the following topics
Talking – Different approaches on how to converse with your child
Listening – Different approaches on how to listen to your child
Love – How to show love and build love between you and your child
Behaviour – Nurturing positive behaviour in your child
Praise – How to build confidence and motivate your child
Habits – Nurturing good habits within yourself and your child
Salah – Steps on how to build the love of Salah in your child
Qur'an – Steps on how to build the love of Qur'an in your child
Islamic SRE – The Islamic way to cover issues relating to puberty, relationships and more