Refund policy
Contact the organiser to request a refund.
Eventbrite's fee is nonrefundable.
The 30 Day Experiment is a unique 1:1 Programme with you in mind.
About this event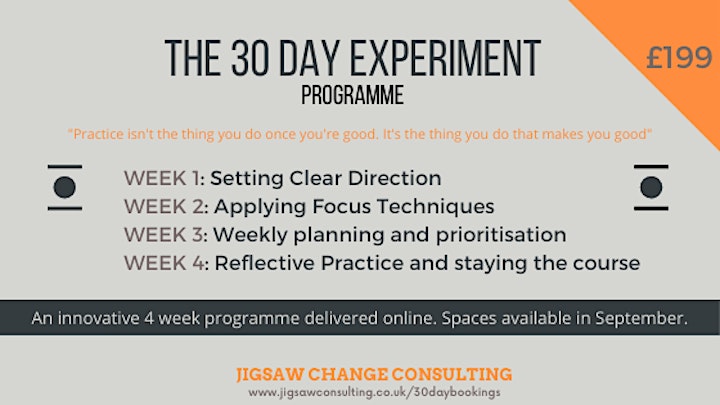 "People do not decide their futures. They decide their habits and their habits decide their futures"
Through this highly interactive 1:1 course, you will choose up to 3 habits to develop in 30 days.
This is a practical immersive course where you will apply the science and the art behind habit formation to over-achieve on your goals. Warning. This is not just theory!!
I will walk with you on this 30 day journey as I want to ensure you gain real benefit and come out the other side with more purpose and with greater motivation.
Just one thing though. You have to be committed and have the desire to improve. If you have that, and follow this course, you will be streets ahead of most people when it comes to habit formation.
Who is this for? This is for you if:
You want an affordable way to make improvements in your life but are not ready to start spending lots of money, often thousands, on a personal coach.
You are constantly trying new habits, you do well for a few days and then give up.
You have the desire to improve but often get distracted and suffer from procrastination.
You know where you want to be in the next 10 years and recognise developing good habits is a massive part of getting you there.
What are the benefits?
What makes the 30 Day Experiment special is that it's unique to YOU.
Because the 30 Day Experiment is targeted to your habits and your lifestyle, it means we can really laser in on what you want to achieve. Be it, health and fitness, personal finances, personal relationships, giving up a bad habit, or anything else.
By Day 30, you will develop clarity, improved focus, and motivation evidenced through your own progress as you build confidence in habit building.
How long is the course?
The course lasts a full 30 days. A week before there is some pre-work to do to help clarify direction. And a short questionnaire. Over this period, I will schedule 4 calls spaced 1 week apart.
What tools do you use?
Delivery is online using a secure zoom call, protected with a meeting ID and password. You will receive the material we go through in PDF format after each session for you to refer to.
Optionally and at no extra cost, you will also have access to me throughout the 30 Days via WhatsApp.
I'm interested! Is it possible to have a chat before I book?
Of course! And it's what I would expect. Please click below and you will be taken to a page where you can see my schedule and book a 30 min call with me at a time that suits you.
www.jigsawconsulting.co.uk/30daybookings
So how does it work once I book?
Step 1. We mutually agree a START date for your 30 Day Experiment Programme
Step 2. You will receive 4 x one hour Zoom invitations from me, where we kick start the programme and get you moving towards a better future. One that puts you in control.
Step 3. You will receive a little pre-work to do ahead of time that will help in terms of the habits you select. I can either send these to you in the post (yes I know - old school!) or you can request digitally.
The 4 week course outline is shown above. And I can give you more detail when we speak.
Testimonials (References available)
"Attended a great call, arranged & hosted by Anish on habits. The content was great & the interactive slides, questioning and probing for insights was amongst the best I have seen. Highly recommended"
"I've got to say that I couldn't afford a coach as it was too expensive. And I had the desire to move forward, I just lacked a framework. I've been able to prove to myself that I can stick to habits for longer than 30 days and I'm now applying this to many areas of my life. If I can do it, so can anyone else"
Are YOU ready to begin your transformation?
Book now! Limited spaces from September 2020