Location
Ptarmigan Dome, Loch Insh Outdoor Centre
Loch Insh Outdoor Centre
Kincraig
PH21 1NU
United Kingdom
Refund policy
Contact the organiser to request a refund.
Eventbrite's fee is nonrefundable.
The Storylands Sessions - Open Mic Night
About this event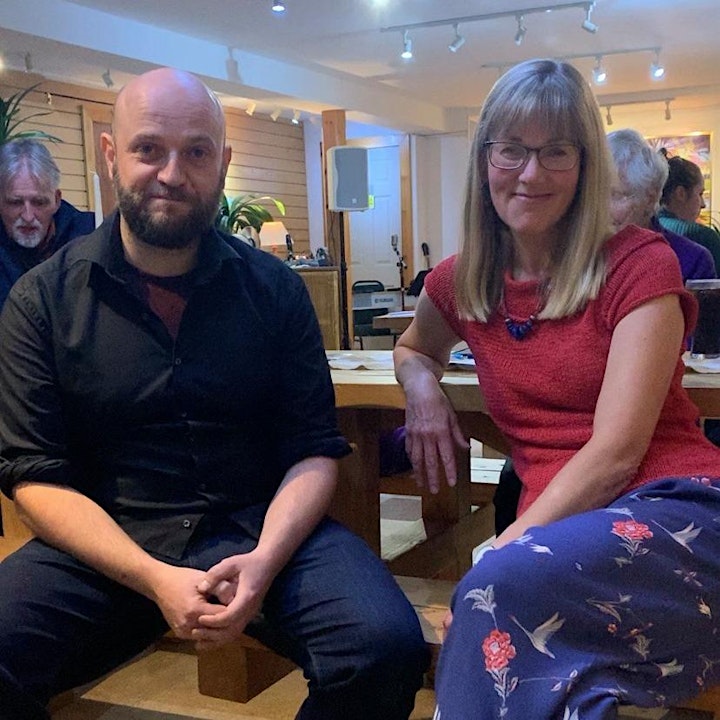 The Storylands Sessions are a series of music and storytelling events in Badenoch led by musician, Hamish Napier, and writer, Merryn Glover.
OPEN MIC
Tuesday 9th August - Theme: THE WOODS
The Tree of Life, the Tree of the Knowledge of Good and Evil, The Tree of Death. A timber industry or a mindfulness meander, a climate crisis or a teddy bear's picnic. What do trees, forests and woods mean to you? Come and share your tales, tunes, poetry and songs about this rich theme, deeply rooted in our land and our psyches, our history and our survival.
Our special guest for the night will by Sarah Hobbs of Strathspey Storywalks. A regular supporter of the Sessions, Sarah has developed a treasure trove of local knowledge and stories that includes Gaelic, history, legends and folk tales and plant wisdom. She will be giving us an insight into a past thriving local industry related to trees that many of us know nothing about.
7.30pm-10pm-ish (doors open at 7pm)
Loch Insh Outdoor Centre, near Kincraig, Invernesshire, Scotland, PH21 1NU
Programme
Our evening always begins with half an hour or so featuring our special guests, and then we open the floor!
We welcome:
- folk who just want to come along and listen. You don't have to perform to be taking part and thunderous applause is always appreciated!
- all kinds of stories: historical, myth and legend, your own experiences - or a mix!
- poetry: ideally your own, but your faves from other poets welcome, too
- music: traditional, contemporary, original or borrowed; instrumental or sung; solo or ensemble
Anything on theme will do, up to five minutes, with a possible second turn if there's time.
You can offer a contribution on the spur of the moment, but priority for slots will go to those who book in advance. Just email us once you've got your ticket. (You aren't signing a contract; you can always change your mind.) Most of the time, available slots are booked up before the night, so if you're keen to share, don't wait till the last minute!
The evening will be threaded together by your co-hosts, Merryn and Hamish, with tales, tunes and terrible jokes.
And there will be BAKES!
A refreshment break half way allows time to mingle and enjoy heartening beverages and tray bakes from the team at Loch Insh. In fact, why not make a night of it and book a meal at the Loch Insh Restuarant beforehand? The whole menu is available but they are also offering a Special Storylands Supper from 6 to 7pm of either steak pie & chips OR baked potato and vegan chilli with salad. All for £10!
Pre-booking for either a la carte or specials is ESSENTIAL on 01540 651394 or email restaurant@lochinsh.co.uk
UPCOMING OPEN MICS
No Open Mic in September as we will be holding a very special event during the Badenoch Heritage Festival.
In partnership with Colourful Heritage, the Storylands Sessions presents The Force K6 - Indian Contingent Story.
It will be on Tuesday 20th September in the Newtonmore Village Hall. Tickets and information via Eventbrite here.
Tuesday 11th October - Theme: TBC
With special guest, artist Ann Vastano.
WORKSHOPS
The Storylands Sessions also run a series of workshops in word and music:
Folk Music with Hamish Napier: In Person - Info & Tickets
Folk Music with Hamish Napier: Online - Info & Tickets
Stories and Poetry for Performance with Merryn Glover: In Person - Info & Tickets
Stories and Poetry for Performance with Merryn Glover: Online - Info & Tickets
Keep an eye on our website below and social media for further updates about The Storylands Sessions events. Even better, to be on the inside lane, sign up for our mailing list here.
www.badenochstorylands.com/storylands-sessions
Follow #BadenochTheStorylands #StorylandsSessions on social media
Storylands Sessions is proud to be funded by Creative Scotland, the Cairngorms National Park Authority, Highland Council and Wildland Limited and to be a partner in the Scotland Year of Stories 2022 programme.