30th anniversary of Lithuania's independence at Southwark Cathedral
Celebrating the 30th anniversary of the restoration of the independence of Lithuania with a contemporary music concert by Synaesthesis
About this event
This year we will celebrate the 30th anniversary of the restoration of the independence of Lithuania with a concert by a contemporary music ensemble Synaesthesis. The concert will be held at Southwark Cathedral on the 11th of March and will commence at 1:15 p.m. The event is organized by the Embassy of Lithuania to the UK and Lithuanian Cultural Attache in the UK.
Synaesthesis was founded in 2013 by a conductor Karolis Variakojis and a composer Dominykas Digimas. Since then, the ensemble has become popular both nationally and internationally. In 2017, Synaesthesis received the Young Artist Award from Ministry of Culture in Lithuania and in 2019, it received an honorary title as Vilnius City Ensemble by Vilnius Municipality.
Internationally Synaesthesis has also received numerous awards. In 2016 and 2017, the ensemble participated in the International Summer Academy in Austria where the musicians were awarded the Just Composed interpretation prize for the best performance of the premiered pieces. Since then, Synaesthesis has performed in various European countries sharing their talent with the audiences in Estonia, Poland, Austria, the Netherlands, Slovakia, Cyprus and the UK.
The ensemble's vision goes beyond sound – but into space, light, movement and narrative – anything that allows for professionally performed music to become a multidimensional creation, blurring lines between genres.
With the programme "Baltic Sense", Synaesthesis is inviting the audience to listen to the most prominent composers from the Baltic Region - Arvo Pärt (Estonia), Pēteris Vasks (Latvia), Bronius Kutavičius and Ramūnas Motiekaitis (Lithuania). According to the ensemble, these musical works were part of the silent resistance that allowed the process of forming national identity and cultural authenticity to continue.
Don't miss out Synaesthesis on the 11th of March at 1:15p.m. at Soutwark Cathedral!
Partners and supporters of the event - Lithuanian Culture Institute and Lithuanian Council for Culture.
Organiser of 30th anniversary of Lithuania's independence at Southwark Cathedral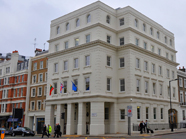 EMBASSY OF THE REPUBLIC OF LITHUANIA TO THE UNITED KINGDOM OF GREAT BRITAIN AND NORTHERN IRELAND
Lithuania House, 2 Bessborough Gardens, Westminster, London SW1V 2JE, UNITED KINGDOM
Tel +44(0)20 7592 2840, Fax +44(0)20 7592 2864 E-mail: events@uk.mfa.lt