Location
RM19 1QA
The Beacon
Purfleet-on-Thames
Purfleet
RM19 1QA
United Kingdom
Gentle walk from Purfleet-on-Thames Beacon to High House Production Park, via Heavenly Greens Fruit & Veg with extra activities!
About this event
Sustainable Communities: Shop keepers, delivery drivers and postal workers
11th June 2022 11.00am-5.00pm
Walk 5 of T100 People
Starts: Purfleet-on-Thames Beacon
Ends: High House Production Park
A gentle walk from Purfleet-on-Thames Beacon to High House Production Park, via Heavenly Greens Fruit and Veg to hear from local key workers, followed by activities as part of the Essex Book Festival!
We arrive at High House Production Park, welcomed by Kinetika's giant skeleton puppet 'The Midnight Robber' for Essex Book Festival's 'Criminally Good Day' event. There will be site tours, talks, craft and writing workshops for all ages and criminally good storytelling.
Don't miss out on the festivities.
If you'd just like to attend the community event at High House Production Park and not join any walks, this is free, open to all and doesn't need to be booked.
Schedule
Meeting Point / Time: 10.45am, The Beacon, Purfleet-on-Thames, RM19 1QA
Walk begins: 11am
12.30pm: Arrival at High House Production Park
12.30pm - 1.30pm: A welcome from the Midnight Robber and High House Community Group. A sneak peak into Kinetika's Design Studio for a close up viewing of the Platinum Jubilee Pageant silks and site tour.
Walk Ends: 1.30pm
1.30pm - 5pm: Optional picnic as well as craft and writing workshops. Please visit the Essex Book Festival website for more details.
Event Ends: 5pm, High House Production Park, RM19 1AS
Walk Info
Duration: 1.5 hour walk
Distance: 2 miles
Grading: Easy
Terrain: The majority of this walk takes places on pavements however some pathways are slightly uneven and involve busy road crossings. At the beacon we will walk across a grassy area without a clear pathway but all of the walk is accessible to wheelchairs and pushchairs.
Access: this walk is accessible for wheelchairs and large pushchairs. However a section of the route is via London road, this is a busy road with a narrow pathway so please consider if you would be comfortable with this. 
Walk Leaders: Trevor Batchelor and Mike Ostler
Route Map
View the walk route on Wikiloc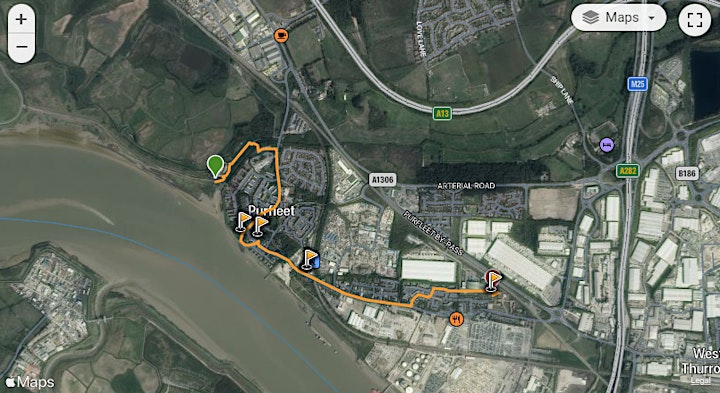 Travel
Train
The nearest train station at the Start/End: Purfleet
Bus
Start / End: 44 This bus stops on London Road near both the start and end of these walks.
Parking
Start/ End: Free parking is available at High House Production Park if you wish to park there and walk to the start at the Beacon.
Accessibility
This walk is accessible for wheelchairs and pushchairs.
T100 walks are of different lengths and on different terrain. Some are mainly on footpaths, and others mainly on footpaths where ground may be uneven. If this walk doesn't suit you, there is probably another one that will.
Please note: You need to choose walks within your capabilities; the walk leaders are experienced but must take your word that you are sufficiently fit for the grade of walk you have chosen. Due care has been exercised in organising the walks, however, Kinetika, the funders and associated partners of the project cannot accept liability for loss, accident or injury caused to any person following the routes, especially unsupervised. Participants under the age of 16 must be accompanied by an adult.
What to Take
Please ensure that you are properly equipped for all walks. The weather can be unpredictable so bring waterproof clothing and/or sun hats and sun cream – it's best to be prepared for everything!
Walking boots/shoes are recommended, but otherwise please wear suitable and comfortable footwear- best to leave open-toe sandals or high heels at home.
Make sure you bring a packed lunch with you if necessary, and plenty to drink.
Toilet facilities can be accessed at High House Production Park.
We encourage you to bring face coverings with you. You will not have to wear face coverings for the duration of the walk but you may wish to wear them when we enter indoor spaces on the route, although this is optional.
Photos/ filming
We will be taking photographs and video of this event to promote and celebrate the project in print and online. If you do not give consent to be photographed or filmed, that's absolutely fine, please let a member of the Kinetika team know on the day.
Share your own photos on social media with #T100People