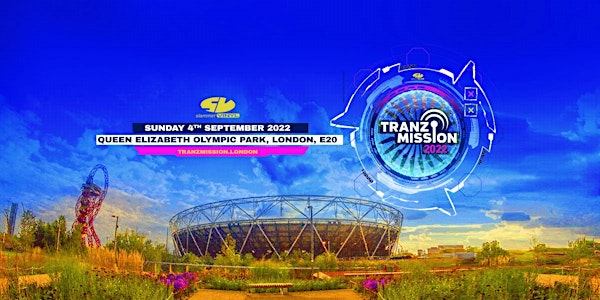 Tranzmission Festival 2022
Performers
DJ Fresh
Holy Goof, Macky Gee, SASASAS, Luude, Voltage, K Motionz, TS7, Logan D, Congo Natty, Majistrate, Shadow Child, Heartless Crew, Eksman, MC Eksman, DJ Luck, DJ Luck & MC Neat, Rude Kid, Sam Supplier, Ratpack, Ratpack, TNA, Nu Elementz, Grima, Azza, P Money, MOZEY, Critical Impact, Brockie, Profile, Trigga, Scott Garcia, Shabba D, DJ Pioneer, DJ Pioneer, Slipmatt, Billy Daniel Bunter, Billy "Daniel" Bunter, Ragga Twins, DJ S, Charlotte Devaney
Location
Queen Elizabeth Olympic Par
Hopkins Field
London
E15 2HB
United Kingdom
Tranzmission is back! After a year with a different name (Southbound) due to a pesky virus!
About this event
Tranzmission is back for 2022 at its new venue, the Queen Elizabeth Olympic Park in Stratford, London!
Featuring the cream of the crop in Drum & Bass, Garage, Jungle, House and Old School, Tranzmission 2022 has got to be the best line-up yet!
Tranzmission is produced by Slammin Vinyl, for many, many years the biggest rave promoters in the UK with an unparalleled pedigree in promoting the more underground styles of electronic dance music.
Starting it's life at Alexandra Palace through 2005-2009 and then at Finsbury Park, Crystal Palace, Morden Park (as Southbound) and now the Queen Elizabeth Olympic Park for the return of Tranzmission!
MAIN STAGE
Slammin' Vinyl - Headliners A-Z
DJ FRESH / HOLY GOOF / MACKY GEE / SASASAS / LUUDE / TS7 / CONGO NATTY / SAM SUPPLIER / LOGAN D / MAJISTRATE / RATPACK / EKSMAN / Special Guests – TNA x P MONEY
DRUM & BASS - One Nation x Breakin Science
VOLTAGE / K-MOTIONZ / G-DUB (Subzero vs Original Sin) / HARRIET JAXXON / BASSLAYERZ / BROCKIE b2b PROFILE / MOZEY / CRITICAL IMPACT / INTER / V DUBZ b2b EMZYY / TWISTA b2b KEZMAN
MCs TRIGGA, IC3, INJA, SPYDA, DREPS, FUNSTA, BLU BOMMA, FELON, MEKAR, KOMBO, CONNEC.
GARAGE - Heartless in the Manor
HEARTLESS CREW / DJ LUCK & MC NEAT / DJ STICKY / SCOTT GARCIA / RUDE KID / DJ PIONEER / CHARLOTTE DEVANEY / ANDY MILLS / DAN JOLLY
Live PA: LYNSEY MOORE performing LOVE BUG
MCs CREED, KIE VERSATILE, KOFI B, SPECIAL MC
HOUSE - Analogue & Karess
SHADOW CHILD (2012-2014 Set) / GW HARRISON / SAM SUPPLIER / MAUR
DJ's IWIZZ / JAYDAA / MARLON SADLER / FLOYD T / SPECIAL GUEST TBA
VIP - Raindance
SLIPMATT / BILLY DANIEL BUNTER / ELLIS D / DJ RON / RAGGA TWINS LIVE / MIKEE FREEDOM LIVE / MC KINKY LIVE / NEBULA II / RICHIE FINGERS / STEVE PROCTOR / FAT CONTROLLER / CHALKY WHITE / SKYZ / JOEY G
MCs MOOSE, STRICT, WHIZZKID, DANNY LINES, E MIX.
VVIP
SHABBA D DJ SET (On Vinyl) / SLIPMATT (1986-7 House set) / EL MATADOR3 (IC3 DJ Set) / BILLY DANIEL BUNTER (Jazz Funk Set) / FAT CONTROLLER (80's Soul Set) / CHRIS JONES (Jungle Set) / MIDLANDS MAGIC (Garage Set)