Location
Rochester Castle
Castle Hill
Rochester
ME1 1SW
United Kingdom
Medway Pride CIC Present Medway Pride 2022 LGBTQIA+ Festival on Saturday 20th August 2022, Be You & Make New Friends #MedwayPride2022
About this event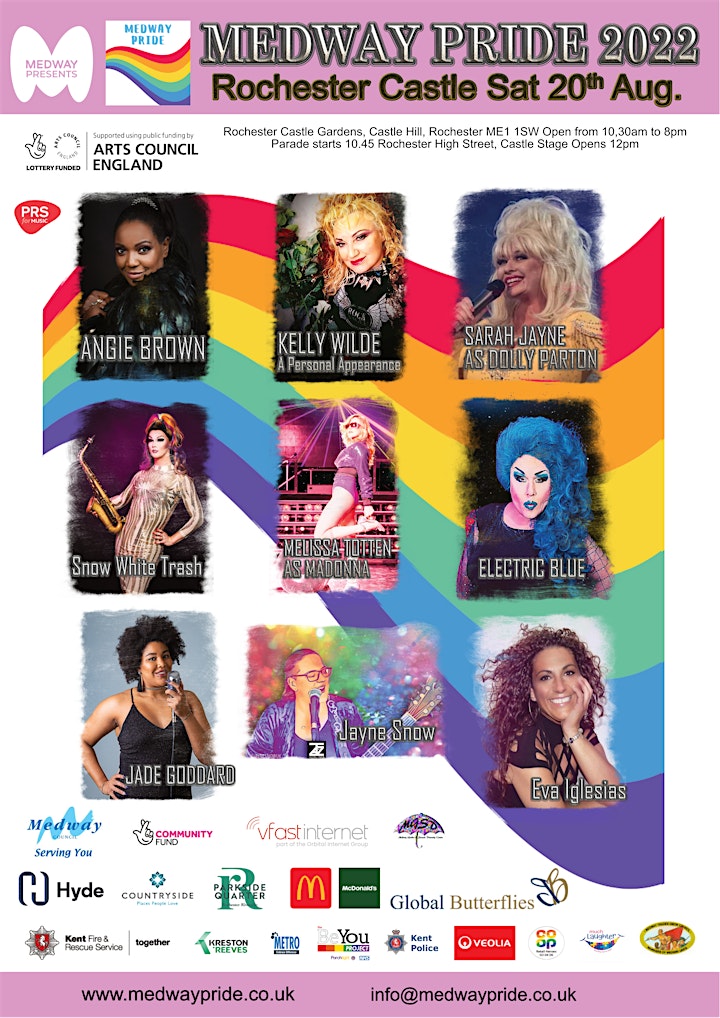 Medway Pride 2022
Rochester Castle Gardens open from 10:30am
Pride Parade Rochester High Street - 10:45am
Rocehster Castle Stage opens 12:00pm
Medway Pride is back with a fabulous #MedwayPride2022 line up.
This is a Free to Access Community Event. We raise funds through Community Donations, Sponsorship & Grants to enable Medway Pride CIC to pay for the event. Please Make a contribution that you can afford to Medway Pride Fund so we can continue to provide Medway Pride events free for ther community.
Tickets for the event are not limited but do not guarantee entry on arrival. We have planned for the event to be free to attend for all. There will be a limit on the number of people who can safely enter the castle gardens at any one time, so entry will be on a 'first come first in' basis. Once the safe limit has been reached entry will be open again as people leave the castle grounds so you may need to queue at the gate.
Please follow the instructions of Medway Pride CIC volunteers and security for your own safety and the safety of others.
Medway Pride is an LGBTQIA+ community festival with entertainment, music, local, national, internationally recognised acts:
Angie Brown
Angie Brown is an internationally acclaimed singer, songwriter and D.J. from London. She is immediately recognised from the classic dance track Bizarre Inc Featuring Angie Brown 'I'm Gonna Get You', which saw them hit No.2 in the U.K. and No.1 in the U.S. Dance Charts.
Kelly Wilde
Kelly Wilde - is an Australian International Recording Artiste who has performed in 32 countries Around the World and Toured the UNITED KINGDOM, AMERICA, INDIA, EUROPE,AFRICA,FAR EAST (JAPAN etc) , AUSTRALIA , THE FAULKLANDS AND EAST EUROPEAN COUNTRIES
Sarah Jane as Dolly Parton
Sarah Jane as Dolly Parton - "Europes Leading Dolly Parton Tribute as said by Kenny Rogers" Sarah Jayne is a professional entertainer, producer and director and has been in the music industry for more than 2 decades.
Snow White Trash
Snow White Trash - is UK's #saxydragqueen. Sassy, beautiful, and talented, this queen always entertains with her saxophone sing-a-long numbers, and her powerhouse vocal performances.
Malissa Toten as Maddonna
Malissa Toten as Maddonna - There's a wow factor at play here which puts Melissa in the top tier of impersonators and tributes worldwide. The ability to deliver an outstanding performance, to replicate costume and movement, attitude and persona along with impeccable vocal ability that cannot be matched. For more than 20 years, in front of over one million people worldwide, there is no venue too small or too large for this stellar performer.
Electric Blue
Electric Blue - Electric Blue is a fun filled 80s Northern bird live act, live vocalist and comedienne, Queen of Skegness and Queen of the Blue Lipstick, Guaranteed FUN Entertainment
Jade Goddard
Jade Goddard - Amazing performer ! High energy and thoroughly entertaining! Not to be missed!
Jane Snow
Jane Snow - Jayne's electro-acoustic guitar playing combined with soulful vocals enable her to perform a strong set of covers with her own unique twist.
Eva Iglesias
Eva Iglesias - Her singing career started some 10 years ago where she gave an impromptu performance at Sparkles Cabaret Bar in Gran Canaria where she brought the house down to a standing ovation. This performance lead to Eva being asked to host and perform on the main stage at Gran Canaria Pride.
Pride Parade
Medway Pride Parade along Rochester High Street will include local LGBTQIA+ and Community performances along with Community Groups, Organisations & Members of the Medway Community.
Including
Bloco Fogo Samba Band the largest and one of the most versatile samba bands
in Kent and the South East.
Mandiga Arts carnival, street costume performance
The Loco Cabaret, Medways Home of Alternative Drag & Burlesque
Please Help Us To Support LGBTQIA+ Communities
We hope you enjoy Medway Pride 2022 and the fabulous entertainment we have brought you this year. We need your feedback and support to help us raise funding to produce our pride events. please fill in our feedback survey after the event.
Medway Pride CIC is a voluntary not for profit organisation. We have no employees, we are all volunteers so all funds raised go to supporting local LGBTQIA+ voluntary organisations like MGSD Centre, and running our pride events. We need to raise funds to keep producing Medway Pride. Please make a donation to our Medway Pride Fund to help make this and other Medway Pride CIC events happen.
Thank you
Hilary Cooke Chair Medway Pride CIC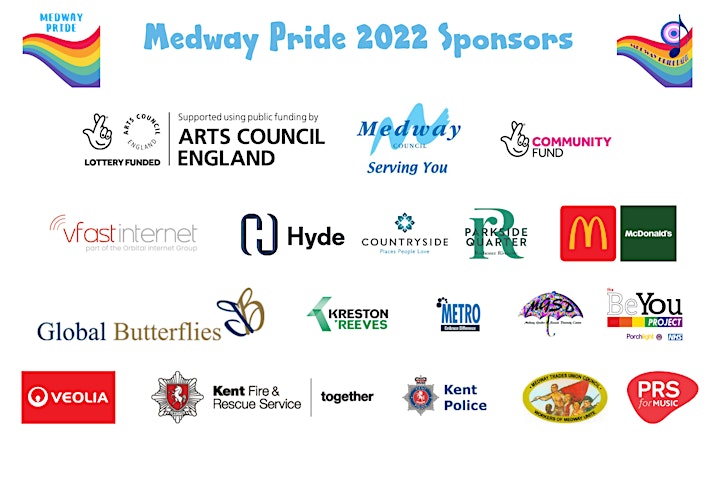 Medway Pride 2022 The Event
The event will commence with entertainment in a Pride Parade through Rochester High Street starting at 10.45, with the main event being held in Rochester Castle Gardens. There will be community stalls, bars and food outlets, and creative activitie
Entry to Castle Gardens
This is a free to attend event for community members. The tickets are free of charge, entry is on a first come first served basis up to the event maximum attendace number for the castle grounds. Please register for a free ticket and we will send you updates on the event.
Members of the parade are guaranteed entry to the festival event.
Community tickets for the parade are free of charge. Organisations wishing to participate in the parade need to make a donation to the Medway Pride Fund, Medway Pride 2022 Sponsors are guarenteed a place in the parade.
Getting to Rochester
Rochester Castle stands on the east bank of the River Medway in Rochester, Kent, South East England.
Castle Hill, Rochester ME1 1SW
Getting to Medway couldn't be easier.
We encourage everyone to use public transport to attend Medway Pride 2022.
Rochester Medway is just 30 miles from London and 40 miles from the Channel ports and Eurotunnel. It's easy to get to by rail, road, air and sea, and when you're here, travelling around couldn't be easier. The area has excellent public transport links by bus, train and taxi.
By Train - Rochester railway station is on the Chatham Main Line in England, serving the town of Rochester, Kent. It is 33 miles 61 chains (54.3 km) down the line from London Victoria and is situated between Sole Street and Chatham.
By local bus - The area is well served by public transport. Once here you can easily move around using local train, bus and taxi services. Arriva provides a frequuant 10-minute bus service daily between historic Rochester and Chatham Maritime. It also operates several other services throughout Medway and further afield from Chatham Waterfront Bus Station. Visit www.medway.gov.uk for further details on local bus services operating throughout Medway and timetables.
By road - Medway's five towns of Gillingham, Chatham, Rochester, Rainham and Strood are signed on the road network, plus look out for the brown tourist attractions signs. There is easy access from London and the Kent coast on the M2/A2 and M20 motorways, linking with the M25. There are direct links from A2/M2 to Rochester/Chatham/Gillingham via the A289/Medway Tunnel. Regular coaches run from London Victoria to the area.
Parking
Blue Boar Lane Car Park Blue Boar Lane, Rochester, Kent, ME1 1PD
Rochester Station Car Park High Street, Rochester, Kent, ME1 1HQ
Corporation Street Car Park Corporation Street, Rochester, Kent, ME1 1N
Rochester Riverside Car Park Rochester ME1 1GR,
High Street - Opposite Furrell's Road Car Park High Street, Rochester, Kent, ME1 1H
Cathedral Rochester Car Park (Disabled) Northgate, Rochester ME1 1LX,
Boley Hill Car Park CLOSED During the event Epaul Lane, Rochester, Kent, ME1 1TE
Kings Head Disabled Car Park CLOSED During the event Epaul Lane, Rochester, Kent, ME1 1SN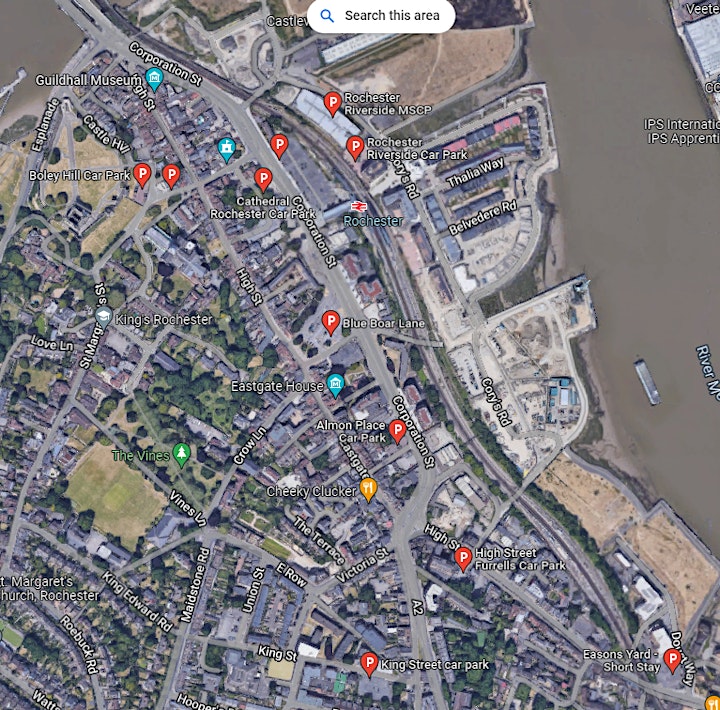 Entrance Criteria & Code of Conduct
Understand your responsibilities at Medway Pride 2022 to make this a safe space for everyone.
Entrance Criteria for All Participants
Our Code of Conduct makes sure everyone understands their responsibilities and is aware of what is and isn't acceptable at Medway Pride. We ask that all attendees abide by the outlined rules; it helps us keep the event a safe space for everyone. By attending the event in any capacity, you have already accepted to follow this Code of Conduct.
Changes may be made to this Code of Conduct prior to the event. It is your responsibility to check.
Permitted / What to Bring
You can bring the following items to Medway Pride.
Wallet with cash/card & government approved ID
Factory Seald Water Bottles, Empty Reusable Water Bottles (No Glass allowed on SIte)
Fully charged phone and battery pack (tag us on socials with @PrideMedway #MedwayPride2022 !)
Non-professional cameras
Sunscreen
Flags, banners or hand made signs (no hard poles, no corporate/company branding, and no signs promoting illegal activity or hate speech)
Small bags, backpacks or purses (these will be searched upon entry)
Rain ponchos in case of rain
Your best pride outfit!
Read the Code of Conduct in advance
Not Permitted
Please do not bring anything on this list to Medway Pride as it will be confiscated by security at the entrance.
Any item which may reasonably be considered for use as a weapon (incl. pen knives and metal cutlery)
Any alcohol, (The will be bars available on site, our licensing means we neeed to control the use of alcohol at the event)
Stickers, flyers, or advertising material,
without prior written permission Tent's, umbrellas, chairs, blankets, bean bags, inflatable chairs or loungers
Fireworks, flares, smoke canisters, chinese lanterns, laser equipment/pens, toy guns, water guns, slingshots
Illegal substances (incl. laughing gas/balloons)
Glass (of any kind)
Personal motorised vehicles or drones(except a mobility scooter)
Unauthorised professional photography, film or video equipment
Klaxons, air horns, megaphones, portable speakers (or other similar items capable of making loud noise)
Anything else not permitted by the Code of Conduct below
Code of Conduct for All Participants
Medway Pride is a celebration of diversity and equality and all attendees are expected to embrace and respect this diversity and equality.
You are required to have read, understood and agreed to this Code of Conduct before attending the event in any capacity. If you do not agree to this Code of Conduct, you must not attend the event. Any questions should be directed to Medway Pride CIC.
We will not tolerate any threatening, violent or offensive behaviour against our volunteers, staff, other attendees, police, security personnel, or members of the public.
We will not tolerate any individual or group making derogatory remarks about a person's sexuality, gender identity, race, age, nationality, disability, appearance, religion, political belief or any other factor. Anyone who displays behaviour that contravenes this rule can expect to be removed from the event immediately.
Any individual infringing the bodily integrity of other participants will be immediately removed from the event. (If you are in a parade group, your group may also be removed from the parade).
There are clear legal guidelines regarding alcohol, drugs, public nudity, etc, which participants are expected to abide by. Laws must always be obeyed. Please remember, this is a family friendly event.
Hand sanitizer in the original bottle (max 100ml bottle, with intact manufacture labelling) is permitted.
No objects are to be thrown at attendees (including at parade spectators on the parade route). This includes the use of silly string, party poppers and water pistols.
You are not permitted to play amplified music without prior written permission.
Every participant is responsible for their own litter. Littering is prohibited by law. There will be opportunities to dispose of litter at the festival site. Please use the bins provided.
If you see or are notified of any incident that would break this Code of Conduct or the law, please notify the Medway Pride CIC or the security team immediately. Anyone found to have failed to report any incidents may face being removed from the parade and refusal into the main event.
We (Medway Pride CIC and the security team) reserve the right to refuse entry, or remove anyone, who does not follow this Code of Conduct or behaves inappropriately (see Consequences of Failing to abide by the Code of Conduct below).
Additional Criteria for Parade Attendees
In addition to the above general Code of Conduct, the following points will also apply to you as a parade attendee.
SEE INFORMATION ABOUT THE PARADE
No objects can be given to spectators or other parade participants in the parade staging area or during the parade route, without prior permission.
No parade participants can accept anything from spectators.
No alcohol or drugs are to be consumed or carried in the Parade Staging Area or during the parade.
Sealed (unbroken seal from manufacture) water bottle is permitted and encouraged.
All participants are required to maintain a continuous forward motion during the parade. No stopping unless we direct you otherwise at stopping points. All performances must be "on the move" except for any stops agreed and directed by the Parade Marshal. No large gaps between parade units of more than 3 metres. Please aim to keep a small sensible gap between groups wherever possible (in both the parade staging area and on the parade route).
All parade groups, except the 'Community Section', have assigned group organisers who have ultimate responsibility for your group, and you should be aware of who this is.
Participants of the 'Community Section' of the parade should not display any branding to advertise businesses or organisations, without prior permission.
We reserve the right to dismiss any individual or group that has entered under a false name or given false information. If you need to make any changes to your application, please contact us urgently.
Only those who are registered may walk in the parade with either their Parade Group Organisers or Community Section. No one is to be pulled in from the crowds to join.
Additional Criteria for Parade Group Organisers
In addition to the above general Code of Conduct and Additional Criteria for Parade Attendees, the following points will also apply to you as the group organiser for your parade group.
As a group organiser, you have accepted responsibility on behalf of the entire group and are responsible for behaviour within your group.
The Code of Conduct applies equally to everyone in your group.
Please ensure your group is keeping the orderly flow of the parade. All groups are expected to follow the parade route according to their allocated position in the parade. Each group is expected to stay in order. Any group who tries to overtake another group will be removed from the parade.
If anyone in your group does anything that is against the Code of Conduct, all your group may be immediately withdrawn from the parade. We also reserve the right to deny the entry of your whole group into the festival site if the Code of Conduct is not followed.
Additional Criteria for All Vehicles
In addition to the above general Code of Conduct, this applies to all vehicles, either being used in the parade or for stall holders.
No vehicles are permitted in the parade or on-site without the prior written permission from Medway Pride CIC. Transportation details for attendees can be found on our website.
You must display your vehicle pass on the windscreen of your vehicle at all times. The registration number, and other details on the access pass, must be accurate. This pass is only available with permission from Medway Pride CIC. If you have not received your pass, please contact your account liaison.
The vehicle must arrive in the allocated time window. After this you will be denied access.
Every vehicle must have an allocated driver who is capable and insured for driving the specified vehicle. No other drivers may operate the vehicle.
All vehicles must be: legally roadworthy (MOT), insured, and taxed.
The doors of the vehicle must be locked at all times to prevent anyone other than the allocated driver(s) entering. The vehicle should not be left unattended at any time. Exceptions to this are only with explicit permission of Medway Pride CIC.
The vehicle keys must be in possession of either the allocated driver(s) at all times. Keys should not be left in the vehicle when it is not in motion.
You must not enter, move in, or leave the Parade Staging Area or Festival Site without specific direction from a member of the security team or the organising committee.
Do not drive over 5 mph at any time, with hazards flashing when you are moving and stationary.
We reserve the right to check the inside and outside of the vehicle. Please check that you don't have anything in the car that would be considered offensive, be illegal, be glass, or be alcohol.
All materials or equipment used on or attached to the vehicle must be firmly secured, fireproofed, and adhere to relevant safety regulations (i.e. electrical items must be PAT tested).
Additional Criteria for Stall Holders
In addition to the above general Code of Conduct, the following points will also apply to you if you are a stall holder.
Stall set-up is permitted between 08:00 and 09:45. Late entry is not permitted under any circumstances. Early entry can be agreed in advance if required.
Stall shutdown is permitted between 19:00 and 20:00. We strongly discourage leaving the site before 20:00. Vehicles are not permitted on-site until earliest 20.30.
There is no parking on-site. Vehicles may not remain on-site during the event. Exceptions to this are only with explicit permission from Medway Pride CIC and an associated pass. Refer to Additional Criteria for All Vehicles.
Gazebos/marquees/Tables are not provided by Medway Pride CIC.
Your stall is not confirmed until your donation/ payment has been received and Medway Pride CIC have approved your application.
No products in glass bottles may be sold.
Any and all traders are required to use more sustainable alternatives to single-use plastics.
The following are examples; but not a definitive list:
The single-use plastics that make their way into the environment most frequently are:
Cigarette butts
Plastic drinking bottles
Plastic bottle caps
Food wrappers
Plastic grocery bags
Plastic lids
take-away containers
Plastic straws and stirrers
Plastic bags
Are you ready to make some changes to your plastic consumption? Here are some easy solutions:
Replace shopping bags with reusable bags
Use your own coffee mugs and sustainable, non-plastic alternatives
Don't use non-recyclable plastic bottles and straws – use reusable alternatives
Recycle everything that you can
Medway Pride CIC is a responsible organisation. If it is essential that you use single-use plastic for food safety purposes, please discuss this with your Medway Pride Stall Liaison for permission.
A stall position will be pre-allocated to you at time of booking. This can be discussed with your Medway Pride Stall Liaison if you have a preferred location. Once this location has been allocated, it must be adhered to and cannot be changed on event-day.
Entry for vehicles is via. Boley Hill to Castle Hill, ME1 1SW. There will be a member of staff waiting to escort you to your position. Please wait patiently outside the Castle Row entrance as we anticipate a large number of vehicles. Please ensure you know where this location is in advance, and contact your Account Liaison if this is unclear.
If you need to make any changes to your application, please contact us urgently.
on submitting your application, please enclose a copy of your Public Liability Insurance. These can be obtained online. By purchasing a pitch, you agree to our terms & conditions and agree to abide by our Health and Safety. A copy of our risk assessment will be submitted upon receiving your form. These are subject to change.
Upon dismantling your stall, please ensure that you keep the area clean and tidy. Bins will be provided around the site. If a member of staff is required to clean your site then a cleansing charge will apply.
As per previous events, the site will be secured and all those attending must be searched. If you need to go off-site during the day, entry will only be through pre-agreed positions on the site. This is mandatory and any non-compliance will result in the forfeiture of your pitch and no refunds will be made.
Additional Criteria for Food Vendors
In addition to the above general Code of Conduct, and the above Additional Criteria for Stall Holders, the following points will also apply to you if you are a food vendor.
Please ensure that you bring your own fire safety equipment with you on the day.
Any potential allergies (i.e. nuts) must be clearly signposted for customers. Please make sure that you clearly list a list of allergens in your food to avoid allergic reactions from event participants.
Pitch positions will be offered for specific areas.
Please ensure that you submit an e-copy of your most recent Food Hygiene Rating Certificate and the Food Hygiene & Safety certificates of those attending and working the event.
Please ensure you have submitted a copy of your latest and current in date Gas Safety Certificate.
There are no water services on-site. If you require power, please contact your account liaison (a surcharge may be incurred which must be payable at the end of the event).
Additional Information for Press
Press must have registered in advance with Medway Pride CIC to receive a Press Pass. If you have not registered, please visit Pride HQ in Rochester Castle Gardens on event-day to enquire further.
Press Passes (in the form of a wristband) can be collected from Pride HQ in Rochester Castle Gardens. These must be collected before being able to access the Parade Staging Area or to photograph the parade.
When accessing the Rochester Castle Gardens please enter via the Castle Hill entrance and show proof of being on the press list to whoever is at the gate to gain access. Pride HQ can then be found by asking security at the gate
Press are asked that when taking close up pictures of individuals or groups that verbal permission is gained. When photos are crowd shots, this doesn't need to apply.
Any photos taken may be used in Medway Pride CIC material, credit will be given to the photographer. If an individual consents to having a photo taken, they also accept that photos of them may be used.
Where possible, please send Medway Pride CIC the photos after if you would like them considered for upload to our website and social media (with credits)!
Consequences of Failing to abide by the Code of Conduct
These consequences apply to any person or group who does not abide by this Code of Conduct:
by disagreement with any of these rules means you will not be permitted to enter the site.
You may be immediately removed from the event. If you have attended with a group or organisation (including for the parade), your group may also be removed from the event site.
Any costs accrued towards attendance will be forfeited.
Any person found to be in possession or under the influence of illegal substances, or taking part in any illegal activity, will be reported to the police, with whom we work closely to deliver a safe event.
We will be unlikely to accept any future application to participate in any part of the event.
Any person behaving in such a manner will be removed from the parade and the festival site. Their group may also be removed at the sole discretion of the Medway Pride CIC / Event Security.
Any complaints or concerns in relation to this Code of Conduct should be raised with the Parade Director as soon as possible after the complaint has arisen. If an issue is not satisfactorily dealt with, then the Event Manager must be informed. In all matters relating to this Code of Conduct, the decision of the Event Manager will be final. You can contact us via the contact form on our website.