Location
Crowthorne Baptist Church
144 High Street
Crowthorne
RG45 7AT
United Kingdom
Simeon Wood, performer and composer for television, radio and theatre, comes to Crowthorne Baptist Church with his many unusual instruments.
About this event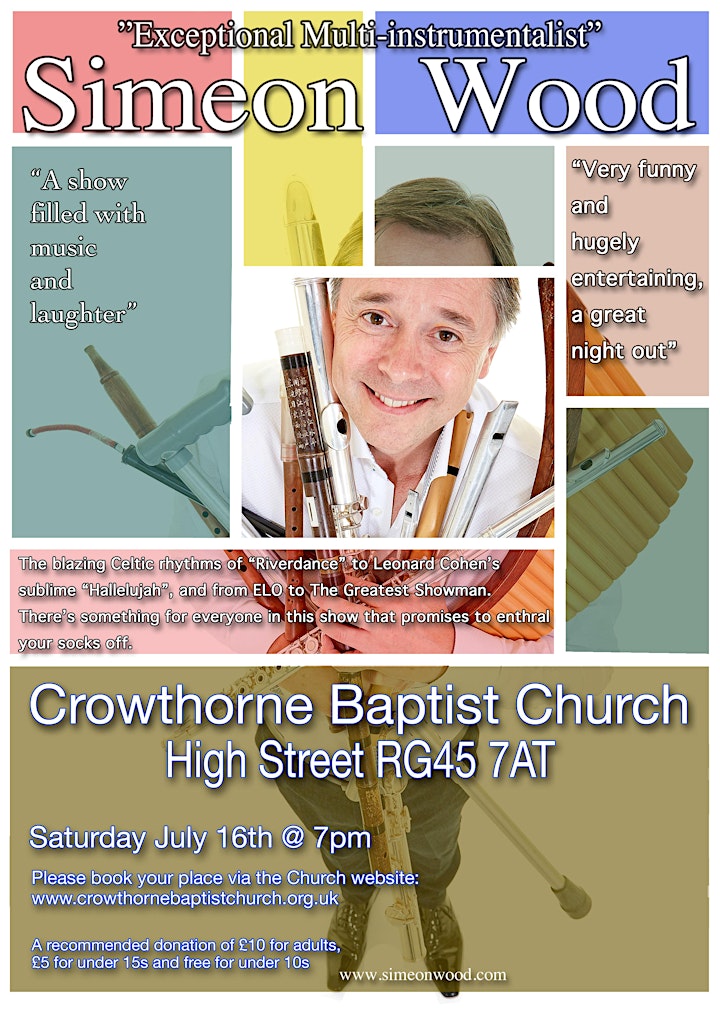 Enjoy a fun filled show from Simeon Wood, who started playing flute at the age of 8 and now loves to show how many different, and unexpected, items can be instruments. Simeon is a performer who also writes music for television, radio and theatre.
This promises to be an entertaining night for all.
Refreshments will be available for purchase at the start and during the interval.*
Tickets being issued are limited so please book early (suggested donations: £10 per ticket per adult, £5 per ticket for under 15's, free for under 10's).
As we are only asking for donations, it is not possible to purchase multiple tickets in one transaction. Please contact cbcevents144@gmail.com if you wish to purchase more than one ticket and only wish to make one transaction for all the tickets and we can make a manual adjustment.
All Covid guidelines at the time of the event will be in place to ensure safety of all audience members.
Contact cbcevents144@gmail.com with any queries or for additional information.
*The premises is not licensed to have alcoholic beverages on site.