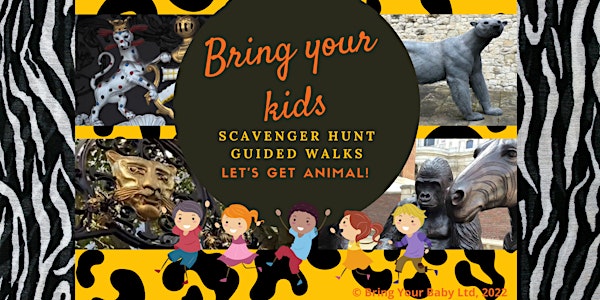 'BRING YOUR KIDS' SCAVENGER HUNT GUIDED LONDON WALK: "Let's Get Animal!"
Location
Outside All Hallows by the Tower Church
Byward Street
London
EC3R 5BJ
United Kingdom
Refund policy
Refunds up to 1 day before event
Eventbrite's fee is nonrefundable.
'Bring Your Kids' Scavenger Hunt Guided Walks are the perfect way for kids and adults to learn London history and solve clues along the way!
About this event
Bring Your Kids Scavenger Hunt Guided Walk: "Let's Get Animal!"
Children under 3 go free, but please add the free ticket to your order.
Please bring a packed lunch, drinks and snacks. We will stop to eat about an hour into the walk at St Dunstan's in the East churchyard where there is also shade. We take it nice and easy, so I have allowed 3 hours for the walk/hunt, though this is a brand new walk, so timings are approximate.
There will be a scheduled toilet stop at The Royal Exchange, which has immaculate toilets. But there are also toilets in pubs / cafes etc. along the way that you can duck into. Feel free to stop me at any time to do this.
If you are bringing a baby, there is also a baby change at The Royal Exchange, but please anticipate you may need to change al fresco at other times, so bring a travel change mat! We can stop at any time if babies need feeding. On my 'Bring Your Baby' guided walks I often encourage bringing a sling as well as a pram in case your baby needs a cuddle. The walk is step-free.
Take a walk on the wild side with this scavenger hunt walk which has been written both with young children in mind (though even younger children are welcome to try!), but with snippets of history at the same time that will intrest older children and adults. Please see the full description below.
I was a Primary School teacher with a history specialism for over 10 years, so I am looking forward to teaching children again this summer!
Children will be given a small clipboard and pen for the walk. There will be two different levels of challenge which can be chosen at the start of the walk: the easier challenge is to tick off pictures of animals on the sheet provided (so children do not have to be able to read). Children can be helped at any time with this by an adult.
The more difficult challenge will be to note particular words and letters at each location (I will make sure instructions are clear at each point), which at the end of the walk can be unscrambled to reveal a message.
There will be a small prize for every child at the end.
Walk starts: Outside All Hallows by the Tower church, Byward Street, London EC3R 5BJ
Walk ends: St. Paul's Churchyard, London EC4M 8AD
An ideal follow-up activity would be to visit The Museum of London nearby.
Description:
Take a walk on the wild side, in search of statues, plaques and signs of animals including lions, leopards, lynxes, mice, owls, camels, swans, fleas, zebras, polar bears, elephants, grasshoppers, monkeys, geese, cats, dogs and more!
Plus discover unusual facts about animals in London along the way, such as:
- The story of the Tower of London's animal menagerie
- Where Samuel Pepys wrote his famous diary and why a flea marks the spot
- Why there are camels on Eastcheap
- London's smallest sculpture
- How a grasshopper relates to trading
- Where you could see a kangaroo in the 18th century
- How people in London kept monkeys, squirrels and even lions (!) as pets
- Why the Queen doesn't own all the swans in London - and what 'swan upping' is
- Why King Charles spaniels are called King Charles spaniels
- And much, much more...
Things to note:
If on the day of the walk we are forecast to have very bad weather, I may have to postpone the walk. If it's a bit of light rain we will cope!
Every walk follows the usual health and safety guidelines, such as crossing at traffic lights where possible and having hazards pointed out to you at the start and along the route. Children's safety and behaviour is the parent or guardian's responsibility.
There may be times we have to stand in direct sunlight (although I will always choose shade where possible). Please bring all the necessary sun protection for yourself and your child.
Customer refunds must be requested at least 24 hours before an event starts. We cannot guarantee you can move your ticket to the next month but you are welcome to enquire at Lucy@bringyourbaby.org
If for any reason Bring Your Baby Ltd are forced to cancel or postpone an event (for example in the case of illness or extreme weather conditions), you are within your rights to request a refund, though we will always suggest an alternative date for you to attend.
I will contact you with booking confirmation after you book. I will supply my mobile number in case of emergencies or in case you are running late. I will also ask you to provide me with a mobile number so you can be contacted for the purposes of the walk, but this is not for marketing purposes. Please note that if you are more than a few minutes late I may ask you to catch up with us.
It is recommended you bring appropriate drinks and snacks for the duration of the walk, especially if the walk takes place at lunchtime.