Description
This one day workshop will take you step by step through how to carve a madeira cake into a 3D shaped car using blue prints as templates.
You will learn about crumb filler, using ganache as a coating and how to successfully cover irregular cake shapes with sugarpaste before adding all the details. As a finishing touch your car will have special front headlights that 'light up' for real!
If you are not confident covering sponge cakes, we recommend you attend our 'Introduction to Sponge Cake Covering & Character Modelling Skills' Workshop before you attend this class.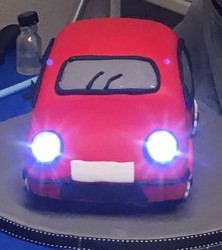 For more details: www.inspiredcreations.uk.com hannah@inspiredcreations.uk.com 01883 340529. If you have any questions please feel free to contact us.
A list of the materials that you need to bring will be emailed once your booking has been confirmed. Inspired Creations Gift Vouchers can be accepted for this course. Please read our cancellation policy.