Description
The 3rd Annual MRC LMS PostDoc Retreat
Following the success of last year, we are delighted to announce the 3rd MRC LMS Postdoc Retreat on Thursday 30th November 2017 at the Cambridge Cottage in Kew Gardens.
The MRC LMS PostDoc Retreat is an extremely important opportunity for fellow Postdocs to discuss their science with people at similar stage of their career. In addition to that, the Retreat offers a relaxed atmosphere to meet people from and outside the Institute.
With this in mind, the day will be divided among scientific talks, poster sessions and social breaks (including a Pub Quiz & drinks at the end of the day).
An abstract book will be available on the day, and therefore we ask you to submit an abstract during registration. We have 6 Oral Presentations and up to 50 Poster slots. Please let us know if you wish to be considered for an oral or a poster presentation.
Critically, the Career Development session will feature former postdocs who made a career change. These professionals will give a short presentation, and will be available to answer your questions during a Q&A panel and the subsequent coffee break.
This year's Keynote speaker will be Vivienne Parry.
About the Keynote Speaker: Vivienne Parry is a scientist by training, hosts medical programmes for Radio 4, writes widely on health, presents films, facilitates many high level conferences and debates and trains young researchers. She also has a part time role as head of engagement at Genomics England which is delivering the 100,000 Genomes Project.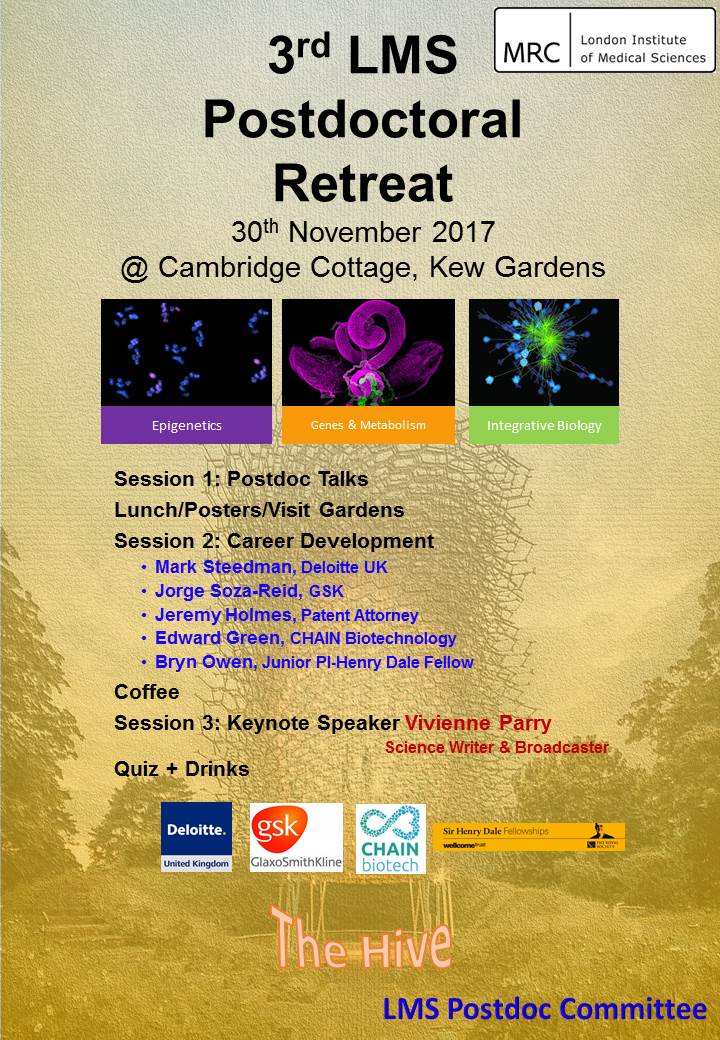 MRC LMS Postdoctoral Retreat 2017 - Provisional Program
Thursday 30th November 2017
Cambridge Cottage, Kew Gardens
9:30 Registration & Coffee
10:00 Start - Welcome by the Postdoc Committee
10:10 Postdoc Talk 1
10:25 Postdoc Talk 2
10:40 Postdoc Talk 3
11:00 Coffee break
11:30 Postdoc Talk 4
11:45 Postdoc Talk 5
12:00 Postdoc Talk 6 + Announcements
12:30 Lunch & Poster sessions
14:00 Career Development Talks (15 mins each + 5min Q&A)
15:00 Junior PI Talk (15 min followed by Q&A)
15:30 Coffee break
16:00 Keynote Speaker: Vivienne Parry
17:00 Pub Quiz & Drinks
19:00 End