3rd British Symposium on Diabetic Neuropathy
Description
The British Symposium on Diabetic Neuropathy (BSDN) is an annual symposium which focuses on clinical aspects of diabetic neuropathy. Its primary aim is to inform and educate on all aspects of diabetic neuropathy by inviting internationally renowned clinicians and scientists to give keynote lectures. This symposium is aimed at clinicians (diabetologists, neurologists and neurophysiologists, pain teams, general practitioners with a specialist interest, specialist nurses) and allied health professionals. The 2nd The British Symposium on Diabetic Neuropathy (2017) was held in Sheffield on the 24th of November, was a resounding success with over 125 attendees from the field of diabetes, neurology and neuropathic pain.
The 2018meeting will discuss key elements of diabetic autonomic neuropathy (DAN) with a focus on practical management concepts and will include keynote lectures from key voices in the UK as well as Europe. The meeting will provide clinicians and healthcare care professionals with an opportunity to discuss novel ideas on causation, assessment and treatment of DAN which is often underrecognised and but has a substantial impact on clinical outcomes, mortality and individual quality of life. This year, the symposium will be held in the wonderful university city of Birmingham

The venue for the symposium is
The Studio Birmingham, 7 Cannon Street, B2 5EP
There is no registration fee for the event.
---
Programme: TBA soon
Draft Programme
9:15-10:00 Arrival and Coffee
10-10:15 Welcome and General Introduction
Abd Tahrani: NIHR Clinician Scientist University of Birmingham and Lead for Diabetic Neuropathy Services University Hospitals of Birmingham NHS Foundation Trust
10:15-10:45 Overview of Diabetes-related Cardiac Autonomic Neuropathy
10:45-11:15 Diagnosis of Cardiac Autonomic Neuropathy in Diabetes
11:15-11:45 Cardiac Autonomic Neuropathy Management
11:45-12:15 Coffee Break and Networking
12:15-12:45 Diabetic Diarrhoea: Diagnosis and Management
12:45-13:00 Case Discussions
13:00-14:00 Lunch and Networking
14:00-14:30 Gastroparesis: Epidemiology, pathogenesis and diagnosis
14:30-15:00 Gastroparesis Management
15:00-15:30 Case Discussions
15:30-16:00 Coffee Break and Networking
16:00-16:30 Gustatory Sweating: Pathogenesis, Diagnosis and Treatment
16:30-17:00 Postural Hypotension: Pathogenesis and Treatment
17:00-17:20 Case Discussions
17:20-17:30 Close of Meeting
Confirmed Speakers include:
---
Organising team: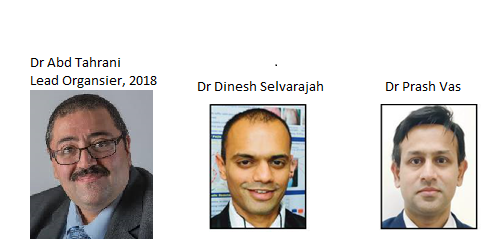 ---
We are grateful to our supporters from the industry without whom this event would not be possible. No input was received from industry over the editorial content of the symposium.
Platinum Sponsor
TBC