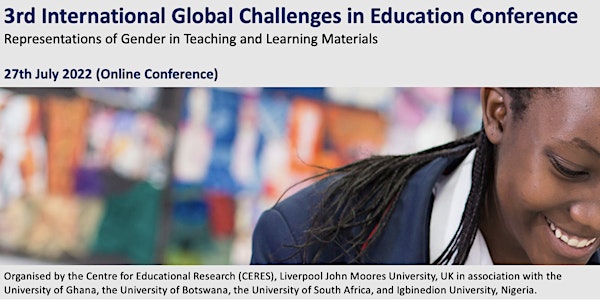 3rd International Global Challenges in Education Conference
Representations of Gender in Teaching and Learning Materials
About this event
**Conference Update 20th July 2022
The MS Teams link to join this online event will be sent to registered participants two days before the start on 25th July. Please check your spam folders.
The Conference Programme can be found here.
-----------------------------------------------------------------------
Overview
In line with UN Sustainable Development Goal 5, the 3rd International Global Challenges in Education Conference focuses on representations of gender in teaching and learning materials to promote greater awareness of the need for gender equality.
The one-day online conference brings together leading researchers and practitioners in the field of educational materials to explore how gender is represented in textbooks (print and digital) across a range of educational levels and international contexts, and the types of methodologies currently being used to research and analyse them.
The event is part of the British Council funded THEMIS project (Evaluating gender equity and equality in the English language teacher curriculum, ICT policies and learning materials in Botswana, Ghana, Nigeria and South Africa) and aims to identify implications for teachers and textbook authors in pursuit of greater equality in education.
While quite a lot of research on the topic has been published in Europe and North and South America, little research to date has explored the African or Asian contexts, and this is a particular concern of the event. Likewise it is also important to consider the role of sexuality, race and class and different interpretations of family life.
The conference brings together a mix of keynote speakers and opportunities for discussion and will be delivered online on MS Teams. Links to the conference will be circulated to registered attendees two days prior to the event.
PROGRAMME
09:50 - 10:00 Welcome
10:00 - 10:40: Dr Jackie Fung King Lee (The Education University of Hong Kong): "A Critical Reading of Gender Portrayal in Early Readers".
10:50 - 11:30: Dr Esther Lisanza (Howard University, USA): "Curriculum and Gender: The Case of Social Studies Textbooks in Kenya".
11:40 - 12:20: Dr Abolaji S. Mustapha (Lagos State University, Nigeria): "Gender, Equity and the English Language Teacher Curriculum in Nigeria: An Overview".
This event is organised by the Centre for Educational Research (CERES) at Liverpool John Moores University in the UK.
Disclaimer
This project has been funded with support from the British Council Widening Participation awards. The information on this website reflects the views only of the authors, and the British Council cannot be held responsible for any use which may be made of the information contained therein.