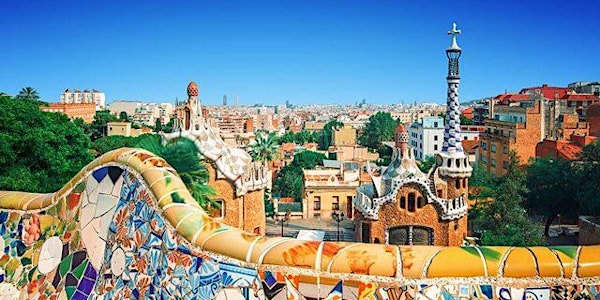 3rd RGCS Symposium: "Creativity and (Co-)Creation in Changing Cities: colle...
Location
Facultat d'Economia i Empresa Universitat deBarcelona
696 Avinguda Diagonal
08034 Barcelona
Spain
Description
HAPPY NEW YEAR TO EVERYONE!! We are really looking forward to begining 2019 with you in Barcelona!
Our 3rd symposium about "Creativity and (Co-)Creation in Changing Cities: collectively organizing for new modes of production and innovation" will take place on next Monday and Tuesday, in Barcelona.
This third RGCS symposium will be focused on renewed creativity and collective creation in the spaces of cities and inventive ways to organize production and innovation.
A growing literature is investigating nature, principles and functioning of new work practices and collaboration, e.g. co-working, makers, hackers, fab lab network, as well as their interactions with more traditional forms of work practices, especially from the corporate world. This symposium seeks to build on these efforts to further understand the development of such collaborative work practices and their impact on society.
In addition, the symposium will seek to investigate the link between creativity and collaboration: how do collaborative work practices generate creativity, creation and innovation in cities and under which conditions? How are makers and hackers collectively organizing for innovation? What capacities do they need? What are the role of networks and meta-organizations in the local, national, international diffusion of practices and capacities?
---
You can read the full program here and have a quick look to the main steps of the two-day symposium below: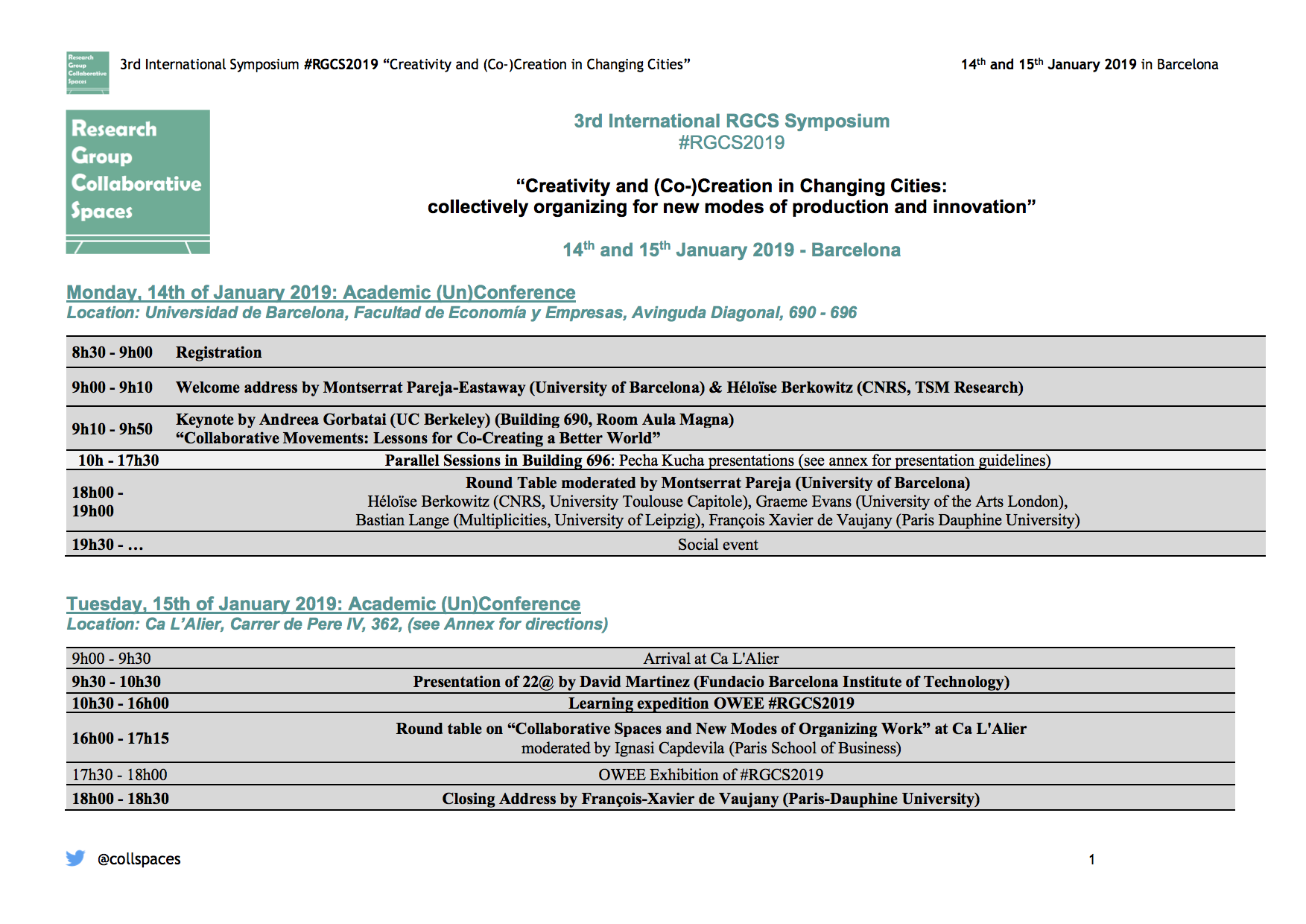 ---
Local organizing committee:
Héloïse Berkowitz (CNRS, TSM Research), Montserrat Pareja-Eastaway (University of Barcelona)
Scientific board:
Héloïse Berkowitz (CNRS, TSM Research), Hélène Bussy-Socrate (Warwick Business School), Claudine Bonneau (ESG UQAM), François-Xavier de Vaujany (Université Paris-Dauphine, PSL), Julie Fabbri (EM Lyon), Anna Glaser (ESCP Europe), Stefan Haefliger (Cass Business School), Pierre Laniray (Université de Poitiers), Montserrat Pareja-Eastaway (University of Barcelona), Cristina Rossi (Polytechnic University of Milan), Viviane Sergi (ESG UQAM), Matt Statler (New York University), Tadashi Uda (Hokkaido University), Paula Ungurean (University of Modena and Reggio Emilia)
The event will include academic presentations, keynote conferences, panels, OWEE… and city expeditions.
Registration will be free of charge, but a small contribution will be asked to participate to coffee breaks. Lunch is at the charge of the participants. Drinks ordered on site will be at their charge.
In addition, the number of seats at the symposium will be limited and registration will be accepted on a first-come first-served basis.
For questions or submissions: collaborativespaces@gmail.com