3rd World Congress on Integrated Care - WCIC3 Mexico City
Description
***Please see information in the FAQs section relating to membership, booking fees, accomodation and travel arrangements and other terms and conditions***
The International Foundation of Integrated Care (IFIC), in partnership with The Secretaria de la Salud Mexicana, the National College for Especialist on Integrated Medicine (CONAEMI) and the University of Anahuac, presents the 3rd World Congress on Integrated Care "Co-producing High Quality People-Centered Integrated Care for ALL" to take place in Mexico City, 19-21 November 2015.

The aim of this conference is to exchange knowledge, experience and new ideas in the design and delivery of integrated health and social care. The conference will focus on five themes: Care Coordination and Continuity of Care, People-Centered Care; People-centred Care; Joint Improvement, Evaluation and Change; Creating an Enabling Environment; and Mobile and Digital Health Solutions.
This global event is attended annually by more than 400 integrated care professionals including policy makers, managers, clinicians, academics and independent, third sector and commercial partners concerned with moving the integrated care agenda forward. The 2nd World Congress took place in Sydney, Australia in 2014 and the 1st World Congress in Singapore in November 2013.
View the Full Conference Program Here - http://integratedcarefoundation.org/events/wcic3-3rd-world-congress-on-integrated-care-mexico-city
FAQs
Do I need to be a member of IFIC to attend this event?
No, but many of the attendees are members of the International Foundation for Integrated Care and benefit from being connected to peers and like minded professionals from multiple backgrounds (policy makers, academics, practitioners and clinicians) who's mission is to advance the science, knowledge and adoption of integrated care policy and practice. All members pay an annual fee towards the Foundation. In return, members receive participation benefits including: links to like minded professionals; notifications of paper publications in the Foundation's International Journal of Integrated Care: regular information bulletins; discounts for training and conference attendance; have a say in how the Foundation is run; and are encouraged to participate and lead special interest activities relating to the field of integrated care. The NON MEMBER rates for this conference include a year's subscription to the Foundation.

What are the fees?
VAT @ 30% is included in the total ticket price. If you pay by invoice there is an extra $9.95 booking administration fee which is paid to EventBrite (the booking software). If you pay via paypal there is also a PayPal processing fee is 2.9% plus $0.30 per transaction in USD (fees vary by country/currency and are subject to change at PayPal's discretion). The organisers only receive the original ticket price amount. If you prefer to avoid the fees you may request to pay by invoice and we can arrange a bank transfer or cheque payment.
How do I pay by invoice?
To request an invoice click on 'show other payment options' under the green register button above and then click on 'pay offline'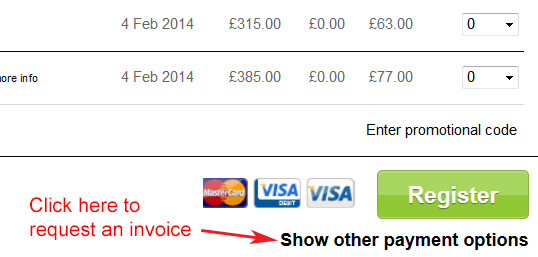 Can I suggest a speaker?
Yes. Please ask the person or organisation to submit an abstract to the scientific committee for consideration. Click here to learn more about the abstract submission process. After the deadline you can still email us with the potential speaker's name, job title and organisation, and a brief (100 words max) description of what they would talk about. Your suggestion will be considered by the conference organising committee and we will let you know via email if the speaker has been accepted. Contact events@integratedcarefoundation.org
How do I apply for a bursary place?
We have a limited number of bursary (free) places available on our conferences for patients and carers. To apply for a bursary place please email us a short paragraph on why you wish to attend. Please note that places are awarded at the discretion of the International Foundation for Integrated Care.
Do you offer a discount for students?
Yes. We offer discounts for students in full-time or part-time education in fields relating to integrated care . Our student rates are listed on the registration page.
Do you offer group discounts?
Yes, group discounts are available for 3 or more people from the same organisation. Please email us at events@integratedcarefoundation.org for more information.
Will the presentations from the conference be available after?
Yes. We will put all the presentations and highlights from the conference in the past events section on our website as soon as possible after the event.
Can I get a certificate of attendance?
Yes. If you would like a certificate of attendance following your participation in a conference then please email us at events@integratedcarefoundation.org
What is your cancellation policy?
Refunds will be available if you notify us by email up to 14 working days before the date of the event. Refunds are not available if you cancel your place within 14 working days before the date of the event.After 60 days of booking, only a partial refund will be available since transactions fees (from Pay pal and IFIC) are not refundable at that point.
Can I transfer my place?
Yes, you can transfer your place up to and including the day of the event. Please notify us of any transfers by email.
Where can I contact the organiser with any questions?
Contact us at events@integratedcarefoundation.org We aim to respond to all enquiries within 24 hours.
Do I have to bring my printed ticket to the event?
No, but we do advise delegates to bring the delegate joining instructions.