Description

Cash's Well: Aquatic Antics Afoot in Langdon!
Angel Inn's Cash cashes in on quick quack cures!
Download our map here and use the colour coding so that you can decide if the walk route will be suitable for you.
Walk starts: 9.30am

Meet: Lower car park, One Tree Hill, Corringham SS17 9NH

Walk ends: 10.00am

Performance starts: 10.00 am approx

Performance ends: 10.45 am

Ends: Farmer Cash's Well.
Duration incl performance: 1 hour 15 minutes
Distance: 1.1 miles
A leisurely short stroll at One Tree Hill to hear the secrets of Farmer Cash's Well. Edwin Cash's story is reinvented in the hills of Langdon where a monument to his enterprise stands testimony to his success as a dodgy dealer. A purveyor of spring water, his story is stranger than any theatrical interpretation by The Complete Commedia Company. An irreverent retelling of a very contemporary tale.
For more information visit: http://thurrock100.com/langdon-hills-and-cashs-well-sun-9th-july-2017-pm/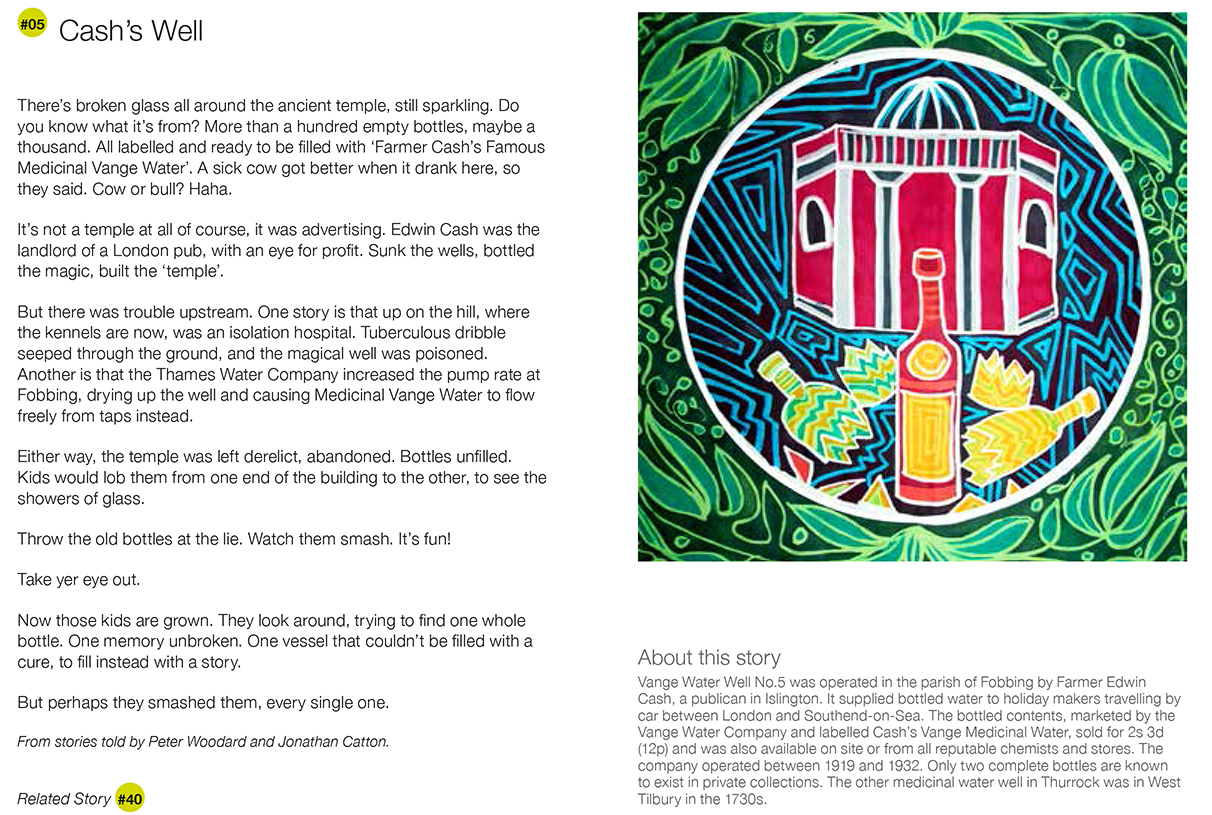 ---
Please note:
You need to choose walks within your capabilities; the walk leaders are experienced but must take your word that you are sufficiently fit for the grade of walk you have chosen.
Walk leaders will be at the start of the walk regardless of the weather. In the unlikely event of any unforeseen circumstances, Kinetika reserve the right to change or cancel a walk and/or performance. Please check the website www.thurrock100.com regularly for any updates or follow us on Twitter or Facebook. .
Please ensure that you are properly equipped for all walks. The weather can be unpredictable so bring waterproof clothing and/or sun hats and sun cream – it's best to be prepared for everything!
Walking boots/shoes are recommended, but otherwise please wear suitable and comfortable footwear- best to leave open-toe sandals or high heels at home.
Make sure you bring a packed lunch, if necessary, and plenty to drink.
Due care has been exercised in organising the walks, however Kinetika, Complete Commedia Company, the funders and associated partners of the project cannot accept liability for loss, accident or injury caused to any person following the routes.
We will be taking photographs and video of this event to promote and celebrate the project in print and online. If you do not give consent to be photographed or filmed please let a member of the Kinetika team know on the day.
Organiser of 4. Cash's Well Walk (with a story!)