Description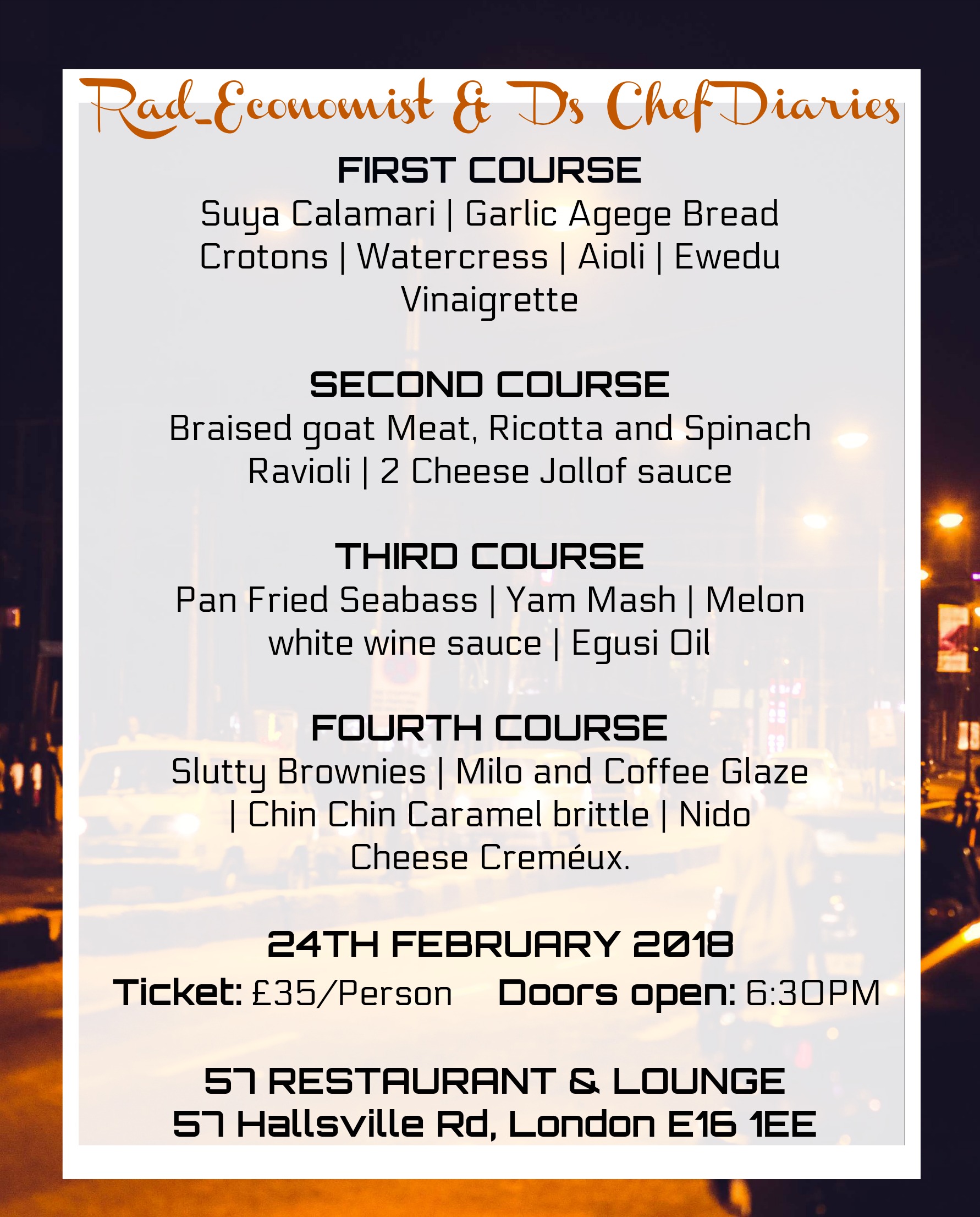 EVENT STARTS AT 6:30PM
NOTE: ONCE A COURSE HAS BEEN SERVED, PREPARATIONS WILL BEGIN TOWARDS NEXT COURSE AND WE WILL NO LONGER BE SERVING THE PREVIOUS. PLEASE ENDEAVOUR TO BE PRESENT BY 6:30PM
REGULAR TICKETS: 4 COURSE
VIP TICKETS: 4 COURSE + 1 EXTRA COURSE
EXTRA COURSE: Ginger, Cheese and Plantain Cake | Skinned Puff Puff | Caramel Plantain Crisps | Mango Curd.
A night of good food, good vibes and good music.
Presented by Rad_Economist (instagram: @rad_economist) and D's Chef Diaries (insta: chefdiaries)
Come and enjoy this beautiful and well constructed 4 course Nigerian supperlcub dinner, taking delicacies from the heart of West Africa, and bringing them to the world, revamped and delectable.
Dishes by fast rising chef Akudo (@rad_economist), who has been making his way into the culinary world and known for his mouth watering fusion and contemporary Nigerian dishes, incorporating styles, recipes and techniques from cuisines all around the globe, also known for his stunning plating and presentation of both modern and traditional west african cuisine, he is bridging the gap between cultures with his amazing combination of spices and flavours from around the world. He is accompanied by another promising chef, Deji (@ChefDiaries), so blessed with his skills of combining high class techniques and flavour improvement into traditional African dishes, that it was featured on TasteMade. Deji's limitations in culinary creations know no boundaries, and the night of the 24th, both chefs have come together to create a menu that is sure to leave a long lasting impression on tastebuds.