About this Event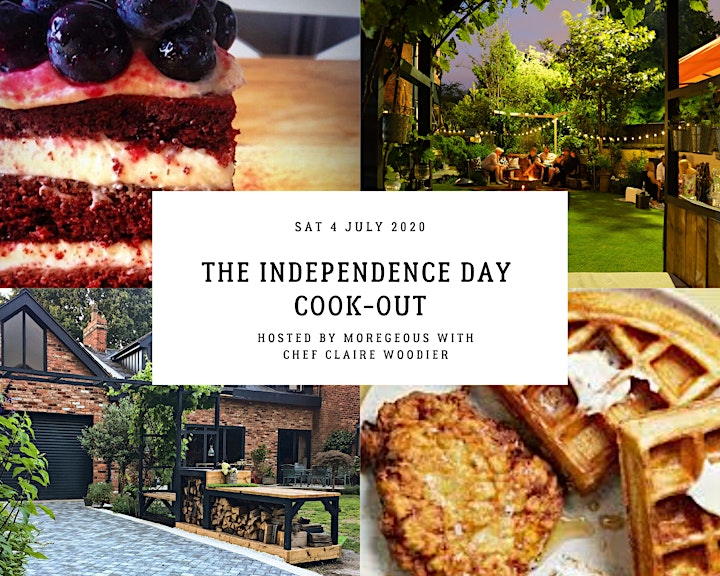 Sat 4 July 2020 sees the return of fun events we can actually host or go to and enjoy - HURRAY!! But, we need to be careful, which is exactly why our events over Summer 2020 will be held outdoors in the lush garden at Moregeous HQ and will adhere to the Govt guidelines on social distancing, with limited contact, distanced tables and strict cleanliess rules. Our beautiful outdoor environment hosts 30 safely, with space for 5 groups of 4 and 5 pairs.
So what's first up?! This one is going to be a cracker, hosted here with chef Claire Woodier. See www.moregeous.com for previous events & reviews.
July 4th Lockdown Independence Cook-Out
Saturday 4 July, 5pm - 10pm
Sian's Blueberry Cocktail
Blackened Cajun Sea Bass FIllets With PB & J.. (Peanuts and Mango Jam)
Or Cajun aubergine steak with PB & J
Buttermilk Buffalo Chicken and Waffles with Maple Syrup Glaze
Or Grilled & Marinated Watermelon Steak and Waffles
Brisket Chilli Sloppy Joes with Smoked Cheese..
Or Vegan Jackfruit Chilli Sloppy Joes..
Sides: Blue Cheese, Apple and Red Cabbage Coleslaw. Baked Sweet Potatoes with Smoked Bacon, Sour Cream and Chives
Apple Pie and Ice Cream
Red White & Blue Cake (Red velvet cake with cream cheese frosting and blueberry topping)
Sundown S'Mores
£40
BYO. No corkage charged.