4 movies, 1 ticket | Sunday Day Pass - چهار فیلم، یک بلیت

Sunday, 30 October 2016 from 14:00 to 21:20 (GMT)
Event Details
2.00pm - Screening of  Inadaptable - عادت نمی کنیم
4.00pm - Screening of Drought and Lie - خشکسالی ودروغ
6.00pm - Screening of  It Happened at Midnight - نیمه شب اتفاق افتاد
8.00pm - Screening of I - من
4 MOVIES, 1 TICKET - چهار فیلم، یک بلیت 
INADAPTABLE - عادت نمی کنیم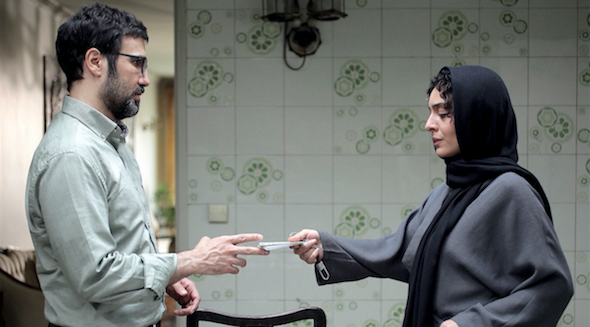 Feature Film | Iran | 89 min | 2016 I in Farsi with Eng subs
by director Ebrahim Ebrahimiyan with Mohammad Reza Foroutan, Sareh Bayat, Hediyeh Tehrani, Hamid Reza Azarang, Pantea Panahiha, Shirin Yazdanbakhsh, Hadis Miramini, Naghi Seif Jamali, Roya Hosseini, Kimia Hosseini, Mehrsa Pishva
Showtime: 2:00 PM 
Synopsis: The volatile Mahtab suspects her husband Ahmad is having an affair with his student Farnoosh. After being tipped off by close family friend Sima she angrily confronts her at the University where he works. However, when Farnoosh dies truths are exposed and events become increasingly complex as Sima and her husband Mansoor are inexorably immersed in the tragic situation. Themes of deception and its consequences underline this bellicose drama, with fine performances and an unnerving score that contribute to a relentlessly tense atmosphere.
DROUGHT AND LIE - خشکسالی و دروغ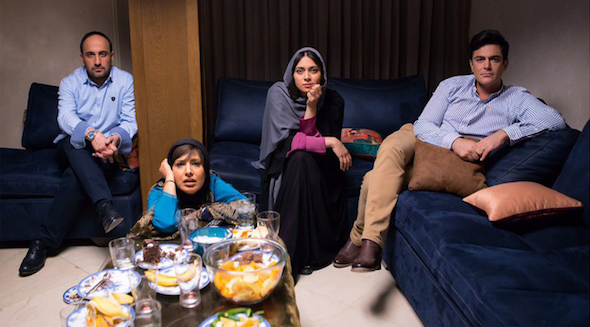 Feature Film | Iran | 93 min | 2016 I in Farsi with Eng subs
by director Pedram Alizadeh with Mohammad Reza Golzar, Ali Sarabi, Pegah Ahangarani, Aida Keikhaei, Mehdi Mehrabi, Maral Bani Adam, Khatereh Asadi
Showtime: 4:00 PM 
Synopsis: Omid happily celebrates his birthday with his wife Ala, her brother Arash and his fiancée at a villa near the Caspian Sea. A phone call from Omid's ex-wife Mitra puts the festivities on hold, as she drops a bombshell that threatens to unravel the life that Omid and Ala have made together, having both escaped bitter first marriages. Written and directed by famous Iranian playwright Mohammad Yaghoubi, this insightful drama tackles marital and social issues with sharp dialogue and knowing humour.
IT HAPPENED AT MIDNIGHT - نیمه شب اتفاق افتاد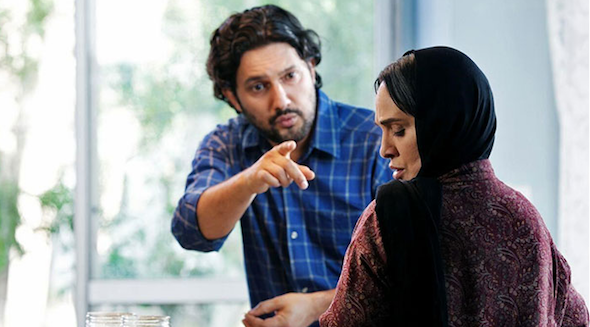 Feature Film | Iran | 90 min | 2016 I in Farsi with Eng subs
by director Tina Pakravan with Hamed Behdad, Roya Nonahali, Atila Pesyani, Gohar Kheirandish, Setareh Eskandari, Rabee Oskouyi Sina Razani, Mehrab Rezaei, Shaghayegh Farahani
Showtime: 6:00 PM 
Synopsis: A young, charming new singer (Hamed Behdad) is hired when the resident chanteur at a venue that hosts weddings and funerals abruptly quits his job. Unexpectedly, a romantic relationship begins to develop between him and the older woman who also works at the venue, though neither is immediately aware of the other's emotions. The romance that ensues creates as much chaos as it does tenderness. This is a star-studded and incredibly entertaining ride.
I - من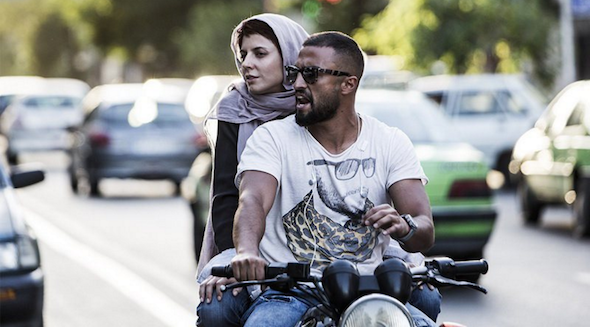 Feature Film | Iran | 80 min | 2016 I in Farsi with Eng subs
by director Soheil Beiraghi with Leila Hatami, Amir Jadidi, Behnoosh Bakhtiari, Alireza Ostadi, Ali Mansouri, Saeed Ataeian, Mani Haghighi, Hamed Ghafouri, Davood Bakhshikhani, Davood Mortazavi, Morteza Agha Hosseini

Showtime: 8:00 PM 
Synopsis: Azar (Leila Hatami) is living a double life. On the surface she is a respectable young music teacher, but on the side she is involved in shadier dealings. Azar acts as a middle-man for those seeking illicit goods, whether it be forged passports or papers. She is content in her insulated role, safe from real danger, until she becomes increasingly immersed in the criminal world and suspicions about her begin to rise. Finding herself in a deep hole and surrounded on all sides, Azar must fight for her reputation and freedom. This high stakes drama is writer-director Soheil Beiraghi's first feature film, and offers an outstanding performance from its lead that makes it an absolute must-see.
/// Our previous events were sold out!! So book your tickets in advance! /// 
/// Please note that UKIFF operates a Free Seating Policy ///
/// Cash only at the event ///
/// Please note that the refund policy only applies to cancellation requests made 7 days prior to the event///

Location:
Greenwood Theatre 
55 Weston Street, London, SE1 3RA, United Kingdom
Tube: London Bridge (Northern and Jubilee Lines).

Contact us:
Tickets@ukiff.org.uk
+44(0)7494005151 

Sponsored by

Do you have questions about 4 movies, 1 ticket | Sunday Day Pass - چهار فیلم، یک بلیت?
Contact UKIFF
When & Where

Greenwood Theatre
55 Weston Street
SE1 3RA London
United Kingdom


Sunday, 30 October 2016 from 14:00 to 21:20 (GMT)
Add to my calendar
4 movies, 1 ticket | Sunday Day Pass - چهار فیلم، یک بلیت