Actions and Detail Panel
4 Takes on Stencilling
Mon, 23 Jan 2017, 18:00 – Mon, 20 Feb 2017, 20:00 GMT
Description
Join Elisabeth Viguie Culshaw in a 5 week evening class to master the basics of stencilling and enhance your everyday life.

Dates: Monday evenings from 23rd January to 20th February
Times: 6pm - 8pm
Ages: Suitable for 16+
Price: £35.00 total for the 5 week course (excl. VAT and Eventbrite booking fee).
Venue: Maryhill Burgh Halls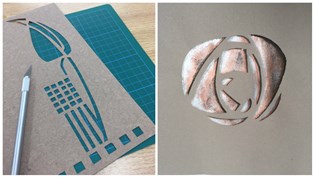 From making your own cards and wrapping paper to designing and cutting multilayer stencilled pictures to decorate your home, we will have a look at many uses for stencilling in every day design and decorating. If you are a beginner you can start with the basics or if you have some experience in stencilling you can create more complicated designs. In this class you'll be taught the techniques and be inspired to use your own designs and themes for each piece of art. All materials are provided at the workshop.


Please book on Eventbrite or if you would like to enquire about any of the art workshops at Maryhill Burgh Halls please email heritage@mbht.org.uk or call 0845 860 1878 to speak to the heritage manager.


To view the full range of workshops for children, young adults and adults at Maryhill Burgh Halls please visit our website:
http://www.maryhillburghhalls.org.uk/updates/


Maryhill Burgh Halls Trust, 10-24 Gairbraid Avenue, Glasgow, G20 8YE.

About the Artist:
Creator of the Glasgow Stencil brand, Elisabeth Viguie Culshaw has 25 years of experience of art in practice, teaching and research. Inspired by Mackintosh designs, Elisabeth has exhibited and taught all around Glasgow, in the Lighthouse, House for an Art Lover and for the National Trust for Scotland. Along with upcycling and stencilling, Elisabeth also enjoys decoupage and papier mâché.



Cancellation Policy:
Please note that we are unable to refund workshop fees if you cancel your booking. Refunds may only be considered under exceptional circumstances at the discretion of the Heritage Manager. Maryhill Burgh Halls Trust reserves the right to cancel courses due to insufficient enrolment, tutor illness or circumstances outwith our control. In theseinstances, we will endeavour to offer you a place on an alternative course/rescheduled class, or provide a full refund.