40 Hadeeth from Bukhari's Kitabul Riqaaq (Softening of the heart)
About this event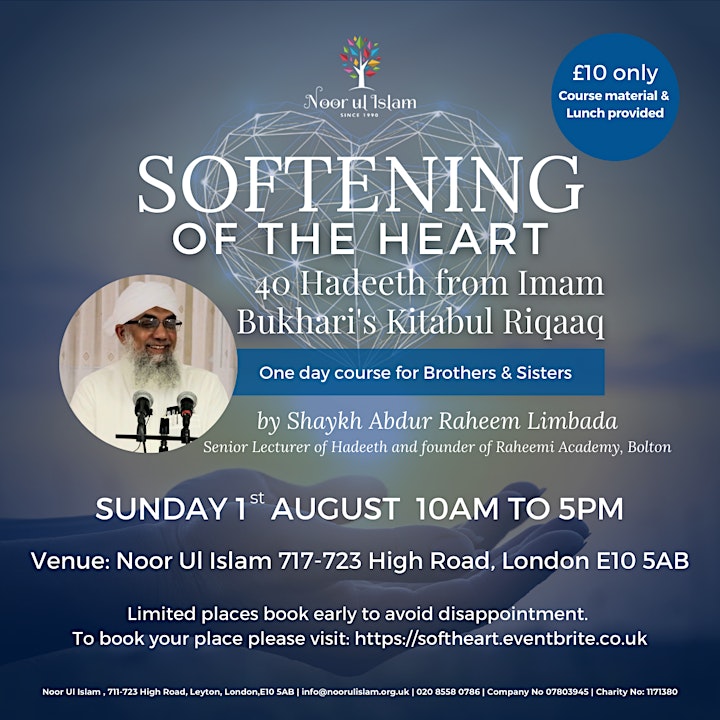 40 Hadeeth from Bukhari's Kitabul Riqaaq (Softening of the heart)
Sunday 1st August 2021
10am to 5pm
Open to: Brothers and Sisters – Segregated (No children under 12)
Join Shaykh Abdur Raheem Limbada, Senior Lecturer and founder of Raheemi Academy, Bolton as we go through 40 Hadeeth from Kitabul Riqaaq, Softening of the Heart.
Course material and lunch will be provided.
Organiser of 40 Hadeeth from Bukhari's Kitabul Riqaaq (Softening of the heart)
Noor Ul Islam is a UK registered Charity that has been running for over 30 years.  The organisation provides core support services to the community such as a Mosque, Pre School, Primary school, Madrassa/ Arabic classes for all ages, Aalimah class, Women's Circles, Scouts and a sports sessions for the youth as well as other services.
If you would like further information about our services please visit www.noorulislam.org.uk or call us on 0208 558 0786.