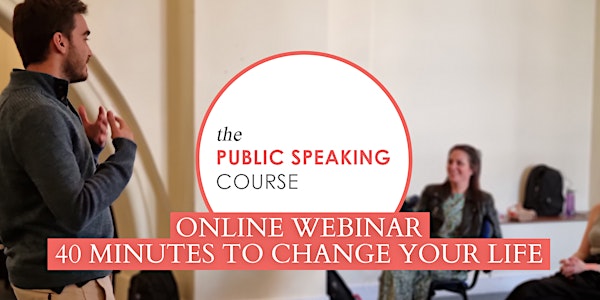 40 Minutes To Change Your Life: Taster Webinar For Great Public Speaking
Refund policy
Contact the organiser to request a refund.
Eventbrite's fee is nonrefundable.
40-minute "taster" group webinar with great tips on how to present and speak in public. The session is run by expert coach, John Deery.
About this event
This 40-minute Zoom session is a "taster" of what you can expect from our in person One-Day Public Speaking Course in London which takes place on Saturday 24 September from 09.30 -- 17.30.
The webinar will give you some of the "dos" and "don'ts" as well as other techniques and tips for how to effectively speak and communicate in public. You will get 40 minutes on Zoom from our experienced and highly sought-after public speaking coach, John Deery.
If you decide to do John's One-Day Public Speaking Course during the 40-minute session, we will give you a 20% discount code on the Zoom call to use for the London course.
Please note:
The 40-minute session takes place on Zoom with the following log-in details:
https://us02web.zoom.us/j/88920896761?pwd=oFjoySywAEnGM4FOZUNXZFTx1lP54D.1
Meeting ID: 889 2089 6761
Passcode: 133960
Cost: £10
Please log-on 10 minutes before and make sure your camera and microphone are working.
John has over 20 years experience helping individuals, companies and organisations break through their fear of speaking in public, enabling them to communicate in an effective, clear, and concise way to get their messages across.
He was worked with people from all backgrounds, ethnicities, walks of life and professions including many well-known British politicians, local councillors, civil servants, CEOs, entrepreneurs, PR consultants, doctors, lawyers, teachers, accountants, NHS psychiatrists, psychotherapists, counsellors, and many more. In addition to coaching, John has presented in front of thousands of people on behalf of clients such as telecoms companies, management consultants and financial institutions in boardrooms, conference centres and large auditoriums. He has also coached individuals in interview technique and confidence building when going for that "special job" and is passionate about the difference he can make in people's lives.
Feedback from recent participants:
"John is passionate about his work and is a truly adept in triggering transformative change within the individual. We were taken on a rollercoaster ride around personal energy, voice projection, authenticity and controlling stage fright. Half-way through, one by one we found our voices and at the end, each of us was able to step into our confident presenting personas. Awesome!" Ross R.
"A very insightful and unique course that not only developed my ability to speak in public but also strengthened my debating skills and taught me the importance of loving myself and not caring what others think. I would recommend this course to anyone aiming to develop their confidence and to master the art of public speaking". Claudia A.
"For me the course hit the right note and connected in a way that I really think could be a turning point. The biggest take home for me was dealing with the root cause of anxiety". Rob B.
"I would like to thank John for such a wonderful day. The course was so much more than what I had envisaged it to be. Thank you for not only providing tips on the practicalities of public speaking, but also for opening-up my eyes to the possibilities that lie within me. A gift, that will remain with me for a lifetime I am sure, and not just within the domain of public speaking". Monal G.
If you want to attend our central London One-Day Public Speaking Course from 09.30 to 17.30 please follow this link to book: bookmycourse.eventbrite.co.uk
For more information e-mail: bookings@thepublicspeakingcourse.com or call +44 7711 384327.