Description
Join us we celebrate our 41st Church Anniversary and the 80th Birthday of our senior pastor, Apostle Harold C McFarlane. With international guest speaker, the honourable Bishop Anthony W Gilyard the senior pastor of Bethlehem Judah Christian Fellowship COGIC church from New Jersey, USA. Musical guests include Volney Morgan & New Ye, Seth Pinnock & A New Thing, Minister Marcia Walder-Thomas, Aundrae Jordine, The Christian People's Fellowship Choir and guest MC Anthony 'Pass Da Mic' King.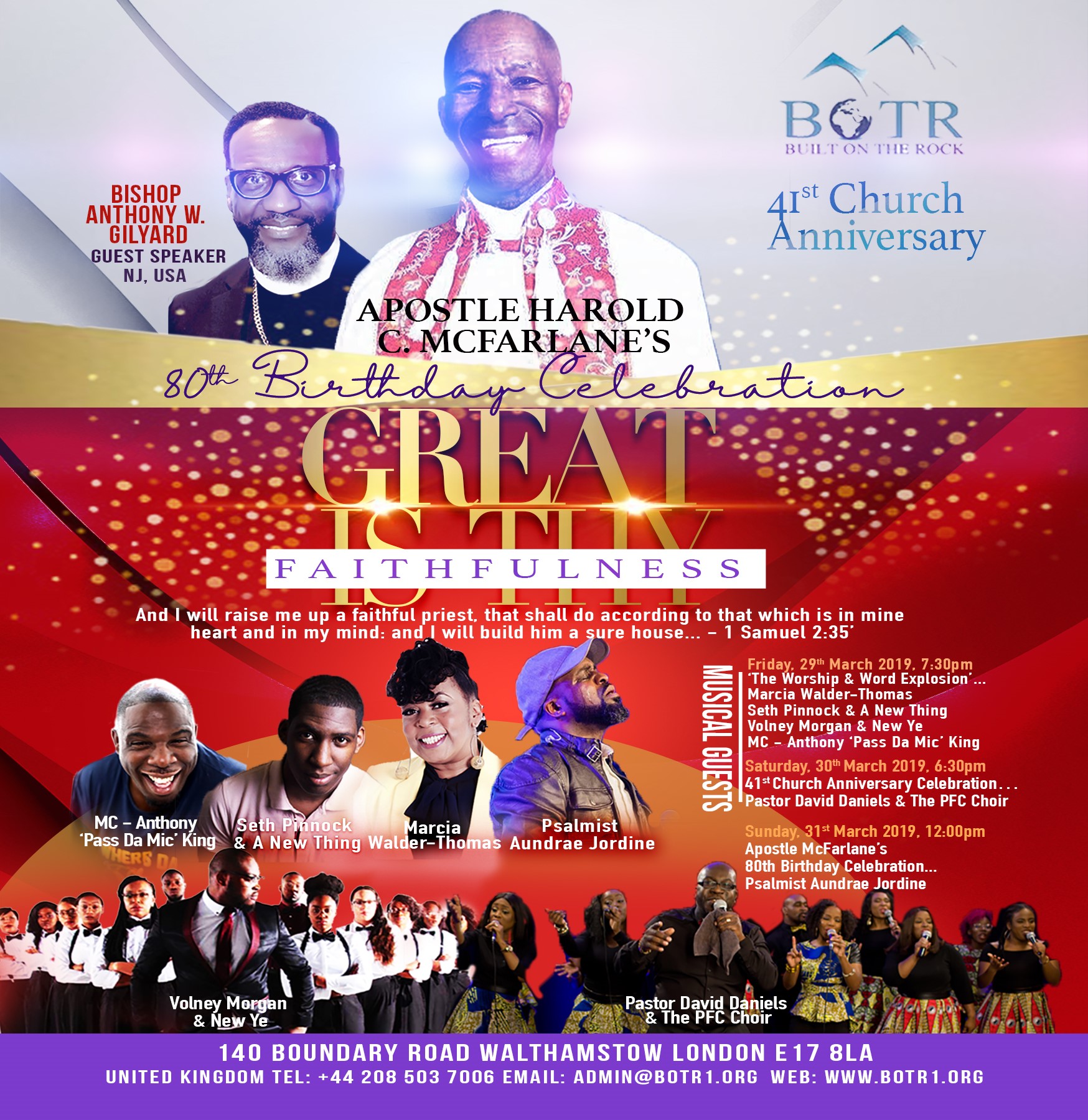 Organiser of 41/80 Celebration
Pastor Navlette McFarlane-Sawyer is the Senior Pastor of Built on the Rock International Ministries (BOTR), working along side Apostle Harold Carl McFarlane the Founder and Presiding Prelate. We are located in London, England with branches established world-wide on every continent.

Under the leadership of Apostle McFarlane Built On The Rock International Affiliate Churches have established churches in London, Bulgaria, St. Lucia, Jamaica, Barbados, Pakistan, India, Zambia, Malawi, Mozambique, South Africa, Kenya, Uganda, The Congo, Ghana, Nigeria, Zimbabwe, Burundi, Liberia The Philippines and the work continues to grow.

Pastor McFarlane-Sawyer is passionate about our neighbourhood, and BOTR is a community church that offers a range of services to improve our Borough including the provision of a Christian Counselling Service, a Prison Ministry for ex-offenders, a Dominoes Club and much more.

Pastor McFarlane-Sawyer is a visionary, preacher, teacher and worship leader and BOTR continues to strive under dynamic leadership.