41st Maurice Lubbock Memorial Lecture

Thursday, 14 May 2015 from 13:45 to 19:00 (BST)
Event Details
DEPARTMENT OF ENGINEERING SCIENCE
The 41st Maurice Lubbock Memorial Lecture
"Rise of the Machines"
Speaker: Professor Hugh Durrant-Whyte FRS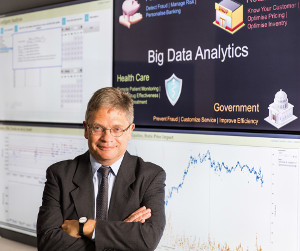 Robotics, computing, 'digital disruption' - the fifth horseman of the apocalypse: wreaking havoc in all areas of the economy, challenging and destroying long accepted societal mores - but in its wake providing new opportunities for industries not yet dreamed of and opportunities for profound social and economic change.
I will talk about the development of the robotics industry in Australia, the science that has made this possible and the impact this is having in key industry sectors such as mining and agriculture.
I will talk about the increasing use of data in these sectors, for modelling for prediction and for decision making. Together these are building a future of autonomous and remote operation of whole industries in Australia.
I will talk about how this disruption is creating new businesses in robotics, data science and autonomous decision making – and what this will mean for the future of the economy and society in Australia and internationally.
Hugh Durrant-Whyte is a Professor and ARC Federation Fellow at the University of Sydney. From 2010-2015 he was CEO of National ICT Australia (NICTA). From 1995-2010 he was Director of the National Centre of Excellence for Autonomous Systems and of the Australian Centre for Field Robotics (ACFR) at the University of Sydney. From 1986-1995 he was a University Lecturer in Engineering Science at the University of Oxford.
Professor Durrant-Whyte has published over 350 research papers and founded four successful start-up companies. He has won numerous awards and prizes for his work, including being named the 2008 Professional Engineer of the Year by the Institute of Engineers Australia and the 2010 New South Wales State Scientist of the Year. Professor Durrant-Whyte is a Fellow of the Institute of Electrical and Electronic Engineers (FIEEE), a Fellow of the Australian Academy of Science (FAA), and a Fellow of the Royal Society (FRS).
Mini-lectures
"Development of the UK's fastest wind tunnel - a UK/Australia endeavour"
Speakers: Professor Matthew McGilvray, University of Oxford & Professor Richard Morgan, University of Queensland


The University of Oxford's Engineering Science Department has embarked on developing the UK's fastest wind tunnel, T6, in collaboration with the University of Queensland (Australia), using technology pioneered by the late Professor Ray Stalker. The facility itself is an engineering feat, requiring to withstand extreme pressures and temperatures (750 bar and 5000 degrees C), and creating a recoil force peaking at nearly 1000 tonnes for several milliseconds. Once operational in late 2015, the facility will be capable of producing flows to test Earth re-entry vehicles from the Moon and beyond. This will allow Oxford and UK researchers to play an important role in exploration of the solar system by providing vital measurements about the heat transfer and ablation processes on spacecraft heat-shields, which protect the vehicle during re-entry.
"Splashing, sloshing and stealth - offshore hydrodynamics writ large"
Speaker: Professor Paul Taylor, University of Oxford

The exploitation of oil and gas resources below the seabed has attracted much attention and investment since the earliest offshore platforms were installed in the Gulf of Mexico just after the Second World War. Even many decades later, there are new design challenges to be overcome.
The talk will survey recent work in Oxford on three distinct but connected topics:
waves trapped between the closely spaced columns of large platforms
standing waves in narrow gaps between two closely spaced vessels
how a very simple eight-legged freely floating structure can bob up and down yet radiate no waves.
Programme - Thursday, 14th May 2015

1.45pm onwards:

Guests arrive/registration in Thom Building Reception Area




Robotics Exhibition




4th Year Project Exhibition




Refreshments: coffee/tea and biscuits

2.30pm – 3.00pm:

Mini-lecture in Lecture Room 1, Thom Building
Professor Matthew McGilvray, University of Oxford and Professor Richard Morgan, University of Queensland

"Development of the UK's fastest wind tunnel – a UK/Australia endeavour"

3.05pm – 3.35pm:

Mini-lecture in Lecture Room 1, Thom Building




Professor Paul Taylor, University of Oxford



"Splashing, sloshing and stealth – offshore hydrodynamics writ large"

3.40pm – 4.00pm:

Presentation of 4th Year Project Exhibition Prizes


Lecture Room 1, Thom Building

4.00pm – 4.45pm:

Robotics Research Exhibition
4th Year Project Exhibition
Refreshments: coffee/tea and biscuits

4.45pm – 5.00pm:

Guests walk from Department of Engineering Science to Mathematical Institute on Woodstock Road



NB: Guests to be seated in Lecture Theatre 1 at the Mathematical Institute by 5.00pm

5.00pm – 5.05pm:

Introduction by Professor Lionel Tarassenko
Head of the Department of Engineering Science

5.05pm – 6.05pm:

The 41st Maurice Lubbock Memorial Lecture:
"Rise of the Machines"

presented by Hugh Durrant-Whyte FRS, Professor and ARC Federation Fellow at the University of Sydney

6.05pm – 6.15pm:

Vote of thanks by Lord Avebury
Chairman of the Lubbock Trust

6.15pm – 7.15pm:

Drinks reception
Downloads

When & Where

Department of Engineering Science, University of Oxford

OX1 3PJ Oxford
United Kingdom


Thursday, 14 May 2015 from 13:45 to 19:00 (BST)
Add to my calendar