About this Event
A wonderful opportunity for teachers to take part in a wide variety of physics CPD activities. This day of presentations and workshops is open to all teachers of physics – specialists, non-specialists, newly qualified and trainee teachers.
The event includes a day full of activities that can directly benefit your work as a physics teacher, including:
• A choice of practical workshops and an opportunity to try out new equipment;
• An opportunity to bring your own ideas and equipment and share them with colleagues;
• An opportunity to meet colleagues and discuss the changes in specifications and examinations;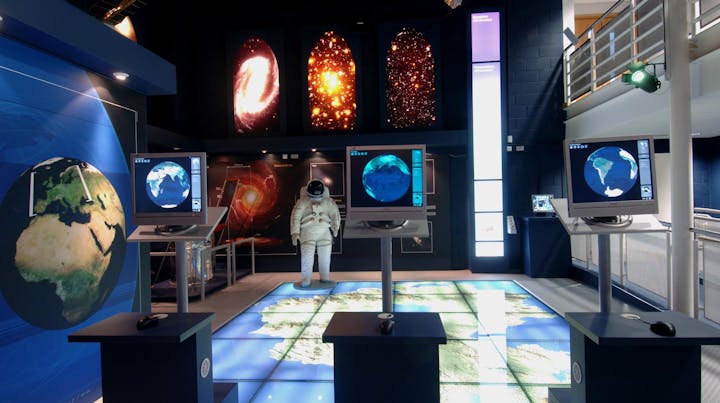 44th NI Physics Teacher's Conference 2019, Armagh
Structure of the day
9:15 – 9:45 Registration & morning refreshments
9:45 – 9:55 Welcome
9:55 – 10:40 Introduction to the Armagh Planetarium team plus a stellar Star Dome Show!
10:45 – 11:35 Choice of workshops A1 or A2
11:40 – 12:30 Choice of workshops B1 or B2
12:30 – 13:40 Lunch – a chance to visit exhibition area and chat more with Armagh Planetarium's education team, Mark Langtry of Explorium – Ireland's newest interactive science experience; and a show and tell table.
13:40 – 14:10 Choice of presentation / Discussion forum C1 or C2
14:15 – 14:45 Keynote Address
14:45 – 15:00 Plenary / Q&A Session / Evaluation
15:00 Finish
As well as taking away models and gadgets from your workshops you will also receive a goody bag of resources!
Where is it?
College Hill
Armagh
BT61 9DB
Co. Armagh
Northern Ireland
What costs are involved?
The day is free to you, costs are covered by the Institute of Physics and Armagh Planetarium.
Star Dome Show We are Stars Suitable for KS3/4 and Junior Cert.
This wonderous show takes you on a stellar journey through time. Starting with the Big Bang and ending at the point when humans appear on Earth. The creation of atoms and molecules, nuclear fusion and the creation of stars, to galaxy formation, super novae and nebulae; these are just a few of the topics covered.
A1 Space CPD Leanne Hawthorne National Space Academy Lead Educator.
In this session, Leanne will introduce some hands-on teaching ideas, demonstrations and activities to allow you to use the medium of space in your classroom when teaching a range of topics, and to give you a feel for what the National Space Academy can offer your school through fully funded masterclasses.
A2 Creative Circuits Sue McGrath IoP Teacher Network Coordinator. Highly recommended for non-specialists and STEAM clubs
This interactive workshop gives teachers ideas for the delivery of the basics of electricity and electrical circuits in a fun, hands-on way. You will then create your own electrical circuits using playdoh and plasticine and a range of electronic components.
B1 Science on Stage SoS Paul Nugent IoP Ireland Teacher Network Coordinator. Highly recommended for non-specialists and STEAM clubs
Numerous mind-capturing demonstrations and teaching ideas gathered from around Europe to enhance your delivery of all physics topics at all levels!
B2 The Rocket Workshop! Armagh Planetarium Educator
Want to know about Rocket Science? Join Armagh Planetarium's education team in this interactive workshop which explores how rockets fly and… occasionally go into space!
Working in teams your skills are tested in the engineering of your own rocket which is then blasted off into space! Curriculum focus: Forces & Motion, Energy Forms & Sources, Fuels & Combustion, Careers in Science & Engineering.
C1 Research into why students choose Physics Matt Drennan
Matt was awarded a BSc in Physics with Astrophysics and subsequently a PGCE by QUB. He was awarded his MSc earlier this year, following submission of his project looking into the reasons why students choose to study Physics. As he describes it, "the aims of the whole project were twofold: firstly, to compare NI pupil's opinions with those of their counterparts in England, using data and responses from previous projects limited to England; and secondly to find the reasons pupils, particularly girls, gave for their decision to study Physics at A-Level or not." He provided those schools who had participated with a condensed version of the entire report and also a very interesting school-specific analysis. He will present an outline his results for us – no spoilers here!
C2 Discussion Forum Clare McGrath Physics Teachers Panellist
This is a rare opportunity to discuss issues pertaining to this year's exams, new specifications etc.
Keynote Address Life as an Astrophysicist Matt Nicholl Royal Astronomical Society Research Fellow, University of Edinburgh
Matt was previously a postdoc researcher at Harvard and a PhD student at QUB. It was during his undergrad degree studies of Physics at Oxford that his interest in astrophysics research was born, however his path to Astronomy began with GCE Physics in Foyle College, Derry. He was the worthy winner in 2008 of the IOP Medal for attaining the highest score in A-level Physics, the Hans-Sloan Award for highest combined A-level sciences score and also an Irish Physics Olympiad Gold Medal. Destined for greatness! As he states on his website www.mattnicholl.net he "studies the dynamic sky: transient and explosive phenomena that evolve on human timescales, including the core-collapse supernovae that mark the deaths of massive stars. Of particular interest are the rare and mysterious 'superluminous' supernovae, which emit as much light as the entire Milky Way does in a year." Recently, Matt has been working on the new field of gravitational wave astronomy to search for light produced in collisions between neutron stars and black holes detected through their gravitational wave emission.
2017 was a big year, to hear him describe his success copy and paste this link:
https://www.derryjournal.com/news/video-derry-man-matt-nicholl-kicks-off-a-new-era-in-astrophysics-with-what-nasa-and-harvard-are-hailing-as-the-biggest-scientific-breakthrough-of-2017-1-8199740