Event Information
Refund policy
Contact the organiser to request a refund.
Eventbrite's fee is nonrefundable.
© Salvador Dali, Fundació Gala-Salvador Dalí, DACS 2021
About this event
THE 45th ANNUAL SYMPOSIUM OF THE FURNITURE HISTORY SOCIETY
DESIGN 1900-NOW
The new gallery Design 1900-Now at the Victoria & Albert museum looks at how designed objects reflect society. Rather than looking at the design canon, telling a chronological history of design through a series of stylistic movements, it looks at design from the last 120 years through the lens of six themes: automation and labour, housing and living, crisis and conflict, consumption and identity, sustainability and subversion and data and communication. To reflect on the new gallery and its content the 2021 FHS Symposium is looking at some of the furniture displayed in the gallery, delving deeper into their narratives of production and consumption. Corinna Gardner and Johanna Agerman Ross, the curators of the gallery will kick off the symposium by looking at the curatorial narrative and conception of the space. Following this a number of speakers are invited to talk around specific objects in the display and reflect on the themes in the gallery.
PROGRAMME
10.30-10.35 Welcome - Christopher Rowell, Chairman of the FHS
10.35-11.00 Introduction - Johanna Agerman Ross & Corinna Gardner,
Lead curators of the Design 1900-Now Gallery at the V&A
Session 1. Innovating for the home
11.00-11.20 Konstantin Grcic on the Mayday Lamp and his broader practice
Industrial designer, Berlin
11.20-11.40 Dr Christine Checinska ALTHEA MCNISH: 'Tropicalising' British Interiors
Senior Curator, Africa and Diaspora, V&A, London
11.40-12.00 Sara Kristoffersson Ikea catalogues: A commercial and pedagogical tool
Professor of Design History, Konstfack University of Arts, Crafts abd Design, Stockholm
12.00-12.20 Q&A
12.20-12.30 Break
Session 2. Making identities through design
12.30-13.00 Christopher Wilk on the Mae West Lips Sofa and the creative partnership between Edward James and Salvador Dalí
Keeper of Performance, Furniture, Textile and Fashion, V&A, London
13.00-13.15 Q&A
13.15-13.45 Lunch Break
Session 3. In conversation
13.45-14.30 London-based designer and educator Huren Marsh speaks to Dr Emily Candela, Senior Tutor, Communication Design, RCA, London
14.30-14.45 Break
Session 4. Resourceful design
14.45-15.05 Christien Meindertsma on the Flax Chair and her wider practice
Furniture and product designer, Utrecht
15.05-15.25 Antoinette LaFarge on sustainable furniture pioneer Louise Brigham
Professor of Digital Media, University of California, Irvine
15.25-15.45 Divia Patel Recyclewallah: Reuse and repurposing in India
Senior Curator, South Asia, V&A, London
15.45-16.05 Q&A
16.05-16.15 Close - Johanna Agerman Ross & Corinna Gardner
16.30 End
Most of the Symposium will be recorded and the link to the recording will be sent to ticketholders after the event. Please note that Christien Meindertsma will not be recorded.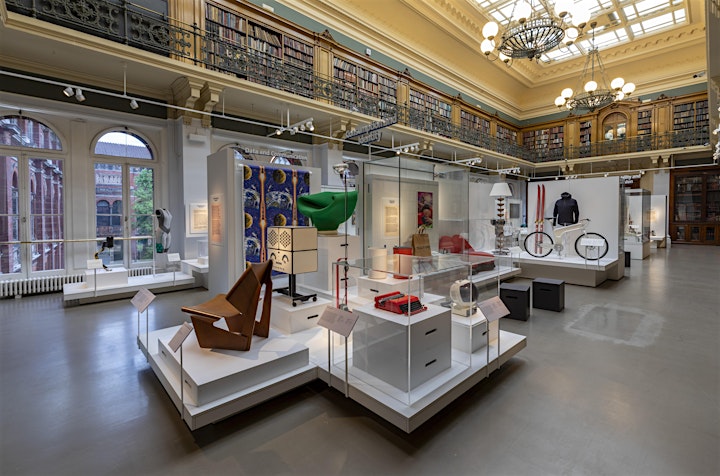 Design 1900-Now Gallery at the V&A © Victoria and Albert Museum, London
Date and time
Location
Refund policy
Contact the organiser to request a refund.
Eventbrite's fee is nonrefundable.
Organiser of 45th ANNUAL SYMPOSIUM OF THE FURNITURE HISTORY SOCIETY DESIGN 1900-NOW