Location
Troxy Arena
490 Commercial Rd
London
E1 0HX
United Kingdom
Sales Have Ended
Ticket sales have ended
Print and bring your ticket with you at the door please
Description
Registration is FREE and only takes a few minutes. Complete the online form (www.ugandaconvention.eventbrite.co.uk) and you will be emailed your e-badge. Please print the badge and bring this with you to enter the Convention in September.
Who attends the convention:
Banks and financial institutions
Investors and financiers
Microfinance institutions
Development financial institutions
Multilateral organisations
Trade associations
Business associations
Consultancies
Ministers and government officials
Agriculture/agribusiness companies
Producers and suppliers of agricultural products (seeds, fertilisers, etc.)
Producers and suppliers of farming equipment and agricultural machines
Charities and Voluntary organisations
Why attend:
Explore how to optimise value-chains
Discuss the potential of the private sector in contributing to agricultural development
Explore financing options and investment opportunities
Discuss strategies and policies to improve smallholders' access to markets and access to finance
Gain an understanding of local, regional and global market demand
Understand price developments in the commodity markets
Learn about the role of Commodity Exchanges in Africa
Forge new partnerships and business ventures
Enjoy a platform to meet key decision makers and discuss priorities, long-term strategies and result-focused solutions and policies
Distinguished speakers include:
Rt. Hon Edward Ssekandi, Vice President of Uganda

Mr. Amos Nzeyi (Chairman Pepsi-Uganda)

Lord Popat (one of the richest persons in UK & founderTLC Group)

Hon. Daudi Migereko, Minister of Housing

Hon. Maria Kiwanuka, Minister of Finance

Rt Hon. Rebecca Alitwala Kadaga, Speaker of Parliament

Lord Sheikh, House of Lords

Hon Amelia Kyambadde, Minister of Trade and Investment (TBC)

Hon. Irene Muloni, Minister of Energy (TBC)

H.E Nimisha Madhvani,

High Commissioner – France

Mr Nuradin Osman, CEO-Africa Massey Ferguson tractors

H.E. Ambassador Berhanu Kebede (Ethiopia)

Mr. Kyewalabye-Male D, CEU Buganda Land Board

HE Mirjam Blaak, Head of Mission, Brussels

HE Joyce Kikafunda, High Commissioner – UK

HE Zaake W. Kibedi, Ambassador to the Nordic Countries

HE Professor Joyce Kikafunda, High Commissioner

HE Governor Cyprian Awiti (leading Kenya delegation)

Dr. Frank B. Sebbowa, CEO of Uganda Investment Authority
Why sponsor:
The Ugandan Convention UK is Europe's largest annual Ugandan event
Sponsoring this forum offers wide-ranging benefits, giving your institution a unique platform at the conference, as well as through our publication Promota magazine, enhancing your corporate profile to influential participants. Our dedicated team will work closely with the sponsors to tailor their involvement in the summit and maximise media exposure through various media platform and social media.

Brussels Airlines offers a 10% discount on your air-freight to the Convention (Promo code: 11122496). Only available in the Brussels Airlines office

(Rwenzori House - Lumumba Avenue, plot 1 3966 Kampala). Tel: +256 (0) 414 234 200/1/2

Recommended hotels visit: http://goo.gl/5jDC2C
---
The Ugandan Convention in UK - 13th Sept 2014

"Theme: Uganda is open for business!
An event not to be missed!
On 13th Sept 2014, investors, business leaders, friends of Uganda and East Africa,and well-wishers will attend the 4th Ugandan Diaspora UK Trade and Investment Forum in London.
The event promotes Uganda and East Africa as a favoured investment destination in Africa. This year, the Convention, which started in 2011, will attract powerful delegations from Uganda, Kenya and Europe, and over 2000 delegates.
Rt. Hon Edward Ssekandi, Vice President,will lead the Ugandan delegation, which will include Mr. Amos Nzeyi (Chairman Pepsi-Uganda), Hon. Daudi Migereko, Minister of Housing, Hon Amelia Kyambadde, Minister of Trade and Investment, Hon. Ruhakana Rugunda, Minister of Health (TBC), Hon. Irene Muloni, Minister of Energy (TBC), Dr. Frank B. Sebbowa, CEO of Uganda Investment Authority.
The UK delegation will include, Lord Popat and Lord Verjee, both very wealthy businessmen in the UK, who will talk on successful investments. From Switzerland, Mr Nuradin Osman, from Massey Ferguson tractors, will present opportunities on how to mechanize agriculture in Uganda.
From Kenya, a powerful delegation will be led by His Excellency Cyprian O. Awiti, Governor of Homa Bay County who will be supplementing on Mr. Bitature's call at the 2013 Convention to invest in the money belt between Uganda, Kenya Sudan and the DRC. Governor Mr Awiti will present a paper on encouraging intra-trade between Kenya and Uganda and present opportunities in his area.
If you are serious about investment, do not miss presentations on opportunities in the sectors of Energy, Finance, Oil & Gas, Tourism, Telecoms, Agriculture, Banking and Finance, Education, Infrastructure Development, Housing, IT, Transport, Pharmaceuticals and Consumer Sectors.
Africa is the future. Let UGANDA be your starting point TODAY!

Join us on the day and meet the people who can truly transform the business landscape of Uganda. Become part of this amazing development!
Become the King Entrepreneur that Ugandan and East Africa need today!
DATE: Saturday, 13 September 2014 | TIME: 09.30 - 19.00
VENUE: Troxy, 490 Commercial Rd, E1 0HX London UK
Register now: www.ugandanconventionuk.org
"…There are two Kings in the modern world: the entrepreneur and the consumer. Today, much of Africa has got one King ─ a capable and growing consumer society; the only King that is missing is the entrepreneur King…." President of Uganda, H.E. Yoweri Kaguta Museveni

…and of course, join us at the after-party to get a taste of true African culture, music and dance!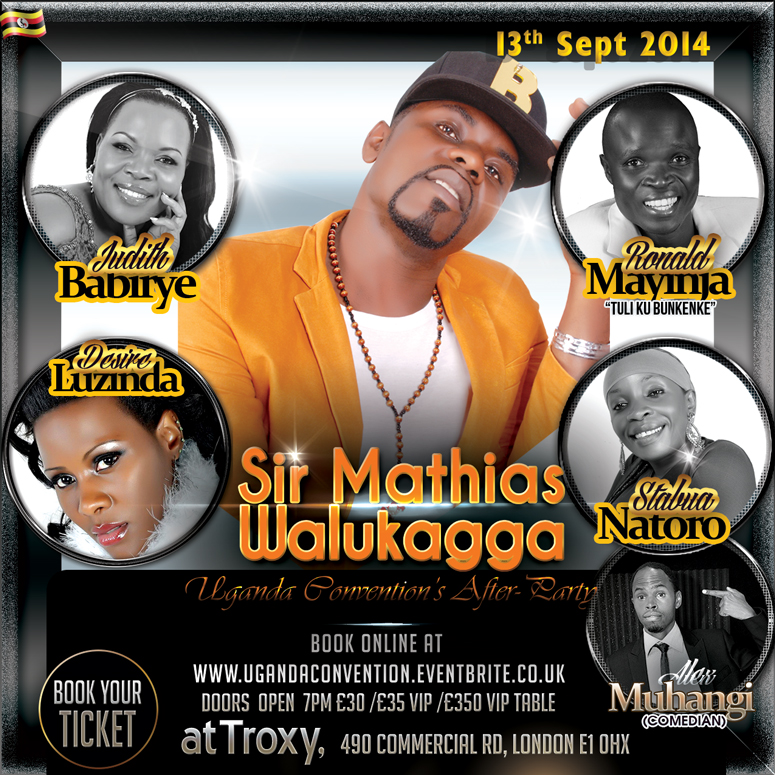 About Uganda-UK Convention (investment Forum)
The Ugandan UK Convention, a Trade and Investment Forum has now become firmly established as an annual event in the UK.
The forum brings together experts, business leaders, professionals and representatives from prominent organisations based in Uganda, the UK and internationally. Delegates have access to up-to-date information on the vast potential for investment that Uganda offers to both the domestic and international community. They can acquire business tips, obtain relevant literature on priority sectors for investment, take part in an interactive Q & A session and hear about the realities of doing business in Uganda.
Meet and network with African and UK professionals marketing goods for global markets

Market your services and products to delegates and visitors on the day

Meet business leaders to discuss the major developments, challenges and success stories

Gain competitive advantage over competitors, broadening your marketing strategy

Network with like-minded businesses

Develop business partnerships with potential business partners both in the UK and abroad

Meet potential investors in order to identify funding options

Explore new markets for products and services

Identify reliable suppliers
The 2014 programme has a demanding, interesting and varied agenda over the course of the day, with keynote addresses, panel discussions and break-out networking sessions involving government and officials from the private sectors, prominent Ugandan (Africa) entrepreneurs, private equity funds, leaders and Pan-African development institutions.
A key focus of the forum is expressly designed to support the country's efforts to attract foreign direct investment into Uganda and paint a candid and contemporary picture of the nation's regulatory, business and investment climate.
Also, the forum seeks to inform and update the investors and business community in Europe of the vast potential for investment that Uganda offers to both the domestic and international community, while highlighting priority sectors for investment.
We hope you will find a wealth of experience and knowledge represented at this conference, and take advantage of this space to share ideas, talents and resources.
Insights gained through our surveys and registration at this conference have revealed that 15% of the respondents have capital to invest in an existing or new business, while 45% have opportunities requiring capital or are looking for international partners.
Our official partners MM2 Capital and Uganda Investment Authority will have a one-stop stall to handle all your inquiries regarding investing in Uganda.
Highlights from 2013 convention

Hon. Edward Ssekandi, Vice President Keynote address at the UK 3rd Convention 2013
Keynote speech: Patrick Bitature Chairman of Uganda Investment Board
The Lord Sheikh presentation at the Ugandan Convention UK 14th Sept
H.E. Mrs. Janet Kataaha Museveni, 1st Lady and Minister for Karamoja Affairs