Sales Have Ended
Ticket sales have ended
Thank you for your booking. Access to this course will be emailed to you within 24 Hours. Regards Acumen Envision
Sales Have Ended
Ticket sales have ended
Thank you for your booking. Access to this course will be emailed to you within 24 Hours. Regards Acumen Envision
Learn by Doing not Just by Watching.
About this event
Distance Learning Business Analysis MasterClass Program
Includes: 5 Courses, Over 110 Hours of Virtual Live Instructor Led Training, 65 Hours Self-Paced Study, 6 Real World Projects, Assessment & Certification
Duration: 6-8 Weeks (Based on part time study)
Global Access: Virtual Live Classroom Courses available in multiple time zones weekday & weekend
Instant Access Enrolment
Overview
The Business Analyst tools and techniques are amongst the most sought-after and highly compensated digital economy skills. Accelerate your career with our acclaimed Business Analyst Master's Program, featuring the perfect mix of practical and hands-on manner with real-world case studies and extensive hands-on practicum.
This Master's Program is a blend of self-paced online videos, live virtual classes. Mentorship sessions provide you with a high-engagement learning experience and real world applications, helping you master essential Business analysis skills. You will have in-depth exposure to concepts including business analysis planning and monitoring, data analysis and statistics, visualizations, Agile Scrum methodologies, and SQL databases. preparing you for an exciting career in Business Analysis.
This Business Analyst Master's Program is designed to hone your expertise in the latest Business analytics tools and techniques, including planning and monitoring, data analysis and statistics, visualizations, Agile Scrum methodologies, and SQL databases. This course will train you in a practical manner with real-world case studies, ensuring that you're market-ready.
Business analysts are in-demand across a wide range of industries. Business analytics can be an exciting and rewarding career for people who possess the requisite skills—helping struggling companies thrive and make good companies great.
This Business Analyst Master's Program will provide you with extensive expertise in business analysis. With this course, you will master the concepts and skills required for an active business analyst career. You will become an expert in Excel, CBAP, Tableau, Agile ScrumMaster, SQL, CCBA, and Agile Scrum Foundation.
You will also gain the skills necessary to build interactive dashboards; gain insight into business analysis planning and monitoring, understand the competencies of a business analyst, master Agile Scrum methodologies, and learn how to work with SQL databases. The entire learning experience is tied together with real-world projects and virtual simulations to help you obtain domain experience.
After completing all aspects of the training, you will be prepared for the role of a business analyst.
What you will Learn
By the end of the program, you will be able to accomplish the following:
Grasp fundamentals of excel analytics functions and conditional formatting
Apply statistical tools and concepts like moving average, hypothesis testing, ANOVA and regression to data sets using Excel
Understand the tools and techniques used in Business Analysis Planning and Monitoring
Master the concepts of requirements life cycle management
Gain fundamental knowledge on agile perspective
Learn to analyze data using Tableau and become proficient in building interactive dashboards
Master the Agile Scrum project management approach
Gain expertise in Agile Scrum methodologies, Agile Scrum applications, Daily Scrum synchronization, Sprint planning, and review
Understand Business Analysis Key Concepts and Business Analysis Core Concept Model (BACCM)
Acquire advanced knowledge of identifying, defining, assessing and completing various elements of business analysis tasks
Master SQL concepts such as Universal Query Tool and SQL command
Plan, execute, monitor and track Scrum projects
Absorb Agile philosophy and gain deep knowledge of Scrum
Effectively apply Scrum in your organizations
How it Works
Once you enrol for the course you will receive a link giving you access the Learning Management Systems.
You will then be able to review each module in the leaning path and start to plan your study time and book your Live Class room session.
All of the project based session have virtual lab access setup will all software and tools pre installed.
Help is available 24/7 should you require any assistance.
Why Take the Course?
Business Analysts use data to outline problems, opportunities, and solutions for businesses and report them back to stakeholders.
The employment of management analysts, including business analysts, is expected to grow 14 percent between 2018 and 2028. This is a higher growth rate than other professions.
Organisations realize the gains dedicated business analysts provide and are building new positions each year. Because of this, the business analyst job market is anticipated to grow at a rate of 19 percent over the next 10 years!
You are in Control of your Schedule and Courses
Plan you time and book onto the Live Instructor Led courses when you are ready via your Learning Management Systems Login.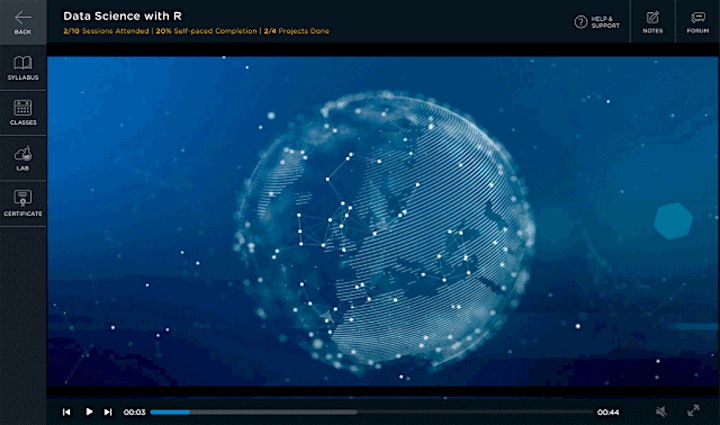 Structured Learning Path
All live Courses, Self Study and Projects are Planned in Sequence to ensure you are taking the course in the correct order and building up your skillset.