A popular bootcamp on the proven blueprint to renovating for higher profits.
About this event
How newly established property investors can confidently create maximum profits in the shortest time by following a blueprint.
A workshop on the proven blueprint to renovating for higher profits where you will discover by working on real projects.
You have got a property in your hands, now it is time to get it to work for you.
What do you do you look at a floorplan to make sure you make best use of space in a way that is functional as well as profitable?
How do you organise a mood board so that you go from overwhelm to a itemised shoppint list that makes an amazing space?
How do you add Perceived Value over the Real Value you add, so that your money, time and efforts are maximised?
How do you accurately budget for a project even before you get access to it?
A live event for you to discover how, from the point, you stand today you can run a refurbishment for a product that is both practical & beautiful.
5 STEPS TO PLANNING A RENOVATION
What you will cover during the workshop:
Spatial design to Maximise Use of Space (Principles of Spatial Design) - which means each property will use every inch of space and be functional.
How to Mood Board effectively which means that you will have clarity on how to stick your vision plans for best outcomes 
How to add most value without increasing budget (Objective Value + Perceived Value = Total Value) which means your budget will stretch further, every time.
Space Psychology: Love at first sight...  which means that you will discover the secrets I know and use to increase Margin of Profits that break rental ceiling prices on every project
Budgeting with Ease and Confidence. The system works in a way for which you will have clear ideas of what the price point of a project is, even priro to getting the keys to the property.
What previous participants have said about this event: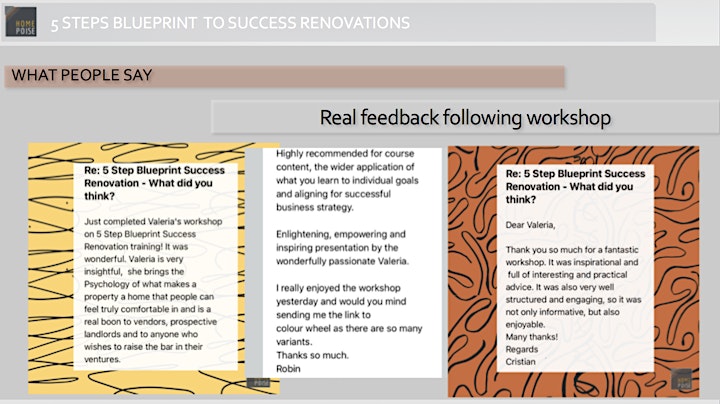 As a bonus and you will also get 
my black-book of the best interior design websites that will help you with Colour Palettes and Interior Design
my very own second level project pricing tool
the pre-workshop booklets for you to take organised notes during the workshop
the post-workshop booklet for you to keep, which will become your go to bluprint bible.
Do not miss this: discover THE BLUEPRINT that you will be able to apply to any project, anywhere in the world, at any time.
Please read homepoise's terms and conditions.
Date and time
Location
Refund policy