Sales Have Ended
Registrations are closed
Watch this space for the next event next month.
Sales Have Ended
Registrations are closed
Watch this space for the next event next month.
5 Sure-Fire Ways To Be Vibrationally Irresistible To Your Premium Clients - Without Feeling You Are Selling Your Soul - FREE ONLINE CLASS
About this event
5 Sure-Fire Ways To Be Vibrationally Irresistible To Your Premium Clients - Without Feeling You Are Selling Your SoulAre you Ready to Meet your Divine Clients Online?
Are you Ready to Meet your Divine Clients Online?
Become vibrationally attractive to your Clients, to assist them and have them at "Hello"?
Coaches, healers, channels, empaths, mediums, therapists and all service based spiritual entrepreneurs going ONLINE
Here is your game plan with the new dance steps to become so irresistibly attractive to your High End Divine Clients, even if you feel itchy, resist and run away from marketing and sales.
The problem is for most coaches and spiritual entrepreneurs to receive more of their divine clients to work with is, that unless you know exactly the tune and dance steps that your specific clients respond to, it can seem overly messy and an uphill slog to navigate this alone, and especially tricky to stick to the path you're being shown, without falling back on the old out of date strategies that will repel your sensitive divine clients. AND YOU KNOW IT.
The GOOD news is that there is an easier way that you seldom choose to see - Simple is right, Easy is best - There is a clearer more direct way to do everything including become attractive to your divine clients.
This is for you particularly if you squirm and hate the thought marketing and selling over social media. (Hint: it's really not what you expect or think) We have spent years and decades really over complicating things. It's time to unveil the straight forward path before we lose our will to live and drop our business before it even has a chance to really get off the ground.
The online space is booming right now so don't waste another minute leaving your people unattended, Those who need you and what your are extraordinarily good at, and especially here for helping, Don't leave them abandoned without the means to have the caring heart led coaching assistance they crave and deserve from YOU.
It's time to be seen, heard and receive your steady flow of clients who are seeking YOU.
IN THIS TRAINING You'll get……The quickest 5 ways that will give you a radical change with your attracting your ideal clients and calling in the next person or group of people you most want to interact with.This is the most natural and yummy way to do business from now on, so that you can become someone who feels more confident, enjoys reaching the right people at the right time, meeting the souls you L O V E to interact with, has a perfectly balanced work and play and who knows how to communicate to be seen and heard.You'll get…
1. To discover what it is to be crystal clear on your purpose and have the next step along your path laid out in front of you.
2. Uncover the mindset and fine tune your focus that attracts the best opportunities and people you are here to help towards you
3 You get to create the business and life you L O V E, see evidence of what you have created so far and how to turn that around 180°. You get to STOP! choosing and settling for mediocre and accepting what's handed to you.
4. Learn the POWER of your decision and how it initiates at a surprising speed and trajectory once you set your self up in a way that feels incredible
5. Discover the glue that holds this all together, with a simple statement of commitment to yourself and a new invincible relationship underway you will radiate an essence that will be detected far and wide, across continents and oceans.
*This Is A FREE Online Event. There Are No Costs, But Seats Are Limited
**You will receive an email with a zoom link after your registration confirmation
OPTION 1- Do it yourself. Receive a reply of the MasterClass video training from myself, get confident on the 5 steps to become attractive to your dream divine Clients get feedback from me when you post a comment or as a question.£64.00
OPTION 2 - Group Mentoring over 5 Days only £164Join me on a Q & A call and receive inspiration and mentoring calls on Zoom to ask any questions and to stay accountable. Take steps over 5 incredible transformative days to settle into this new state of attraction. Q & A Call is on Zoom and you will be given a link a link once you register.
OPTION 3 – Group Mentoring over 6 weeks only £640.00All weekly calls are recorded and streamed into a facebook group that you can access forever
OPTION 4 - 1 ON 1 Mentoring over 6 Months £6,640 (Pay monthly each 4 weeks only £1,640)All weekly in depth calls are recorded and streamed into a private facebook group that you have access to forever.
This is ideal for you if:-
-If you are fed up with another new strategies, ever changing formulas, promises and still getting no where fast
- You work really hard and have lost the spirit of life and any balance between work and your life. You miss your family as you've become a workaholic to make your business survive
-You've had some success for a period of time followed by long dry spells and you feel like you are stuck in feast or famine
-Have feelings of guilt, shame, or embarrassment about your business being less than you know it could be and you feel you are doing something wrong and in your own way
-You have spent a fortune on coaches for your business and marketing and seriously doubt your ability to have this work for you
-Fantasize about how much better life would be if you were more successful in business and earning your worth
- Spend too much time thinking about what should be your next move- Have lots and lots of ideas that run into nothing, and arguing with yourself about what to do next or whether to quit,
- Take a long time planning the next move, challenge, or course to cure, your dry spell, -You don't miss enthusiasm just focused, guidance and honest trustworthy assistance.
This is not for you if:-
- You are not in business for yourself
- You have no issues and do not worry about the right course of action
- Looking for a quick win to gain lots of clients with no effort on your part
- You have never tried solutions for marketing your business- You are not searching for freedom with your business and knowing your soul purpose and or reaching your greatest potential
FAQ – Frequently asked questions.
- Should I take Notes? Yes it's a good idea to take notes of key important items- Is there a minimum age requirement for this training? No this is suitable for any age ( being in business or living life with your soul is the next step)
- Do I need to understand about business? No, This training is easy to follow without business training.- Do I need to understand about or be spiritual? No, This training is easy and fun to follow without spiritual training.
- Is this training only all about Business? No, I offer a very rounded and fully integrated look at all of YOU, and take a holistic view of you your story, environment and what blocks your progress.
All will be discovered in the MasterClass and training days I provide to see how you operate and how all areas of your life are available as signs for you
How can I contact the speaker?
You can contact the speaker on email Fiona@fionarobertson.co
Client Visit : www.fionarobertson.co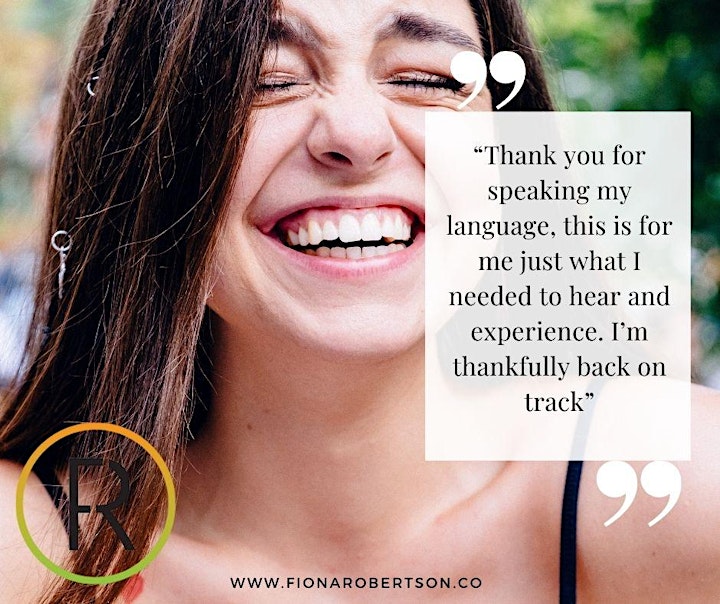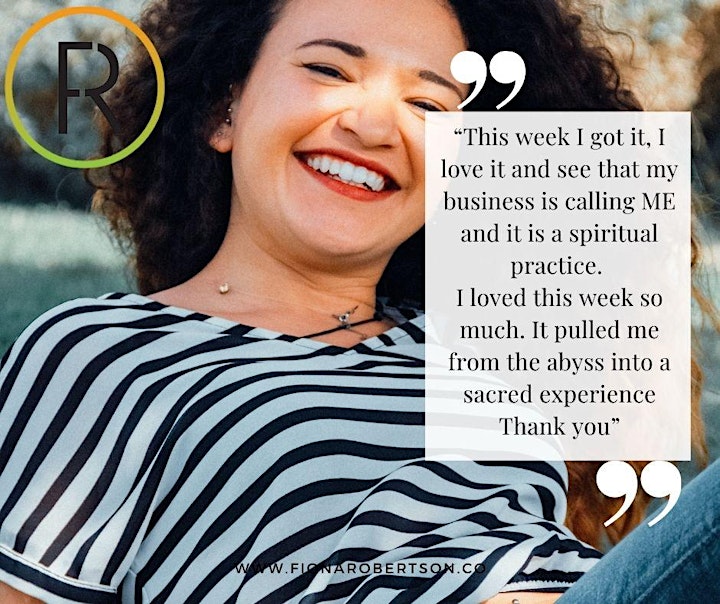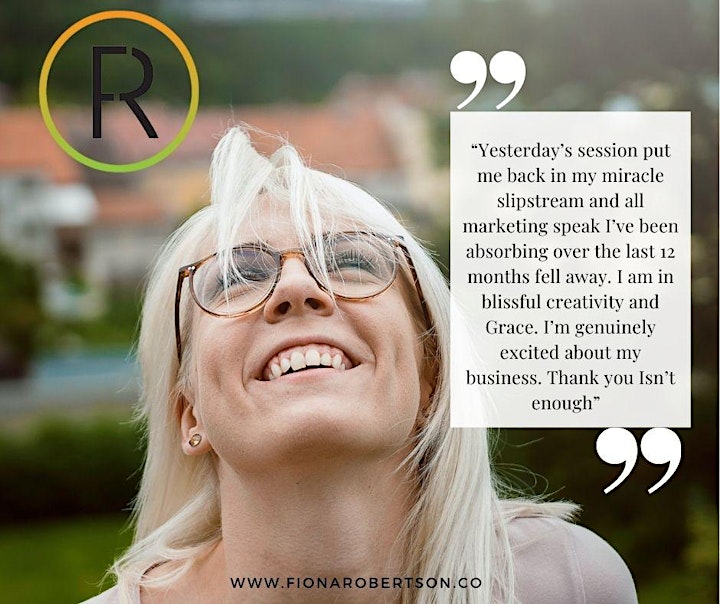 Organiser of 5 Sure-Fire Ways To Be Vibrationally Irresistible To Your Premium Clients
 Hey, I am Fiona and I am an intuitive 'Soul Assisted' Coach and host of The Practical Magic TV show and The Soul Assisted Spiritual Entrepreneurs School
I help soul led women reconnected with their true nature and purpose and natural intuition, so that they can make better decisions in personal life and with their business, knowing their soul is intimately guiding them
Having spend most of my life appearing confident, chatty and in control running a successful business in the UK as an entrepreneur, in my 30's with 1 divorce, 2 engagements and a business partner less, I was realising that a lot of what had happened to me was soul intervention in my life.
I discovered that behind my façade of The Good Life lay self criticism and not knowing what I really valued and what I wanted.
I was disconnected for who I was and from what I wanted out of life.
I was frustrated and un fulfilled and saw the generations before me living and settled for unsatisfied life. I decided to commit to whatever it took to deepen my relationship with myself, the universe, god and my soul and the life I wanted to create when I woke to a loud voice asking me "Do you want to be doing this in 5 years time?" Then repeating the question for 3 years and finally 1 years time. Then I knew there was something else waiting for me that I set out on a quest to discover.
So this is my personal mission and purpose: to reconnect women with their true nature as an intuitive soul assisted being, and accept their divine and soul purpose, to trust themselves before anyone else, to become so phenomenally strong and happy that no ones criticism, judgement or rejection can ever rock them. So that they can make powerful decisions in life and business with ease, knowing and trusting themselves as soul assisted in everything.
My motto is - Simple is best and Easy is right and so it is when you are soul assisted
I am your host of Soul Assisted Spiritual Entrepreneurs group and School where I take on enrolment every trimester for soul activation to trust yourself as soul and become who you are here to be.
Random & fun facts : I am a single mum of 2 gorgeous boys (now teenagers) who are soul connected and creating the life they want the way they want it.
I was guided to go travel the world for a year with a ruc sac at 39
I was guided to move live in France and raise my family here
I was guided to create the Home Detox Box and Retreat Biarritz
We have adopted a goat and bottle fed him as a baby
I have created 3 houses in France just as I wanted to experience them , I designed them from the number of bedrooms to the location and the exact price I wanted to pay without ever using an estate agent
I am very happy and honored to have you here.
I look forward to meeting you very soon on one of my LIVE Thursday calls, training sessions or breakthrough calls.
Fiona
The Agent For Your Soul