Event Information
Location
Zenw2 Wellness Collective
12 Walm Lane
London
NW2 5HT
United Kingdom
Refund policy
Refunds up to 1 day before event
Eventbrite's fee is nonrefundable.
5-Week Mindfulnesss Meditation Course with Lila Caridade - Online or at Zenw2 Collective For online contact: lilacaridadeyoga@gmail.com
About this event
5-Week Mindfulnesss Meditation Course with Lila Caridade
Tuesdays
19:30-20:45
£75
Online/ In person
Mindfulness is a simple and very powerful practice of training our attention. It's simple in that it's really just about paying attention to what's happening here and now (i.e. sensations, thoughts, and emotions) in a non-judgemental way. It's powerful because it can interrupt the habit of getting lost in thoughts, mostly about the future or past, which often generates more stress on top of the real pressures of everyday life.
Among its proven benefits are:
self-control, objectivity, affect, tolerance, enhanced flexibility, equanimity, improved concentration and mental clarity, emotional intelligence and the ability to relate to others and one self with kindness, acceptance and compassion.
Through this course you will learn different techniques to help you living a life with purpose Here & Now.
This course includes:
- workbook
- telegram private support group
- bonus recorded meditations for self practice
- class discussions/ q&a
No prior Mindfulness or journaling experience required, but those who wish to deepen their practice will benefit from the course.
Lila is a certified Yoga Teacher, Co-Director Zenw2 Wellness Studio, certified Meditation teacher by Cindy Lee and an Sean Fargo (ex-budhist and Meditation instructor for Google and Tesla) and a breathwork facilitator.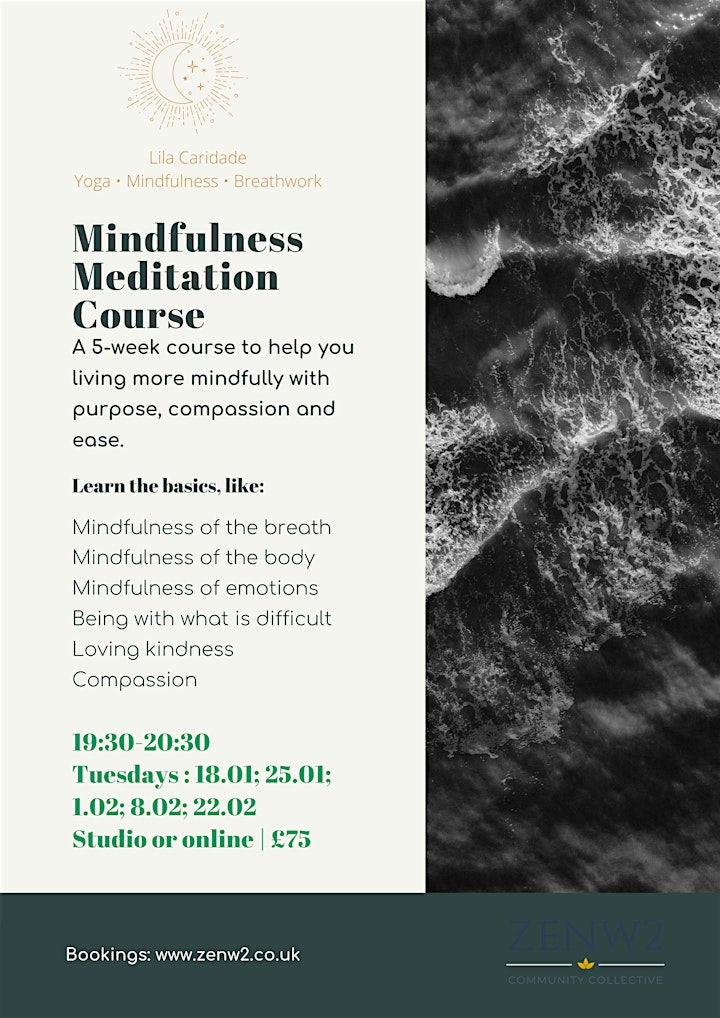 Date and time
Location
Zenw2 Wellness Collective
12 Walm Lane
London
NW2 5HT
United Kingdom
Refund policy
Refunds up to 1 day before event
Eventbrite's fee is nonrefundable.