50 Hacks to Get, Set, Grow: Tricks, tools & techniques to start & grow rapi...
Description
You will also need to register on meetup for this event:
https://www.meetup.com/TechCitizen/
Who is the event for
1. Business owners and startup founders
2. Business development and sales professionals
3. Marketers and growth hackers
4. Management consultants
Key Takeaways
The event will provide the following tricks, tools and techniques:
• Bootstrapping a business - spending no more than $100
• Deciding what to sell
• Customers funding your growth and development
• Developing global sales channels through partnerships
• Assembling a reliable team
• Manage them and grow them
Speaker
Raj Anand has helped companies grow through a combination of growth hacking tools, strategies, and market research.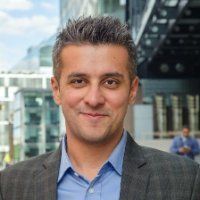 An engineer by profession, he has founded three startups, raised capital from investors, and taken one venture from zero to acquisition. He has not only had a flourishing career within startups but also with large and mid-sized organisations, working on launching startups or new products within them.
Products he has built have made companies an income in excess of £55m. Raj has also won BusinessWeek's Europe's Young Entrepreneur (2007) and has been named one of Revolution Magazine's 50 Most Influential People in Digital (2009).
He has spoken at various venues including the Foreign & Commonwealth Office, British Library, and several universities including LSE. Raj and his entrepreneurial ventures have had coverage in The Telegraph, Guardian, BusinessWeek, and Observer.

Company
Goodman Lantern was founded by ex-McKinsey, KPMG, and Deloitte consultants with the shared vision of freeing up valuable time and increasing the productivity of decision makers. This vision is made possible through access to a distributed team and cutting edge research and data.
Goodman Lantern undertakes market research and develops engaging content including white papers, market research, eBooks, and more. Using innovative technology and distributed teams, our services reduce costs by 66% and increase speed of project delivery by 5x.
Agenda
• 02.00 pm to 02.05 pm: Registration and networking
• 02.05 pm to 02.45 pm: Presentation – part 1
• 02.45 pm to 03.00 pm: Break
• 03.00 pm to 03.30 pm: Presentation – part 2
• 03.30 pm to 04.00 pm: Q&A/More networking
Cafe conduct
The venue is provided to Tech city for free and we need to respect the owners hospitality.
You are required to buy one item from the cafe counter.
You are not allowed to consume/leave any drinks (including all branded water) and food from outside, on the premises.
Time keeping
Make sure to arrive on time as the event will start
2.00 pm sharp
Directions
Top floor meeting room
Nearest tube is Old street
Opposite Pret a Manger
You will also need to register on meetup for this event:
https://www.meetup.com/TechCitizen/
One-stop shop for Entrepreneurs, SMEs, Start-ups & Scale ups! #TechCitizenmeetup