Description
50th Anniversary of Ian McHarg's Design with Nature : A Celebration of Influence & Legacy
Part of the Landscape Institute's LI 90 Celebrations
Opening Event: Tuesday 22 October 2019: 5-9.00pm,Sculpture Court, Edinburgh College of Art
Ian McHarg's seminal text 'Design with Nature' had a huge impact on the profession of landscape architecture, shifting its focus from an aesthetic basis towards a large-scale ecological approach. The text also had a great influence on the wider associated professions of planning and ecology and led to the development of landscape urbanism, an approach that underpins many contemporary design practices. Through this celebration and exhibition the LIS hope to raise awareness of McHarg, his worldwide positive influence and place within the wider narrative of the Scottish environmental tradition. It will also examine how subsequent students went on to continue to design with nature through current practice and inspire the profession into the twenty-first century.
Opening Event: Programme and Guest Speakers (Tickets are required)
5.00pm - Exhibition viewing and refreshments.
6.00pm - Welcome by Rachel Tennant, Chair LIS & Presentation of winners of the ecological design charette.
6.05pm - An introduction to McHarg and his legacy - Professor Sandy Liddell Halliday, Principal, Gaia Research
6.20pm - McHarg Film screening - Multiply and Subdue
6.45pm - McHarg and Urban Ecology - Professor Sandy Liddell Halliday - Principal, Gaia Research
7.00pm - 'Designing with Nature Now' (UPenn 2019) - Professor Brian Mark Evans, Professor of Urbanism+Landscape at the Mackintosh School of Architecture and director of the Glasgow Urban Laboratory, speaks on his chapter 'Ian McHarg, Scotland and the emergence of green consciousness'
7.15pm - Alumni reflection speakers – Cathy Johnston, Group Manager, Glasgow City Council; Andrew Grant, Founding Director of Grant Associates; and Johanna Gibbons, Partner J&L Gibbons - Presentations and a round table discussion on the influence of McHarg through Skinner and its impact on current practice.
8.30pm - Drinks and exhibition viewing.
9.00pm - Close
Exhibition: 21st - 25th October 2019, 9 - 5pm, Sculpture Court, Edinburgh College of Art
The exhibition material has been collated into a richly illustrated display divided across three themes:-
Environmentalism and McHarg's early teaching in Scotland

McHarg's Scottish Students

Students of David Skinner
The exhibition is non ticketed and includes the outcomes of the young designers Ecological Design Charette which will be judged at the opening event.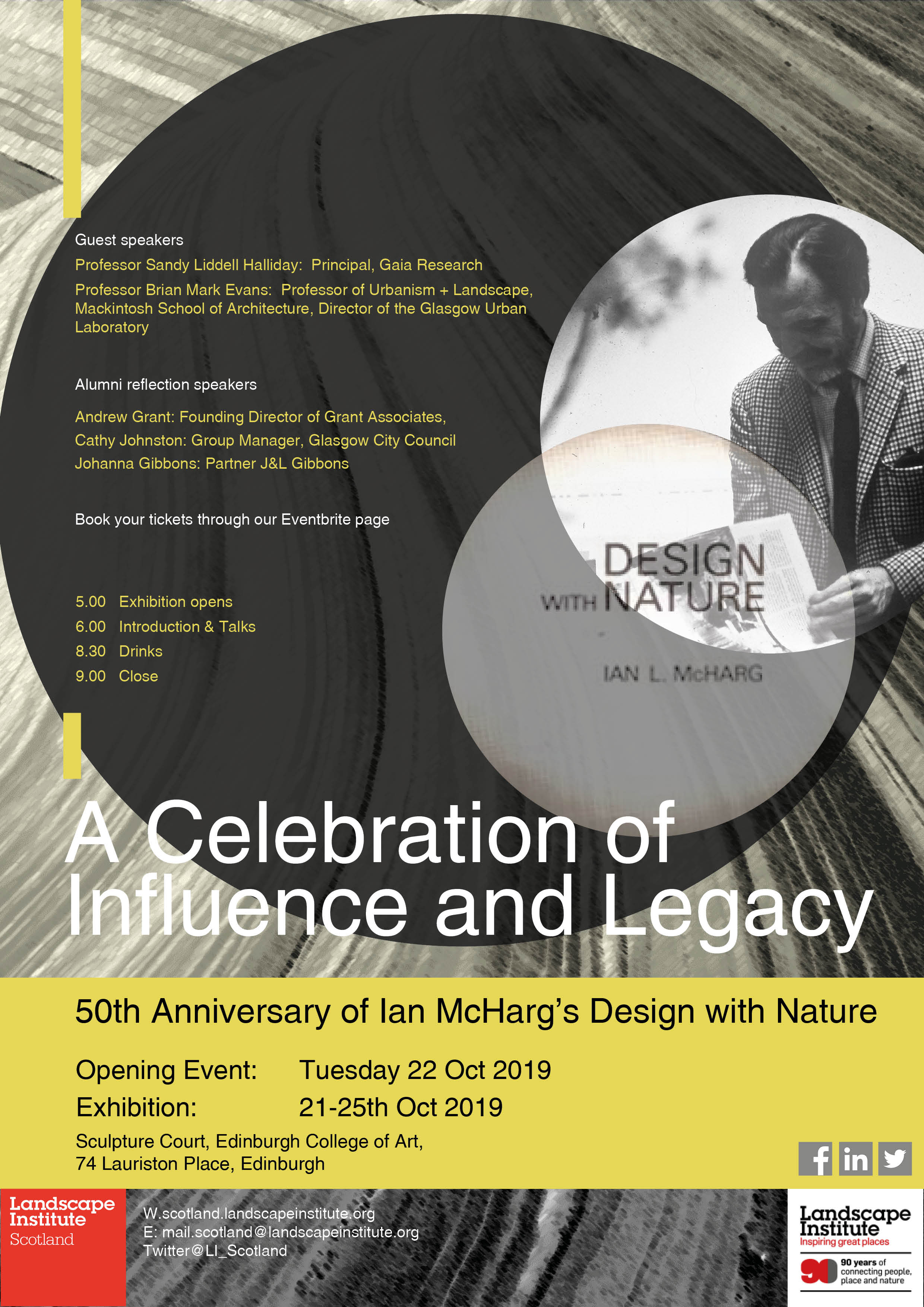 With thanks to our following sponsors:-