About this Event
The hottest networking, exhibition and business information day for women in business in the South East brought to you with the support of the FSB, Natwest and Google Digital Garage.
Google Digital Garage are partnering to deliver 3 key workshop sessions:
Build a Digital Marketing Plan
Getting Visible On Google
Self Promotion Skills #IamRemarkable
Whether you're already in business, or are thinking of starting up, this day is designed for you.
We're bringing together the top holistic therapists, Psychic Readers, Beauticians and hand made retailers right next to the professional services we all need to run our business legally, efficiently and profitably.
+ 18 Speakers
+ Business Clinics and Workshops running all day
+ Networking Groups - come and meet your local women in business networking groups
+ Start Up Opportunities
+ Pampering on the day
+ Retail Stands
+ Business Stands
Below is just a selection of what's on offer, for full details visit the Women In Business Big Show Website
It's free entry to join in, relax in the cafe, chat, network and browse the retail and exhibition stands, or get more involved in one of our specialist zones:
Start Up Zone
Ideas for starting your business if you've not done that yet, as well as help with finance, funding and how to get set up in the right way.
Growth Zone
In the Growth Zone we focus on marketing, sales and momentum. As well as exhibitors there will be workshops and talks.
Fit For Business Zone
Successful business is about keeping a balance, keeping active and getting enough rest and managing this yourself, because you're the boss and no-one sends the boss home at 5pm. And of course, looking and feeling fantastic!
Pampering , Treatments and Therapy
Massage, Reflexology, Aromatherapy, Kinesiology, Manicures, Pedicures, Facials, Brows, Threading and Waxing. Sessions from £10
Plus, Beauty advice, colour makeovers and more.
Some of the Workshops and Talks
The ZC Social Media team will host an exclusive session of their popular ZC Social Media Academy.
How To Become An Influential Business Woman in 2019
How To Brand Your Business
Carrie Stay of ClockWork Moggy
How To Write A Great Business Plan
Sally Marshall
Managing Business and The Menopause
Kathryn Colas
How To Network Successfully in 2019 to Grow Your Business
Jackie Groundsell, 1230 The Women's Company
Speed Networking - Morning and Afternoon Sessions
Jackie Groundsell
Jemma Fairclough, Orchard Employment Law
Turning Your Creative Passion into Your Business
Molly Wright
From Burnout To Brilliance
Alison T Smith
Art Journaling For Good Business and Good Mental Health
Debs Smith, Carpe Occasio Creative Art
Balancing Your Energy To Keep Fit For Business
Fraz Smith, Energy Balancing Specialist
How To Set Up Your CIC or Charity
Rebecca Smith, Deputy CEO of Social Enterprise Kent
Startup Stories - an interactive session to share and learn about starting up
Laura Lawrence, Host of The Community Show
Business Clinic - 20 minute trouble shooting 1:1 Sessions - all day
Sally Marshall, Business Coach
How To Become A Woman Of Influence
Zoe Cairns, Founder of ZC Social Media
Getting Your Head Around Digital in 2019
Lucy Hall, Founder of Digital Women and Avviso Media
Our Aim For Your Day
You will meet new friends for collaboration, support and maybe catch up with a few faces you've not seen for a while.
Find out what's available in Kent to help you start up and grow your business.
Have a Pamper, a Psychic Reading and maybe a bit of a beauty treat with manicures, pedicures and makeovers.
Get practical tips and techniques for using social media
Find out how easy it is to slip into neglecting our mental and physical health and how to nip that in the bud.
A special focus on starting your first business in your 40's
And much more to be announced over the next few weeks so please book your ticket now.
Sponsorship
There are sponsorship opportunities available, please call Sian on 01634 566321 or 07951 168863 or email sian@sianmurphy.com
About The Organiser
Sian Murphy hosts the live weekly Women In Business Radio Show on Channel Radio and runs regular events and fairs for pampering, health, beauty and hand made specialist items.
The Venue
The Longfield Academy is a bright, airy and inspirational building and we have the run of it for the whole day. On two floors with atriums, a theatre and restaurant is the perfect venue and we want to thank them for letting us loose in it!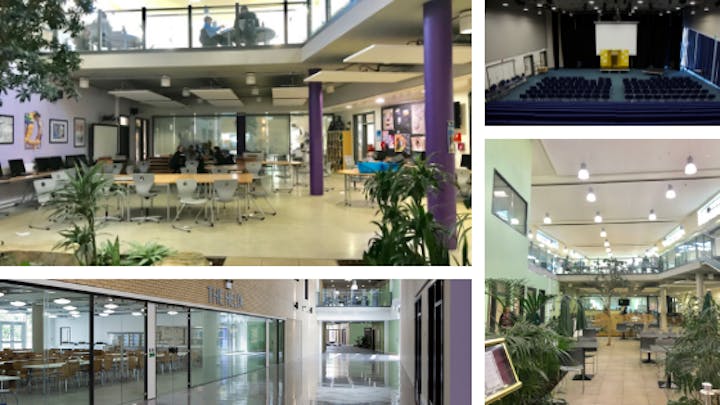 All enquiries to Sian Murphy, Dragon Co-Working, St George Hotel, 7-8 New Road Avenue, Chatham, Kent ME4 6BB, Telephone 01634 566321 and 07951 168863