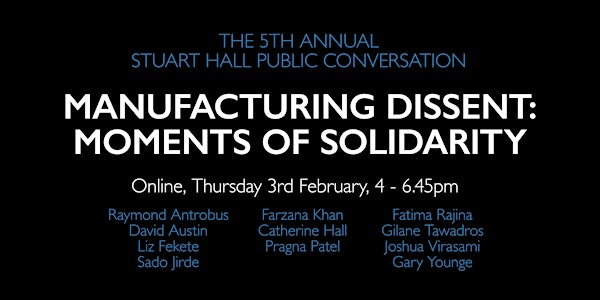 5th Annual Stuart Hall Public Conversation - Manufacturing Dissent: Moments
Event Information
Refund policy
Contact the organiser to request a refund.
Eventbrite's fee is nonrefundable.
We welcome artists, writers and cultural activists to reflect on the role of solidarity in building sustained political movements...
About this event
"How can we organise these huge, randomly varied, and diverse things we call human subjects into positions where they can recognise one another for long enough to act together, and thus to take up a position that one of these days might live out and act through as an identity? Identity is at the end, not the beginning, of the paradigm. Identity is what is at stake in political organisation. It isn't that subjects are there and we just can't get to them. It is that they don't know yet that they are subjects of a possible discourse. And that always in every political struggle, since every political struggle is always open, is possible either to win their identification or lose it."
– Stuart Hall, 'Subjects in History: Making Diasporic Identities' (1998)
Join us online on 3rd February as we welcome artists, writers and cultural activists to reflect on the role of solidarity in building sustained political movements for our 5th Annual Stuart Hall Public Conversation.
Chaired by Gary Younge, the event will focus on the relationship between political organising and alliance-building between different groups of people. Together we will explore ways to build and sustain collective struggles for a better world.
A year on from the global political protests for racial equality, and through a period marked by growing inequality, intolerance and authoritarianism in Britain and across the globe, we're asking:
Is there a discourse capable of speaking to a wide range of people from different backgrounds? What social, cultural, political, and economic differences can coalitions transcend? How can difference be expressed within a collective whilst maintaining cohesion? How can we move from forming coalitions/alliances towards a more unified and transformative politics fit for our times?
_
Our Public Conversation event has been our yearly moment to pause and reflect, inviting an audience to engage with the work of artists and thinkers on a chosen theme that responds to recent political, cultural and social changes. Previous years have pursued themes through multiple lenses, providing a chance for questions and discussion, and punctuated with interventions by poets, artists and musicians that open up a different space for thinking. 
The event takes place online again this year, and will include:
A performance from poet Raymond Antrobus.
A discussion exploring the historical context of alliance building in the UK and beyond, with David Austin and Gary Younge.
Short presentations that reflect on direct moments of solidarity, delivered by Farzana Khan, Liz Fekete, Sado Jirde, Fatima Rajina, Pragna Patel and Joshua Virasami.
For more information about the speakers, see below:
Raymond Antrobus was born in London to an English mother and Jamaican father. He's a Cave Canem Fellow, and Fellow of the Royal Society Of Literature. He is the author of 'The Perseverance' (UK, Penned In The Margins / US, Tin House) and 'All The Names Given' (US, Tin House / UK, Picador) as well as a children's picture book 'Can Bears Ski?' (UK, Walkers Books / US, Candlewick). He is the 2019 recipient of the Ted Hughes Award as well as the Sunday Times/University of Warwick Young Writer of the Year Award, and became the first poet to be awarded the Rathbone Folio Prize.
David Austin is the author of Dread Poetry and Freedom: Linton Kwesi Johnson and the Unfinished Revolution (London: Pluto Press, 2018) and Fear of a Black Nation: Race, Sex, and Security in Sixties Montreal (Toronto: Between the Lines, 2013), winner of the 2014 Casa de las Americas Prize; author/editor of Moving Against the System: The 1968 Congress of Black Writers and the Making of Global Consciousness (London: Pluto Press, 2018); and editor of You Don't Play with Revolution: The Montreal Lectures of C.L.R. James (AK Press, 2009). A former community organizer and youth worker, he currently teaches in the Humanities, Philosophy and Religion Department at John Abbott College and in the McGill Institute for the Study of Canada.
Liz Fekete is Director of the Institute of Race Relations and author of A suitable enemy: racism, migration and Islamophobia in Europe (Pluto press, 2009) and Europe's Fault Lines: racism and the rise of the Right (Verso, 2018) which won the Bread & Roses award for radical publishing 2019. Active in anti-racist movements since the 1980s, she was an expert witness at the Basso Permanent People's Tribunal on asylum and the World Tribunal on Iraq.
Catherine Hall is Stuart's widow. She is a historian and works on questions of race and empire in Britain and Jamaica. She led the Legacies of British Slave-ownership project at University College London for ten years, exploring Britain's long history in relation to the slavery business. She is now the Emerita Chair of the Centre for the Study of the Legacies of British Slavery at UCL. Catherine has published extensively on questions of race, gender and empire.
Sado Jirde is the director of Black South West Network (BSWN), a charity focused on human rights, equality, access to knowledge and socio-economic inclusion within the framework of advocating on behalf of Black and Minority Ethnic (BME) communities. She sits on various advisory groups and committees including the WECA Cultural strategy group, the Transatlantic Trafficking of Enslaved Afrikans Legacy Steering Group, Voice for Change England, the Baobab Foundation Steering group, and the Coalition for Race Equality organisation (CoRE) nationally. Amongst other accolades, she was most recently listed as a Women of Inspiration: 100 social enterprise leaders showing Covid who's boss in 2020 and awarded West Woman of the Year – Most Inspirational Role Model in 2019.
Farzana Khan is a cultural producer and an award-winning arts educator. Farzana works at Platform, a climate and social justice organisation working across arts, education, research and activism. Farzana is the Executive Director and Co-founder of Healing Justice London, working on building community-led health, healing and repair rooted liberation practice and structural justice with and for marginalised peoples. Farzana is the former creative and strategic director of Voices that Shake, with recently published a trilogy of publications on creative resistance building including Voices That Shake!, A Decade of Creative Movements. Farzana is currently Artist in residence at Phytology, where she will be exploring her latest work T-DNR, Titrate- Do Not Resuscitate; A Methodology in dying and living at once.
Pragna Patel is a founding member of Southall Black Sisters' advocacy and campaigning centre and Women Against Fundamentalism (She worked as a co-ordinator and director for Southall Black Sisters (SBS) from 1982 to 2021 with a break in 1993 when she left to train and practice as a solicitor. For 40 years, she has been at the helm of the organisation and has been centrally involved in some of SBS' most important cases and campaigns involving domestic violence, immigration and religious fundamentalism. She is also a member of Feminist Dissent and has written extensively on race, gender and religion.
Dr. Fatima Rajina is a Legacy in Action Research Fellow at the Stephen Lawrence Research Centre at De Montfort University. After completing her MA in Islamic Societies and Cultures at SOAS, she went on to do a PhD after successfully securing a Nohoudh Scholarship with the Centre of Islamic Studies, SOAS, University of London. Completing her PhD at SOAS, Fatima's work looks at British Bangladeshi Muslims and their changing identifications and perceptions of dress and language. She has also worked as a Research Assistant at the Institute of Criminology, University of Cambridge looking at police and counter-terrorism. Fatima was also a Teaching Fellow at SOAS, Research Fellow at UCL IoE, and, additionally, she worked as a Lecturer in Sociology at Kingston University London.
Gilane Tawadros is the Chief Executive of DACS, a not-for-profit visual artists rights management organisation. She is a curator and writer and was the founding Director of the Institute of International Visual Arts (Iniva) which Stuart Hall chaired for over a decade. She is currently working on an anthology of Stuart Hall's writings on the visual arts and culture.
Joshua Virasami is an artist, writer, and political organiser, he is a member of climate justice collective Wretched of the Earth and anti-racist organisation Black Lives Matter UK. As an activist and organiser he has been involved in a number of movements and campaigns, including the Occupy movement. In 2020 he released his first book 'How to Change it: Make a Difference', with #Merky Books.
Gary Younge is an award-winning journalist, author and professor of sociology at Manchester University. He has written five books, most recently Another Day in the Death of America, which was awarded the J. Anthony Lukas Book Prize from Columbia Journalism School and Nieman Foundation. Gary worked for The Guardian for 26 years where he was a columnist and the US correspondent for 12 years, returning to become the paper's editor-at-large and leaving for Manchester University in April 2020. He is also the Alfred Knobler Fellow for Type Media and on the editorial board of The Nation in the US.
Date and time
Location
Refund policy
Contact the organiser to request a refund.
Eventbrite's fee is nonrefundable.
Organiser of 5th Annual Stuart Hall Public Conversation - Manufacturing Dissent: Moments
The Stuart Hall Foundation was established in 2015 by Professor Stuart Hall's family, friends and colleagues. The Foundation is committed to public education, addressing urgent questions of race and inequality in culture and society through talks and events, and building a growing network of Stuart Hall Foundation scholars and artists in residence.
We work collaboratively to forge creative partnerships in the spirit of Stuart Hall; thinking together and working towards a racially just and more equal future. We strive to fulfil our commitments through two streams of activity:
- Providing scholarship and creative opportunities for students and artists from disenfranchised and underrepresented backgrounds; building connections among them and with our partner institutions
- Promoting critical thought and understanding through a public programme of events, workshops and conversations that foster an intergenerational creative exchange, enrich political debate, and create space for new ideas.
Stuart Hall Foundation is a registered charity in England and Wales. Charity number: 1159343